The Time Betty White Got Her Golden Girls Co-Stars To Break Character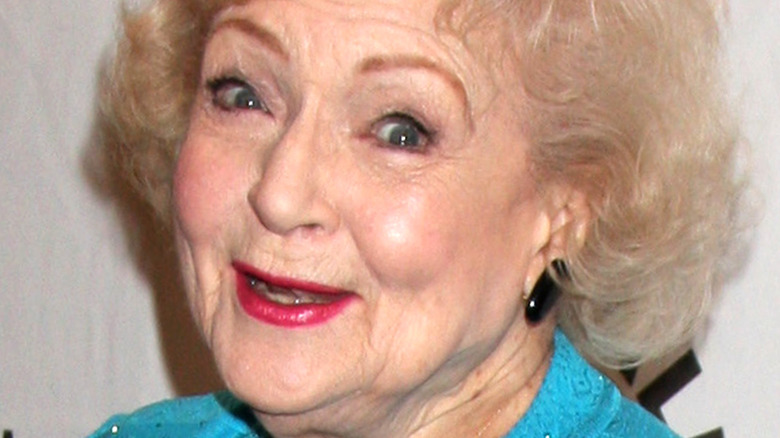 Kathy Hutchins/Shutterstock
Shepherding a show through its first season must be one of the most daunting exercises ever. We can only imagine the stress and anxiety a cast and crew must undergo as they navigate the challenges of finding (or creating) chemistry, possibly papering over differences, and getting audiences to fall in love with the leads.
It couldn't have been any different when "The Golden Girls" first went to air in 1985, however. And while the season itself proved to be solid, as Decider points out, the ladies sealed the deal with the season ender entitled "The Way We Met," where veteran actor Betty White begins telling one of Rose's notorious St. Olaf tales as she sits at the iconic kitchen table with Bea Arthur (Dorothy) and Rue McClanahan (Blanche). In the scene, White talks about "the Great Herring War" which broke out between two local families. As she described it, one family wanted to pickle the herring they caught together, while the other wanted to set up a herring circus. White carries on telling a story about what eventually goes down at the circus — which she compares to Sea World (only much smaller) — and her improvisational skills had her co-stars genuinely cracking up.
Betty White kept a straight face throughout the entire scene
While Decider conceded that it's difficult to tell whether or not Bea Arthur and Rue McClanahan's reactions are part of the script or if they actually broke character over the story — which goes from the ridiculous to the sublime — it's a credit to White that she's able to maintain the baffled look that becomes the signature of her character, Rose Nylund while her fellow actors are obviously in tears.
One social media user raised a toast to White's comedic talent by sharing the clip via Twitter, along with a comment, saying: "[T]his betty white scene from golden girls still never fails to make me happy, 30+ years later. betty improvised most of the story and bea and rue couldn't help but lose their composure and slip out of character. RIP to a comedy queen."
"Bea and Rue—both brilliant comediennes—following her into this ballpark of madness and lobbing questions and Betty just batting them back easy-peasy until she breaks them is such a testament to her brilliance," another fan commented. "[G]olden girls is probably my favourite comedy of all time," a third social media user said. "it's like a hug idk i can't explain it. now they're all together again and betty is probably annoying bea already."