Betty White Played Rose Nylund In More TV Series Than You Thought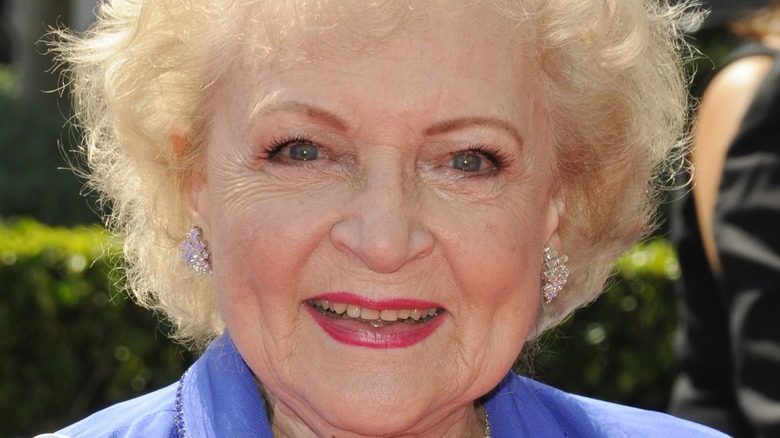 Everett Collection/Shutterstock
Betty White's heartbreaking death is sending shockwaves through people across the world. The 99-year-old actress, host, and comedian died on Friday, December 31, 2021, just weeks ahead of her 100th birthday on January 17, 2022 (via People). As people remember her, they're undoubtedly thinking of her career, which connected her to people across the globe for over half a century. In fact, IMDb reports her first credit as being a short film from 1945. Since then, she never stopped acting and, well, also taking over the world with charm and love.
As noted by IMDb, White's most popular roles were on "The Golden Girls," "The Proposal," "Lake Placid," and "The Mary Tyler Moore Show," but her credits overall, including producing ones, are endless. To many, though, White will always be remembered as Rose Nylund, the eccentric character she portrayed on "The Golden Girls." While her career was prominent before this series, it only blew up further following it, and it will be hard to ever separate this iconic character from such a delightful actress.
Betty White reprised her role as Rose Nylund a few times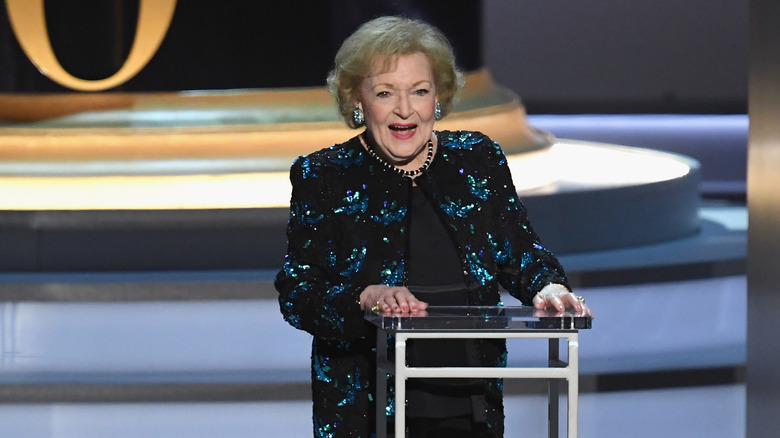 Kevin Winter/Getty Images
As Hollywood reacts to Betty White's death, everyone is remembering her most iconic role: Rose Nylund. Most people remember her in this role on "The Golden Girls," the beloved sitcom from the '80s, but what people may not know is that she portrayed the character on other TV series as well.
Interestingly, White played Nylund on four series other than "The Golden Girls," which ended in 1992, in various capacities (via IMDb). She first appeared in the 1991 episode of "Nurses" titled "Begone with the Wind" as Nylund, according to IMDb, and again in 24 episodes of "The Golden Palace" from 1993 to 1994 (via IMDb). "The Golden Palace" actually served as a spinoff of "The Golden Girls" following Bea Arthur's departure from the show (via Deadline). 
From 1989 to 1992, White also appeared in three episodes of "Empty Nest" titled, respectively, "Strange Bedfellows," "Rambo of Neiman Marcus," and "Dr. Weston and Mr. Hyde" (via IMDb). These appearances from White are perfect for both marketing and audience satisfaction: Her career had been long and expansive by this point, and people loved her not only as an actress but also as a brilliant comedian. Having her reprise her famed role could only add extra humor and punchlines. After all, viewers were familiar with the character, so she could pop in for funny moments without setup and sell it excellently.