Is This How Much Meghan Markle Has Spent On Clothes Leaving Her Royal Life?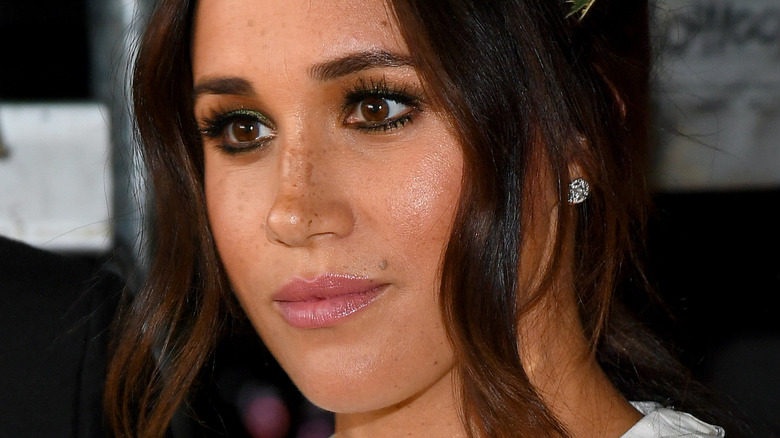 Kevin Mazur/Getty Images
Prince Harry and Meghan Markle stepped back as senior royals in early 2020, per BBC News. This meant they were no longer financially tied to the royal family and would have to make their own income.  According to a new report from Daily Mail's Femail, Meghan reportedly spent just over £58,000 (nearly $78,500) on clothing and jewelry in 2021, in contrast to her 2020 total of around £44,000 (approximately $59,500).
But seeing as Meghan is back to being more of a celebrity rather than a royal, this expenditure is most likely covered by deals made with designers and brands. According to Insider, certain designers may pay a celebrity or their stylist to wear a dress at a big event. Celebrity stylist Brad Goreski even pointed out during a panel (via Insider), "If someone shows up at the Oscars in a black dress and huge statement necklace, chances are that they're being paid by a big jewelry company."
Even before marrying Harry, Meghan bought her own designer clothes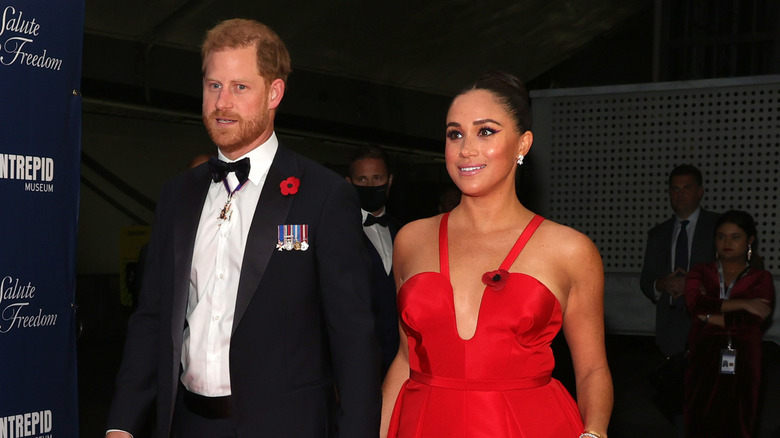 Dia Dipasupil/Getty Images
However, according to People, the royal family doesn't accept designer clothes (or other items) for free. As is the case for Kate Middleton, Meghan Markle's wardrobe budget was covered by Prince Charles through his budget from the Duchy of Cornwall. This is a duchy made through "owning land and renting it to other people," according to Cosmopolitan, "but there's also investments and interest payments in the mix."
When she was a senior royal, Meghan reportedly had a wardrobe valued at just over £200,000 (about $270,600) in 2019, which would make sense seeing as the royals don't borrow clothes and instead buy them outright.
Before Meghan married Prince Harry, she paid for her own clothes, according to Marie Claire. She spent nearly $30,000 at the time on her wardrobe, which mainly came from the wealth she amassed for staring on the show "Suits." Cosmopolitan also noted that Meghan reportedly paid for her $75,000 Ralph and Russo engagement dress, as well as her $100,000 custom Givenchy wedding gown.