Here's What Olivia Culpo Looks Like In Real Life Vs. Instagram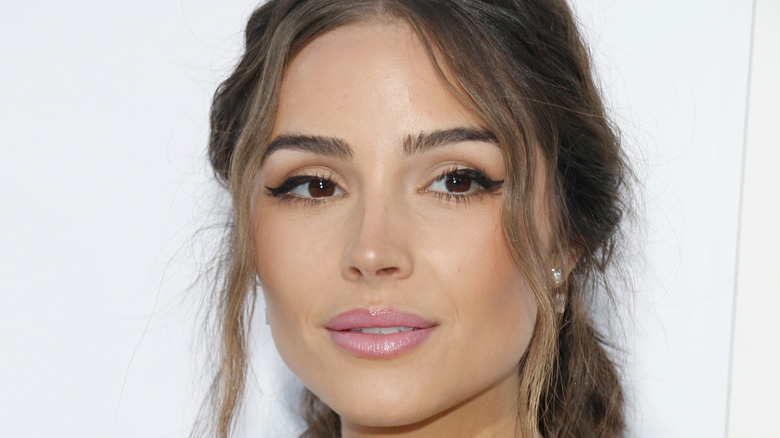 Tinseltown/Shutterstock
Former "Miss Universe" Olivia Culpo has made a name for herself as a glamorous social media personality — but she also happens to be a model, actress, reality TV star, style icon, and cook. With close to 5 million followers on Instagram as of this writing, Culpo epitomizes the influencer lifestyle, and often shares loved-up photos of her boyfriend Christian McCaffrey, along with content of her vacations and intense workouts. Judging by her pictures, Culpo hasn't missed a beat since her beauty pageant days, and she works hard to keep herself in tip-top shape. Like virtually every other celebrity on Instagram, she's constantly putting her best face forward.
In 2020, the "I Feel Pretty" star shared her 40-step routine for "dewy skin" with Vogue, so clearly she's not shy about revealing the prep that goes into maintaining her famous face. Culpo may be well-known for keeping things glam 24/7, but she still has her off days — though there isn't too much difference between her fresh face and the curated look that she presents online to her millions of followers. That's because Culpo is a natural beauty, with or without makeup. 
Olivia Culpo looks glamorous no matter the day
Even when photographed with minimal makeup, slicked-back hair, and large glasses, Olivia Culpo still looks camera-ready. This may be because her flawless complexion doesn't appear to need makeup, and contrary to what fans might believe, Culpo's skincare routine is relatively simple. "The condition of my skin has always changed based on my age, stress levels, and hormones," she told Byrdie in September 2021. That said, the biggest lesson she's learned over the years is to prioritize "hydration, sleep, and sun protection."
Along with makeup and beauty, the Sports Illustrated cover girl is equally dedicated to health and fitness. However, her routine isn't unattainable, and she encourages everyone to find what's right for them, rather than emulating her habits. "Adopting a healthy lifestyle is really simple; it's about finding the right products and doing stuff you enjoy," she explained in a separate interview with Byrdie. Culpo's flawless face is helped along with makeup, but it's truly the result of a holistic and healthy lifestyle. Considering how good she looks in her fresh-faced pic, the social media starlet is all about shining from within.