The Odd Superstition That Dustin Johnson Has On The Golf Course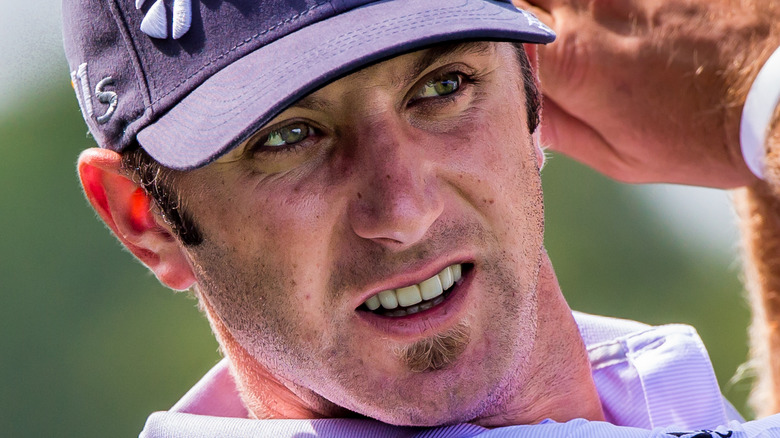 David W. Leindecker/Shutterstock
Professional golfer Dustin Johnson is making big moves within the golfing world as well as social scenes, and Johnson and Paulina Gretzky's net worth certainly represents this. Interestingly, Johnson and Gretzky haven't tied the knot just yet despite their status as a power couple and a wealthy one at that, but both continue to thrive in their respective industries and circles as well as together.
According to EssentiallySports, Johnson is someone within the golf industry that's looked up to by many. Bryson DeChambeau recalled recently on the Mark Golf Podcast that Johnson is the golfer who has impressed him the most, a high compliment not only from another professional golfer but one who won the U.S. Open. Johnson, too, has earned impressive titles. Though he may have a troubled past, Johnson has ranked no. 1 in the Official World Golf Ranking twice in his career, which is no easy feat (via Sportscasting).
Johnson, while a great golfer, is only human, and now we know his odd superstition regarding the golf course.
Dustin Johnson's superstition may be backed by science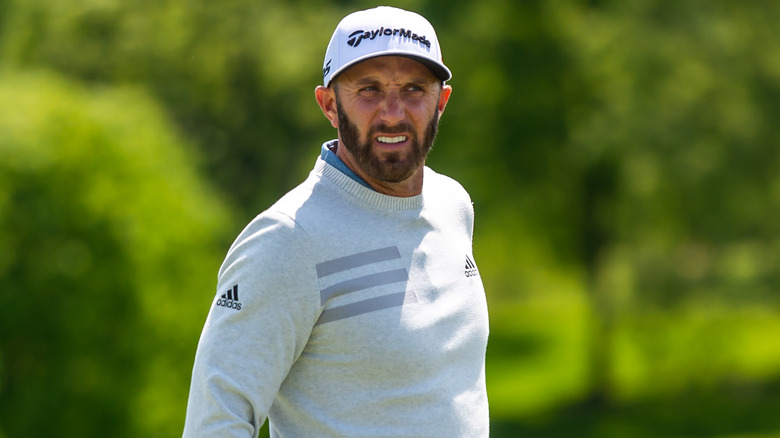 Gary Yee/Shutterstock
Dustin Johnson may be one of the best golfers in the industry, but he still considers superstitions each time he steps onto the golf course. According to Sportscasting, Johnson appeared on the Fore Play podcast in May 2021, and here he explained that he always uses quarters as his ball markers. However, they can't be any ole quarter: They have to be quarters from the 1960s, ideally so he'll always land in the 60s when golfing.
Naturally, the podcast hosts were confused by this, but Johnson later doubled down via Twitter when he tweeted a close up photo of one of this quarters, showing that it's from 1965. "I use a quarter, always heads up," Johnson said on the podcast. "It's gotta be a year in the '60s. So I only use 1960s quarters." He then went on to add, "Well, don't you want to shoot in the 60s? It's not necessarily a goal. Just good numbers." Finally, he said, "I don't ever have a goal of, 'Alright, I want to go shoot 65 or 66.' I try to shoot as low as I can every day."
Interestingly, science may back this superstition. According to SomethingBorrowed, quarters from 1965, for example, weigh a little more due to the higher silver percentage in them. By comparison, a 1965 quarter weighs 6.25 grams while later quarters that are made with more nickel only weigh 5.65 grams. In a sport where weight, distance, wind, etc. all factor into one's success, understanding these factors is of utmost importance. Of course, this could be overanalyzing a silly superstition. In any case, it's simply fascinating getting into a professional's head.