Queen Elizabeth Endures Another Heartbreaking Loss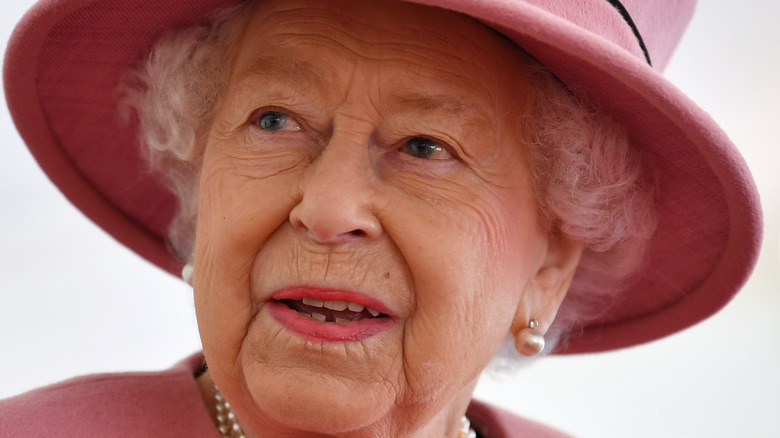 Wpa Pool/Getty Images
Queen Elizabeth was forced to deal with a lot of heartache in 2021. The monarch, 95, sadly lost her husband of over 70 years, Prince Philip, who died in April at the age of 99. In addition, there were highly publicized problems within the royal family, including the rift with Prince Harry and Meghan Markle after their infamous interview with Oprah (via Daily Mail) and the sexual assault accusations against Prince Andrew (via BBC). In addition, the queen also suffered some health complications that forced her to spend a night in the hospital and cancel many of her plans and appearances to end the year (via The New York Times). 
As the holidays rolled around, Elizabeth was said to feel melancholy without Philip to be there with her, as her entire family couldn't be together to celebrate Christmas due to the Covid-19 pandemic. "Christmas was a bit of a struggle for the queen without Prince Philip by her side," a source told Us Weekly. "And not being able to spend it with her whole family [didn't help]. She's not one to wallow in self-pity and kept her chin up."
Sadly, around the holidays, the queen was forced to deal with more devastating loss as she said goodbye to two other loved ones. Her most recent confidante to pass died right after Christmas. 
Queen Elizabeth mourns her Mistress of the Robes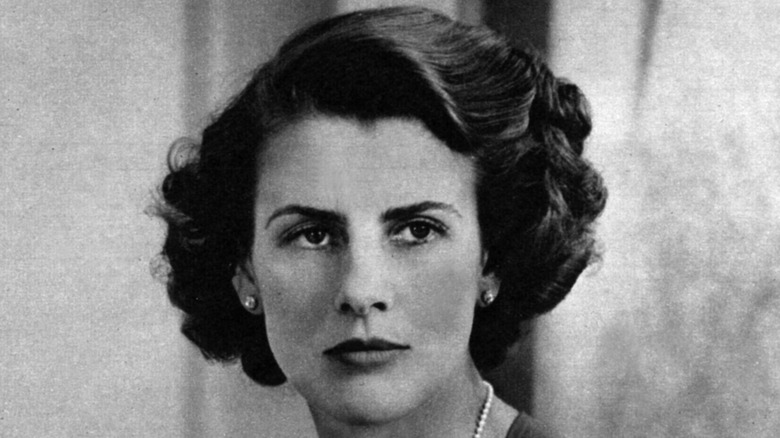 Apic/Getty Images
On December 3, 2021, Queen Elizabeth lost her loyal Mistress of the Robes, per The Daily Beast. Ann Fortune FitzRoy, Duchess of Grafton, GCVO JP served as the queen's Mistress of the Robes from 1967 through her death last year. Wife of Hugh FitzRoy, 11th Duke of Grafton and grandmother of Henry FitzRoy, 12th Duke of Grafton, Fortune was deeply involved with the royal family. The Duchess of Grafton was by Elizabeth's side for decades and her loss was surely felt deeply. 
Throughout her 54 years as Mistress of the Robes, Fortune accompanied the queen in numerous trips around the globe, including official visits to Nigeria in 1956, France in 1972, Morocco in 1980, and Russia in 1994, per Hello!. Elizabeth honored Fortune, naming her a Commander of the Royal Victorian Order (CVO) in the 1965 New Year Honours, then a Dame Commander (DCVO) in the 1970 New Year Honours, and finally a Dame Grand Cross (GCVO) in the 1980 Birthday Honours, according to Tatler. Additionally, Queen Elizabeth is godmother to Fortune's third child Lady Virginia, who was born in 1954.
Fortune outlived her husband by a decade, and upon his passing their grandson Henry rose to the title of 12th Duke of Grafton. She is survived by four children, as well as numerous grandchildren and great grandchildren. There is no doubt that she is deeply missed by her family and the Queen alike. Unfortunately, Elizabeth's losses didn't stop there. 
The queen is mourning the loss of her close friend and staff member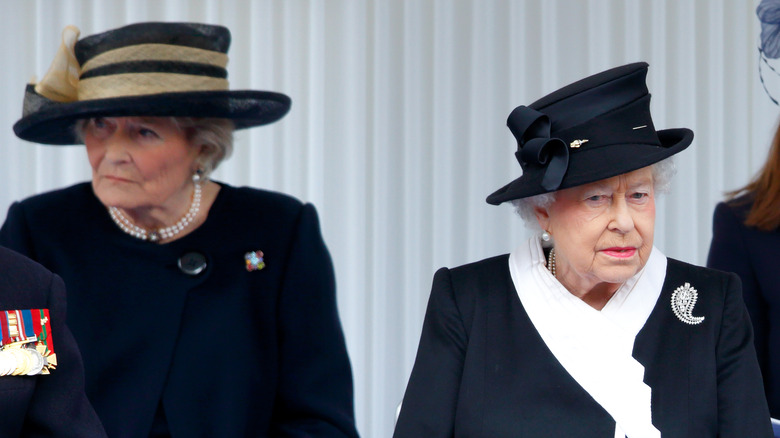 Max Mumby/indigo/Getty Images
Queen Elizabeth lost yet another important person to her when her close friend and lady-in-waiting, Diana, Lady Farnham, died on December 29, 2021 at the age of 90, per Us Weekly. Farnham served as Lady of the Bedchamber for over three decades after joining the queen's staff in 1987. Farnham was named Commander Royal Victorian Order in 1998, and later became Dame Commander, Royal Victorian Order in 2010. While she was employed by the queen, she was also considered to be one of Elizabeth's dearest friends.
"It is very sad for the Queen. Everyone loved Lady Farnham, she was always so good humoured," a source told The Telegraph (via Express.) "She was also a very glamorous and attractive woman. She was always very generous to new people joining the household." Sadly, Lady Farnham's death comes less than a month after another of Elizabeth's ladies-in-waiting, the Duchess of Grafton. "It has not been a good year for the Queen — losing her husband and then the Duchess of Grafton and now Lady Farnham," the source continued. "They were dear friends who supported the Queen on official duties. Unfortunately, a sad consequence of living a long life is that you have to say goodbye to a lot of people you care about."
Fans are now hoping that the Queen will have a better 2022 as she's set to celebrate her Platinum Jubilee. According to Town & Country, the Queen will have ruled for 70 years as of February 6, 2022, which will make her the first British monarch to ever celebrate a Platinum Jubilee. She can look forward to the massive celebration planned for a weekend in June.