Why AOC's Latest Outing Has Twitter Seeing Red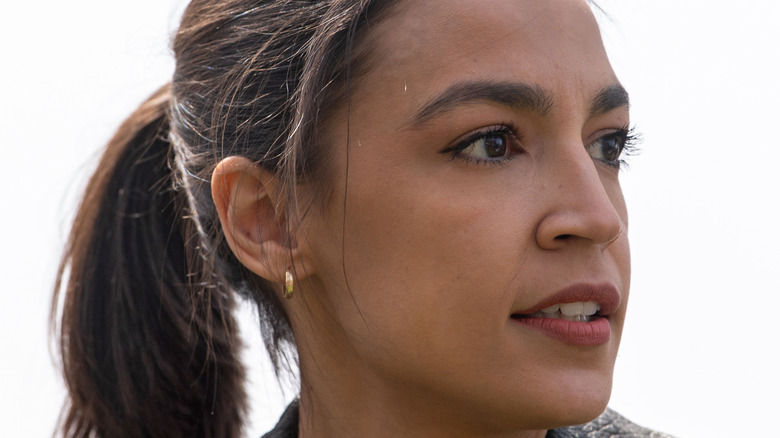 Ron Adar/Shutterstock
Last week, United States Representative Alexandria Ocasio-Cortez was photographed while on vacation in Miami, Florida. The politician, who has been a staunch advocate for Covid-19 protocols, like wearing masks and vaccinations, was spotted maskless while sipping on drinks outside with her boyfriend, Riley Roberts. "If Leftists like AOC actually thought mandates and masking worked, they wouldn't be frolicking in free FL," former commentator for conservative TV network Newsmax, Steve Cortes, tweeted. "Her guy is showing his gross pale male feet in public (not at a pool/beach) with hideous sandals." Ocasio-Cortez responded by calling Republicans "creepy weirdos." "If Republicans are mad they can't date me they can just say that instead of projecting their sexual frustrations onto my boyfriend's feet," Ocasio-Cortez tweeted in response.
On Sunday, Ocasio-Cortez came under fire by another conservative voice for appearing at a crowded drag bar without her mask on while on her Miami vacation. "AOC is STILL lounging it up in Florida, in large crowds and maskless," Florida's Conservative Voice reporter Brendon Leslie said in a series of tweets on Sunday. "This time at a Drag Queen bar in Miami. Rules for thee but not for me. For those of you with zero sense of humor: the whole point of this post is to expose hypocrisy. We don't actually care she's maskless. We care she fear mongers about Florida but then has the audacity to vacation here."
Ocasio-Cortez's maskless ventures in Florida have Twitter seeing red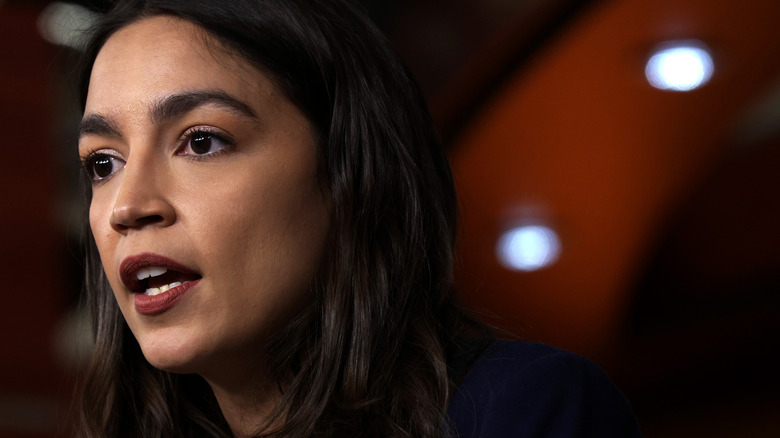 Alex Wong/Getty Images
For attending events and restaurants maskless while on vacation in Miami, Florida, Representative Alexandria Ocasio-Cortez has come under quite a bit of fire on Twitter. "This isn't about the mask ... this is about [Democrats] having strict [Covid] rules in their cities and then going to places they villainize to vacation," a Twitter user responded to reporter Brandon Leslie's original post about Ocasio-Cortez's maskless trip to a drag bar in Miami. "If politicians didn't have double standards, they wouldn't have any standards at all," conservative journalist Brad Polumbo tweeted.
Despite the criticism for going maskless while on vacation in Miami, many took to the comments on Leslie's original post to defend Ocasio-Cortez, given that she was outside when she appeared maskless in the photos and video posted by Leslie. "What rules in NYC would she be violating by going to an event like this in NY? There's no outdoor mask mandate, there's no restrictions on crowds, and restaurants are fully open and don't have capacity restrictions. This is such a stretch and I usually loathe her," one Twitter user responded. "Pretty desperate showing being maskless OUTSIDE, and likely following the protocols that are in place for where she is at. Likely also with majority vaccinated people, unlike those who you appeal to, and who are the real problem!! Try focusing on what actually matters!!" another user said.