This Harry Potter Reunion Gaffe Has The Internet Talking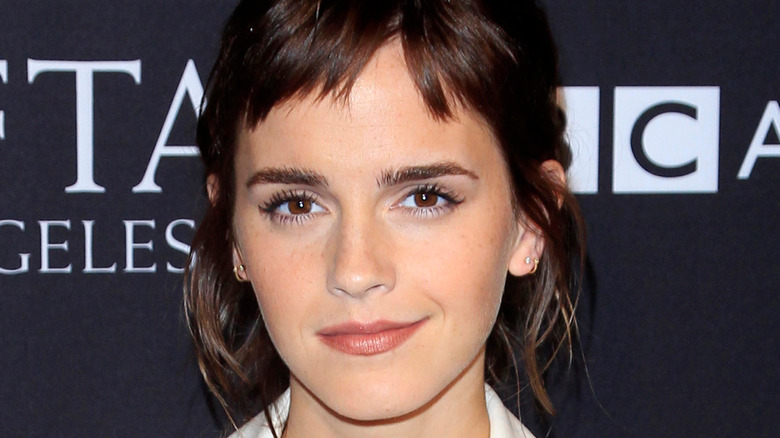 Kathy Hutchins/Shutterstock
Potterheads, rejoice! After ten years, our favorite witches and wizards "Return to Hogwarts" to talk about the beloved movies that we all know and love (and have watched three dozen times over). In this HBO special, the "Harry Potter" actors, directors, and producers, take a trip down memory lane to discuss favorite memories and untold secrets about their time in the Wizarding World. "It feels like no time has passed and loads of time has passed," shared Emma Watson, with the other two members of the iconic Gryffindor trio, Rupert Grint and Daniel Radcliffe (via Metro). Meanwhile Grint joked, "I don't feel like we've earnt a reunion yet. I have had kidney stones and a baby so time has obviously passed, I feel my age."
Over the course of the under two hour special, the actors return to their old stomping grounds including the Weasley Burrow, Dumbledore's Office, and the Gryffindor Common Room, to reminisce over the series that changed their lives forever. There were too many highlights to name from the reunion that kick started 2022, from the reveal that Watson once had a crush on Tom Felton to the touching tributes to late "Harry Potter" actors (via The Cut). The reunion of the year made us laugh, it made us cry, and it made us wish, once again, that magic was real. However, one aspect of "Return to Hogwarts" that fans couldn't stop talking about was an unfortunate mistake made by HBO creators.
HBO Max accidentally mixes up Emma Watson with another famous Emma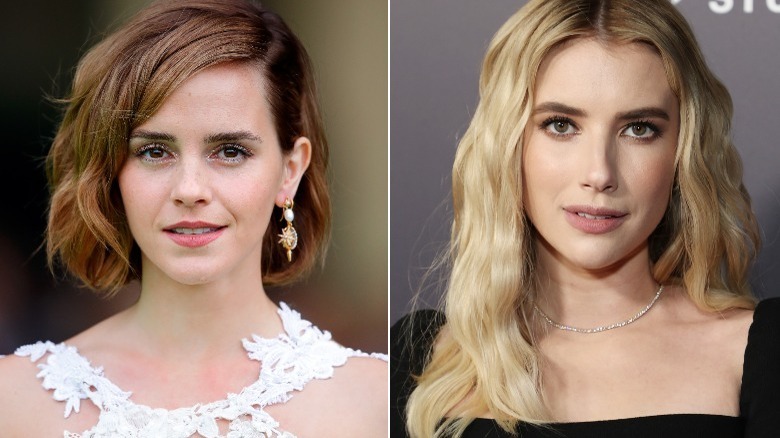 Max Mumby, Amy Sussman/Getty
While there was so much to love about the "Harry Potter" reunion, even this nearly flawless film wasn't entirely free of blunders. One section of the HBO special was devoted to the "Harry Potter" actors and actresses gushing about their adoration for the franchise, even before they were cast in the films. As Emma Watson fondly recalled discovering this fantasy series with her family for the first time, a supposed childhood photo of the actress simultaneously appeared on screen. The adorable flick portrays "Watson" eating breakfast with a large pair of Minnie Mouse ears on her head. While the photo is undoubtedly adorable, it's unfortunately a picture of the wrong Emma. Yes, that's right, the picture is actually a childhood photo of another famous actress: Emma Roberts (via Us Weekly). We've got to admit though, the resemblance is uncanny.
An eagle-eyed fan took to Twitter to call out HBO Max's magical mix-up, which resulted in Warner Bros releasing an official response. "Well spotted Harry Potter fans!" Warner Bros. shared with Entertainment Weekly. "You brought an editing mistake of a mislabeled photograph to our attention. New version up shortly." The savvy fan's post already has nearly 7,000 likes and over one thousand re-tweets. Nice detective work, @vee_delmonico99. We must have a Ravenclaw on our hands, folks!