Married At First Sight Star Gil Cuero Reveals About What's Next Him - Exclusive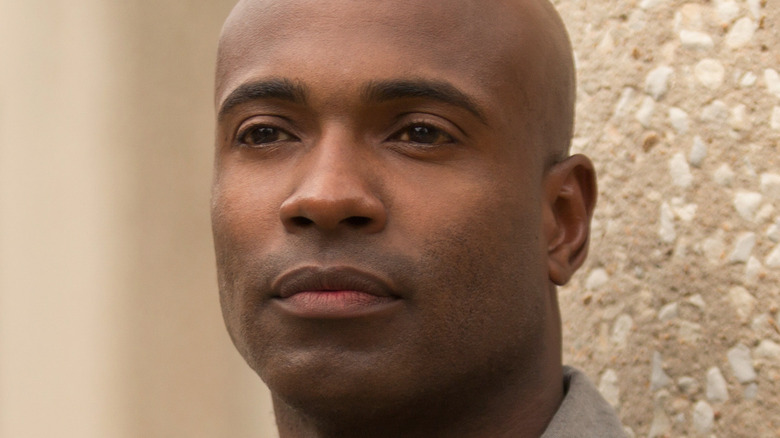 Mary Kang
The truth about "Married at First Sight" marriages is that they can completely change your life. Couples on the reality series can either choose to stay married after the show or break up if they're not melding together well enough, but either situation changes your life experience and perspective forever. Such is the case for Gil Cuero who appeared on Season 13 of "Married at First Sight." Gil was matched with Myrla Feria, and while they appeared to end the season on a good foot, it was revealed at the Season 13 reunion that the couple was splitting. Cuero took this as a "blindside" as he thought their relationship was doing well, and now single, he's left to figure out how he wants to progress in life post-"Married at First Sight."
Cuero is a firefighter by trade in Texas, so the now-star has a career on which to fall back. Luckily, we at The List had the opportunity to chat with Cuero about all things "Married at First Sight" and his life following his stint on television, including whether or not he'd return to reality TV in some fashion and how he wants his career to progress now that more doors are opening for him.
Gil is weighing all of his options for the future
Gil Cuero charmed viewers across the world during his season of "Married at First Sight," and it's his energy and charisma that will undoubtedly take him far no matter which career path he ultimately settles on. While chatting with us, Cuero referred to himself as a "Z-list celebrity," though he said he would consider doing more reality TV as long as the series was a good fit for him. "'The Amazing Race' is something that I would definitely be a part of," he said, then adding, "I love 'Dancing With the Stars.' I love dancing, and then 'Dancing With the Stars' is dope. Things like that would be cool. "Family Feud." That'll be dope too. Things like that ... 'Naked and Afraid,' I'm down for it." As long as the series doesn't center on dating or marriage, Cuero is game.
As for Cuero's game plan, the star says he's weighing all of his options alongside his PR rep to come up with the best route forward. "I would be interested in obviously print marketing," Cuero explained. "With the Instagram now is something I'm interested in. I would be interested in commercials, if it's possible. Anything that comes about that would benefit me and help me kind of set this platform up, because I do have some things that I care about that I want to kind of set forth." 
Cuero doesn't know yet what the future holds for him, but it's a new year that will undoubtedly bring him many new opportunities, especially as he knows the goals that are closest to his heart. After all, we're all just trying our best, right?