The Truth About Married At First Sight's Myrla & Gil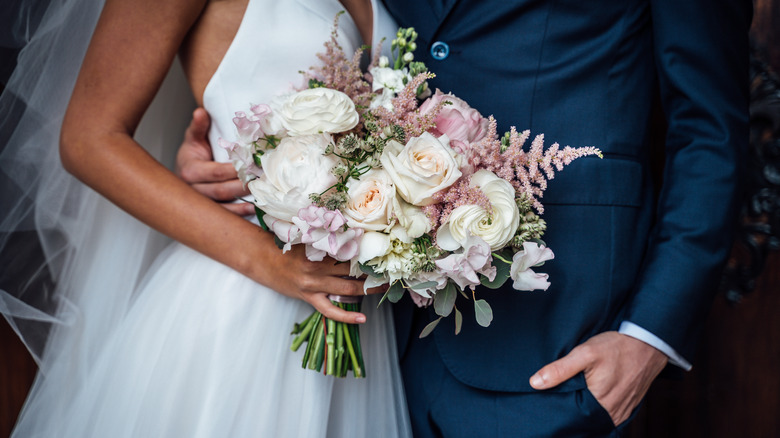 Shutterstock
On July 21, one of the most popular reality television shows will be back on Lifetime, "Married at First Sight," will be reappearing for its 13th season with 10 new single people from Houston, Texas. Each season of "Married at First Sight" follows the journey of 10 singles as they become five married couples upon meeting each other for the first time.
Prior to getting married, the stars of the show know nothing about their future partner. Every two-hour episode in the season will follow these couples as they say "I do," embark upon their honeymoon, and live together for several weeks before deciding to either remain married or get a divorce, per Us Weekly. The couples are set up with one another by a panel of relationship experts. While not much is known about what viewers can expect from the 10th season of the show, the press release did mention the fact that one of the husbands "gets caught in a situation that no one saw coming," according to Us Weekly.
In the past 12 seasons, only 12 couples have remained together to date, per Lifetime. This season, couples Zack and Michaela, Ryan and Brett, Johnny and Bao, Jose and Rachel, and Gil and Myrla will be attempting to make their marriages stand the test of time.
Gil and Myrla are optimistic about their chances of finding real love on the show
One of the couples featured on the 13th season of "Married at First Sight" is Gil and Myrla. Gil, a 35-year-old Colombian native, is looking for a wife that will complete his American dream. According to E! News, he is a hopeless romantic who wants to create a happy family with his future wife. Unlike previous singles who have appeared on the show, Myrla, a 34-year-old leadership coach, is willing to completely trust the panel of experts in finding her future love match.
According to her LinkedIn, Myrla is a leadership coach at TNTP and has been a principal and teacher in the past. The "Married at First Sight" cast member attended The University of Texas-Pan American where she earned a Bachelor's Degree in Early Childhood Education and a Master of Public Administration.
Will this couple find an enduring sort of love on the reality show? Tune into "Married at First Sight" on Wednesday, July 21 at 8 p.m. on Lifetime to catch the beginning of their love story.