The Real Reason Dustin Johnson Was Nicknamed The Cheetah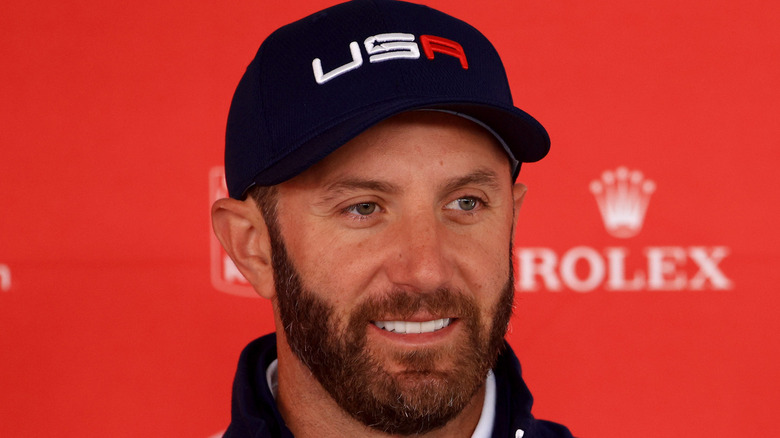 Mike Ehrmann/Getty Images
At 37 years old as of this writing, Dustin Johnson has become one of the PGA's most accomplished golfers. Though he may have a troubled past, the athlete has ranked No. 1 in the Official World Golf Ranking twice throughout his career, via Sportscasting. Per PGA Tour, he turned pro in 2007 and went on to clinch 24 PGA Tour victories and 2 international victories. He first fell in love with the sport thanks to his father, Scott Johnson, who was a former club pro and took his son to the range as a child, according to Sporty Tell. Despite hitting the links in his younger years, it wasn't until college that Johnson fully dedicated his time to golf.
As an amateur golfer, Johnson quickly made a name for himself, according to the PGA Tour. He was the all-time scoring leader at Coastal Carolina University, where he attended college, and holds "the lowest season scoring average in school history" at 70.40 to this day. More recently, the outlet reports that he won the 2020 Masters Tournament and finished 8th in the FedExCup standings. But as well-known as the name Dustin Johnson is, fans may know him better by his nickname, "The Cheetah." So, how did this unusual moniker come about?
Dustin Johnson has a cat-like sense on the golf course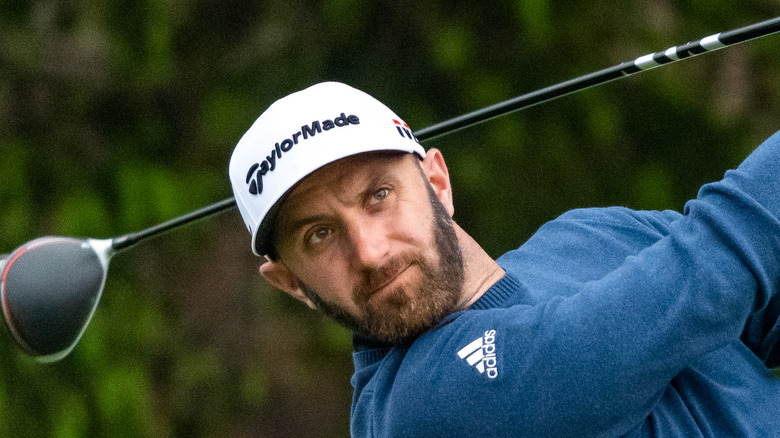 Gary Yee/Shutterstock
With a nickname like "The Cheetah," you might guess that Dustin Johnson has a need for speed — however, it actually has more to do with how the professional golfer looks while out on the green. According to Golf Grinder, Johnson's fellow PGA pro and close friend Nick Watney labeled him "The Cheetah" thanks to Johnson's feline-like senses, height, and "big cat walk." (Not to mention, the golfer is ruthless when it comes to taking down the opposition.) Additionally, AusGolf reports that Johnson's "style of play also reflects the grace of the cheetah, as well as its quick striking power."
Fans of the sport may recognize that Johnson is far from the only golfer with a nickname related to the animal kingdom. Perhaps most famously, Eldrick "Tiger" Woods was nicknamed Tiger in honor of his father's close friend Colonel Vuong Dang Phong, who went by the moniker in the army. As Bleacher Report notes, other golfers with animal nicknames include Craig "The Walrus" Stadler, Greg "The Great White Shark" Norman, and Ben "The Hawk" Hogan. Perhaps the talent of these athletes is such that it can only be encapsulated by their animal-like senses or appearances.