The Longest-Running Cast Members On The Bold And The Beautiful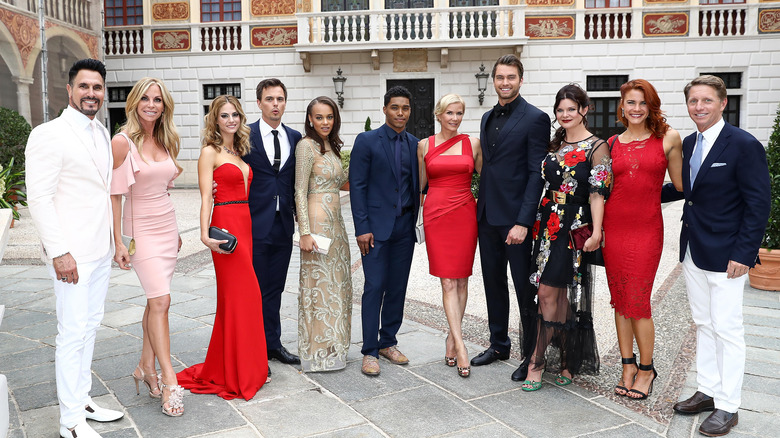 Pls Pool/Getty Images
Since 1987, the Forresters and Logans have been bringing over-the-top drama to "The Bold and the Beautiful" and its fictional fashion world in a fictional version of Los Angeles. 
When the CBS soap opera first premiered, Eric Forrester was the patriarch of the Forrester family and Brooke Logan was the college chemistry student working a catering job at one of the Forresters' many parties who eventually caught the eye of Eric's son, Ridge, as well as Eric himself (via Soaps In Depth).
On the 2022 version of "B&B," Eric remains the Forrester patriarch and Brooke is front and center as the woman who has married Ridge nine times over after marrying Eric and giving birth to two of his children. 
Although Eric and Brooke have matured over time, with the one-time college student now being a grandmother, one thing hasn't changed — and that's the performers who portray these iconic characters. They remain the longest-running cast members on "B&B" today.
John McCook found the perfect soap home as Eric Forrester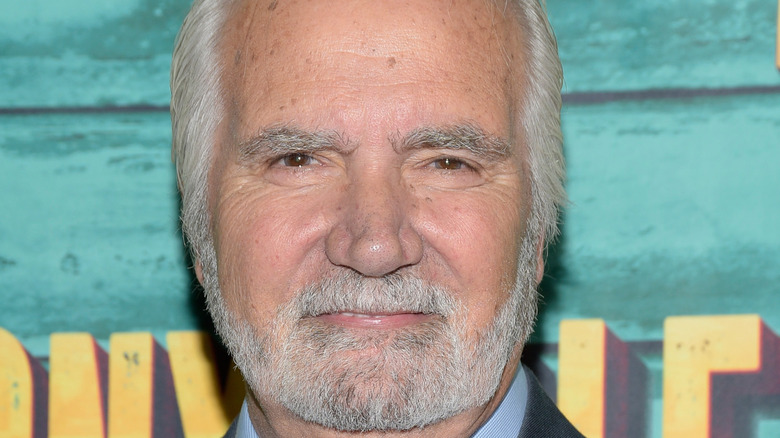 Michael Tullberg/Getty Images
Before John McCook agreed to play the patriarch on a new soap opera called "The Bold and the Beautiful," he had already played a younger leading man on the series' sister soap, "The Young and the Restless." 
As Lance Prentiss, he was the show's top heartthrob, which made him hesitant to take on a more mature role when Bill Bell, the creator of "Y&R," asked him to take on the role of Eric on the new soap he had in development.
"​​I was on the fence about it," McCook Soaps.com in March 2021. "But they kept calling my agent and saying, 'Bill Bell really wants to see you.' We hadn't seen each other in seven years, and the first thing he said was, 'I thought you'd be older!' I suggested perhaps I wasn't right for the part."
That's what led McCook to dye his hair with salt-and-pepper streaks, which became his signature look as Eric for decades, according to IMDb.
As McCook celebrated 34 years of bringing Eric to life, he told Soaps.com that his long run on "B&B" is a sign of acting success. 
"Being on this show and, to back up even further, to be able to be an actor all these years and be able to make a living at it... It's such a cliché to say it's been a blessing, but it has," McCook said. "The very definition of a stunningly good job in show business is a long run on Broadway, a TV series, or a soap opera."
Katherine Kelly Lang has been with The Bold and the Beautiful since the start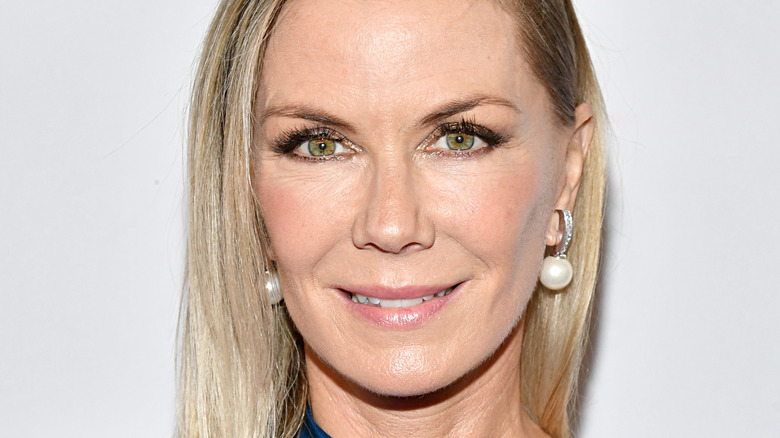 Amy Sussman/Getty Images
As Brooke Logan on "The Bold and the Beautiful," Katherine Kelly Lang took an ambitious college student working her way through school and turned her into someone the late Forrester matriarch Stephanie (Susan Flannery) dubbed "the slut from the Valley." 
Brooke has certainly been through her fair share of men, but, somehow, she always returns to Ridge.
As of this writing, Brooke just woke up with a hangover on New Year's Day with her long-ago ex, Deacon Sharpe (Sean Kanan), in her bed (although all they did was sleep), and now she has to explain that to Ridge — or keep it a secret. 
Through the years, Brooke has also been married to Eric Forrester, Bill Spencer (Don Diamont), and Whip Jones (Rick Hearst). She was also involved with Deacon, who was married to her daughter, Bridget (Jennifer Finnegan) — and then fathered her younger daughter, Hope (Annika Noelle), according to Soaps In Depth.
As "B&B" turned 33 in 2020, Lang reflected on her time with the soap with gratitude. "It's just been an honor to be on the show, and remain on the show for so long as one of the original characters," she told Michael Fairman TV. 
She added: "My heart really goes out to the fans, because honestly, so many of them tell me they've watched from day one ... there's a wide range of different people who watch the show, and I appreciate them so much. We all appreciate them so much because really, without them, there would be no show."