This Skinceuticals Silymarin CF Serum Can Help With Cystic Acne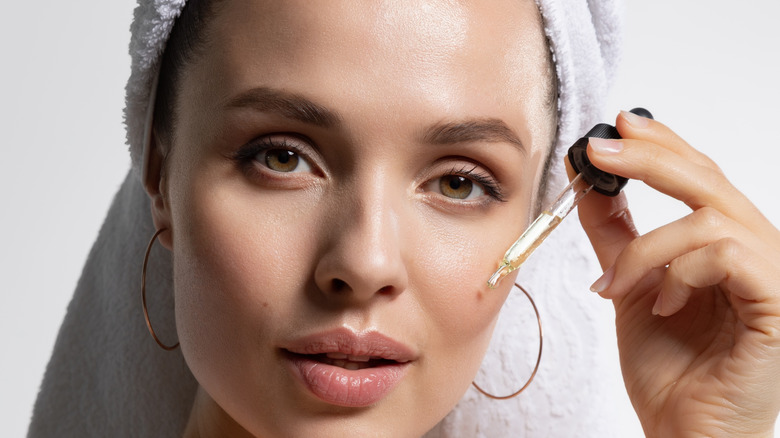 Popcorner/Shutterstock
To love skincare is to have overflowing bathroom counters and drawers filled with tubes and pots. It cannot be helped. You'd think everyone only needs one moisturizer or serum in rotation, but think again. In the skincare world, there's always a new product right around the corner that promises to make your current favorite product irrelevant.
Within the world, there's definitely a hierarchy. Once a brand proves itself after a few releases, it holds the power to instantly win over fans the second it announces a new product. SkinCeuticals is one of those brands. While it's certainly on the higher-end of luxury skincare brands, SkinCeuticals has secured its title for providing amazing targeted serums that focus on highlighting a single ingredient or two. It's one of the rare brands to be praised by skincare fans and dermatologists alike (via Byrdie). While it's launched countless holy grail serums, one of its latest acne-fighting products has especially garnered its very own fandom.
Why SkinCeuticals Silymarin CF Serum is the answer to your acne prayers
Behind every hyped-up holy grail skincare brand is its superstar product. As it turns out, SkinCeuticals actually has a few. From its CE Ferulic Serum to its Discoloration Defense Serum, there is a fair number of SkinCeuticals products that fans obsess over — but the Silymarin CF Serum has had an entire moment of its own (via Glamour). The serum is meant to target oily and combination skin types and those who struggle with acne and aging. Its potent formula contains 0.5% salicylic acid to help battle breakouts and texture while reducing oiliness (via SkinCeuticals).
The results speak for themselves. Countless online reviews rave about this product being a heroine for acne-prone skin. Bianca Lambert shared her own experience with Byrdie of how the serum changed her skin texture within only 8 days. It also stopped her skin from becoming super oily and kept her makeup in place for hours.
Meanwhile, Kelsey Clark over at Glamour shared receipts in the form of before & after photos that showed just how well the serum worked to reduce inflammation and minimize her breakouts over time. The serum has taken 6 years to make, and it's clearly been worth the wait (via InStyle).