The Truth About Harry Styles' Relationship With BTS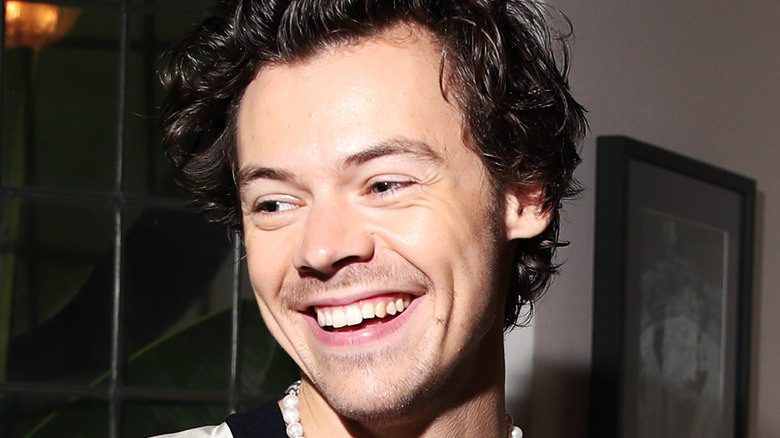 Rich Fury/Getty Images
Harry Styles and BTS are some of the biggest pop stars in the world. Styles is the former boybander with a massive solo career, while BTS put K-pop on the map in a whole new way — but are Styles and BTS friends? The beloved Brit has a massive celebrity fanbase that spans everyone from Elton John to Rihanna, per BBC. Meanwhile, as Capital FM details, Styles also has a star-studded inner circle of friends to boot. The former One Direction star spends his free time with the likes of Lizzo, who Styles teamed up for an iconic performance of her hit song "Juice," and Fleetwood Mac frontwoman Stevie Nicks, who Styles met all the way back in 2015.
Unsurprisingly, BTS are proud fans of Styles, too. As Den of Geek points out, Jungkook honored the pop star with a cover of his hit song "Falling," in 2021. The YouTube video racked up millions of views within just a few hours. Prior to Jungkook's killer cover, BTS chose another Styles smash, "Watermelon Sugar," as their biggest earworm during an interview with SiriusXM's Hits 1, via Den of Geek. In fact, band members J-Hope and Jimin even broke into song on the spot. Likewise, Jungkook enthusiastically offered his rendition of One Direction's hit "What Makes You Beautiful" when prompted. But does the love go both ways or are BTS simply fans from afar?
BTS go on record as massive Harry Styles fans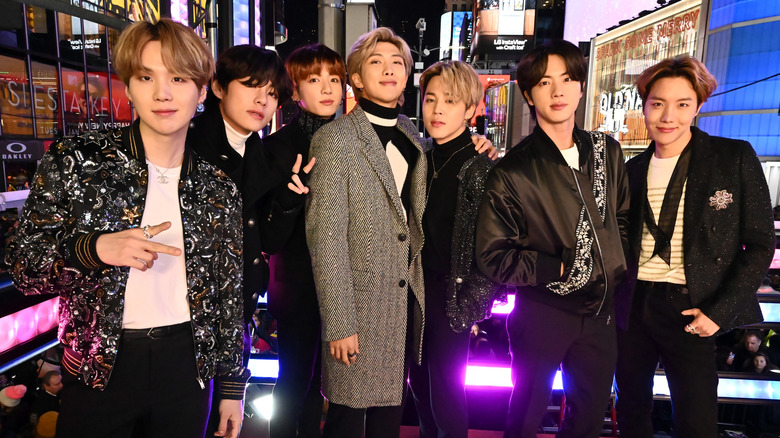 Astrid Stawiarz/Getty Images
As CheatSheet notes, BTS made their Harry Styles fandom official by attending his Los Angeles concert in November 2021. They were in the States for the AMAs, alongside their "Permission to Dance" mini-residency, which also took place in LA. While performing "Sunflower, Vol. 6," fans spotted Styles throwing a sunflower directly to BTS, per Cheat Sheet. After the show, the group posted a video to Twitter that showed them dancing and singing along to "Falling." 
However, despite their public support of Styles, it's not entirely clear whether BTS actually knows the British pop star personally. He is clearly aware of them, since there were several moments during the LA show when Styles actively acknowledged the band's presence. Per Cheat Sheet, both BTS and Styles were part of the recent Marvel movie "Eternals," which premiered in October 2021. Styles appeared in a post-credits sequence as Eros, brother to supervillain Thanos. Meanwhile, BTS were involved thanks to band members Jimin and V's song "Friends," which played in the background of one scene. Separately, CheatSheet points out that BTS previously teamed up with Coldplay on "My Universe," so a future collaboration with Styles isn't out of the question. Perhaps once BTS returns from their hiatus, we'll see whether these titans of pop finally connect in person.