Roseanne Liang Reveals What Inspired Dark Comedy Creamerie - Exclusive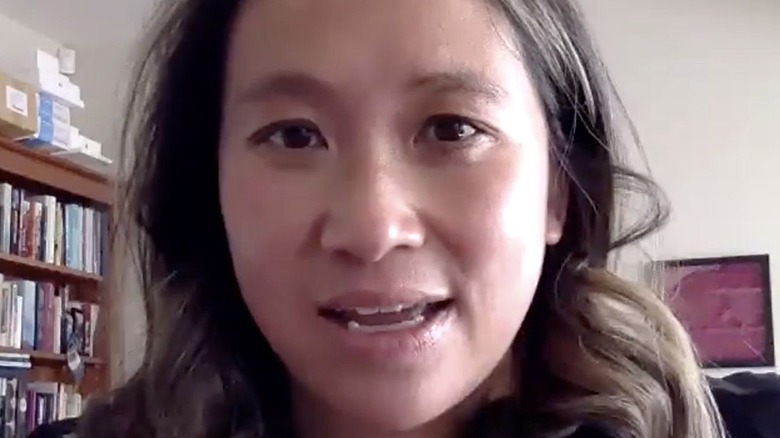 Getty Images/Getty Images
If you catch one show in January 2022, make sure it's Hulu's "Creamerie." The dystopian fantasy was created by director Roseanne Liang and the show's stars, J.J. Fong, Ally Xue, and Perlina Lau.  
Set in Liang's native New Zealand in the not-too-distant future, "Creamerie" explores a world in which all men have died due to a mysterious illness. While the all-female society appears to be thriving, a cult-like organization called Wellness runs a lottery to determine which women can become mothers and help populate the planet.
"Creamerie" covers a wealth of modern topics, from the toxicity of the wellness industry to sexism and racism — and manages to do so via a darkly comic lens.
Liang spoke with The List to discuss the new show. "I hope, in watching 'Creamerie,' people will be entertained, feel uncomfortable, start discussions about power, and find new, not wholly unpleasant ways to cope with the mess we're in," she said. 
The director spoke with us about the various inspirations behind "Creamerie."
Roseanne Liang looked to world events and dystopian TV for Creamerie
When developing "Creamerie" alongside the show's stars, Roseanne Liang was inspired by a plethora of topics, TV shows, and real-life events.  
"I was sitting with co-creators J.J. Fong, Ally Xue, and Perlina Lau in 2018, at J.J.'s kitchen table, downloading about the latest season of 'The Handmaid's Tale,'" she recalls. "We love the show, but it was really getting us down, especially mid-term in Trump's presidency with women's agency over their own bodies being threatened." 
While "Creamerie" Season 1 is shot entirely in New Zealand, world news and events played a big role in developing the show's premise. 
"Everything that happens in the U.S. ripples to us in New Zealand in one way or another, including the feeling of rage and hopelessness about society at large," Liang tells The List. "At the same time, we were being inspired by shows like 'Barry' and 'Atlanta' — shows that were doing things with comedy and tone that we had never seen before — and we wondered what a NZ-ified gender-flipped satire of 'The Handmaid's Tale' might look like." 
As a result, "Creamerie" looks at relevant global issues through a New Zealand lens, making for a highly original dark comedy.

"Creamerie" Season 1 is available to stream on Hulu now.