Celebrities Who Have Collaborated With Crocs
Nice_she/Shutterstock
Before we dive into the world of Crocs, we have to make one thing clear. They're not going anywhere! Even the COVID-19 pandemic wasn't enough to slow down sales of the quirky footwear. In 2020, WWD reported that sales increased by 12% to total a staggering $1.38 billion. And in 2021, Crocs saw revenue growth of between 20-25%, according to the outlet.
So if you were a fan of Le Croc since the beginning, you can now officially call yourself a trendsetter. Master Shoe reports that the eclectic piece of footwear was first developed in 2002 by a group of friends who recognized its potential as a sailing shoe. Following its debut, many formed a love-or-loathing relationship with Crocs before celebrities jumped aboard the bandwagon and transformed them into the kicks of the moment. And speaking of marketable celebs, which A-listers have worked with the brand? You might be surprised to learn that everyone from Post Malone to Justin Bieber has thrown their star power behind the comfy footwear.
Crocs has joined forces with plenty of famous faces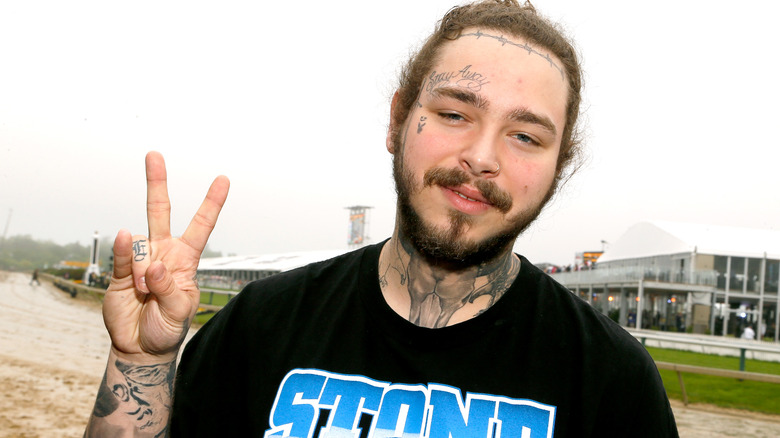 Paul Morigi/Getty Images
According to WWD, Post Malone is such a fan of Crocs that he's teamed up with the brand a total of five times since 2018 alone. The tattooed rapper has backed both men's and women's creations with designs that are inspired by his tattoos. Another music man who likes his Crocs is Justin Bieber, whose initial collab with the brand — featuring a bright yellow color and plenty of cool Jibbitz charms — sold out in the U.S. within two hours, via WWD. DJ Diplo also got in on the Crocs craze with his own psychedelic line. "I wear my Crocs literally everywhere so I'm stoked to have some with my name on them, and that others can get them too," the Grammy winner said in a statement, per WWD.
Malone, Bieber, and Diplo are just three of Crocs' recent collaborators among a star-studded list that also includes Drew Barrymore, Luke Combs, Ruby Rose, and Yang Mi, according to Los Angeles Times. It's safe to say that the shoe brand has teamed up with a ton of famous faces — not to mention its partnerships with fashion houses like Balenciaga and Christopher Kane, according to Elle UK. (For anyone who's ever thought that Crocs were too down-market, there are now stiletto Crocs!) However, if you're still reluctant to slip on the shoe, we understand. Not everyone can get on board with a foamy clog, even if it does happen to have plenty of celebrity endorsement.