Celebrities Who Have Been Seen Rocking Crocs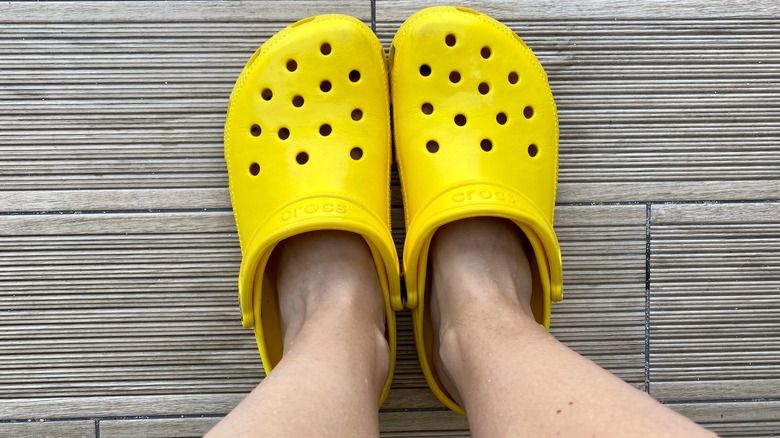 Nice_she/Shutterstock
Crocs are back, but the real reason Crocs are back in style may surprise you. You know the ones: The shoes that are rubber-like in material, are dotted with cut out circles that expose the feet, and are über comfortable to wear. Some made fun of Crocs when they first went mainstream, but they've recently found a renaissance across all generations, including among celebrities.
Of course, this isn't a blanket statement for all celebrities. Victoria Beckham famously — and publicly — exclaimed that she "would rather die" than wear a pair of lilac Crocs that were gifted to her by Justin Bieber (via E! Online). However, the COVID-19 pandemic naturally helped Crocs remain popular a little longer. People were staying indoors and wanted to be comfortable, and Crocs are a natural fit for this. This could even be a reason why high heels are canceled even after the pandemic. Many are gravitating for ease and comfort over presentation or fashion, and Crocs are commonly known as great shoes for standing all day, so they're excellent for everyone (via Pedi Delight).
Still, seeing celebrities donning Crocs is always fun. These are the celebs who have been seen publicly rocking Crocs.
Many celebs make their Crocs their own to stand out
While some adore Crocs and others abhor them, there's no denying their popularity at large. Giving even more of a platform to these shoes are the likes of Nicki Minaj and Post Malone, per PopSugar, among many other celebrities. These celebs make sense, too. Minaj is a mother and likely doesn't have the time anymore to worry about shoes for everyday wear. Malone, too, is a proponent of comfort and also alternative apparel. (Naturally, Minaj had her Barbie-pink Crocs bedazzled with Chanel crystals.)
In addition to Malone and Minaj, Bad Bunny has been known to sport glow-in-the-dark Crocs, which take these shoes to the next level, especially when performing. Diplo, too, loves Crocs and actually worked with them to create his own glow-in-the-dark version of the shoes.
According to Complex, other colorful Croc-wearing celebrities include Lebron James in trippy, kaleidoscopic ones, Pharrell in tie-dye ones, Tierra Whack in bright yellow ones, Adam Sandler in dark beige ones, Justin Bieber in the same lilac color that he sent Victoria Beckham, Ariana Grande in white, unadorned ones, and Questlove in an all-gold pair. Many of these appearances range from 2019 to 2020, though, Questlove and Minaj's are from 2021 and Sandler's is from 2005. Who knew Sandler was a fashion trendsetter? Worth noting is that public appearances have been incredibly limited during the COVID-19 pandemic, which is why less celebrities have been seen this year and Minaj's appearance in Crocs is from social media.