Is Melt Lipstick Worth It?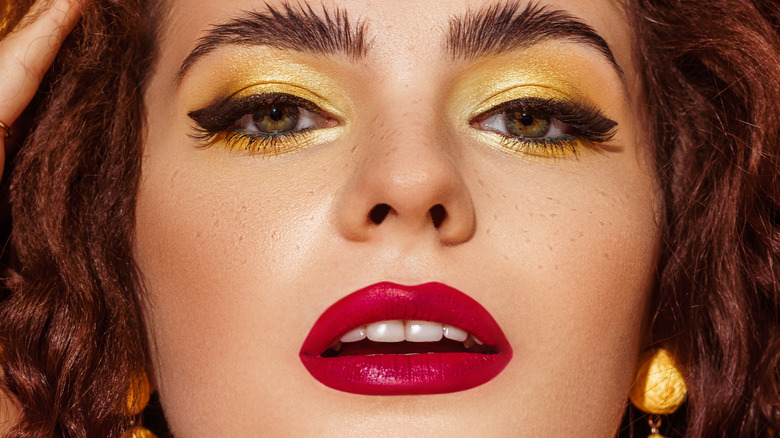 Victoria Chudinova/Shutterstock
Did you know that Melt Cosmetics was born when Latina-besties Lora Arellano and Dana Bomer were having brunch? They wanted to start a makeup line, and they were both all in on the idea (via Allure). They were the first to create a highly-pigmented liquid lipstick line in unconventional shades, like blue and gray, before well-known drugstore and prestige brands jumped on the bandwagon. Arellano and Bomer went from working at the makeup counter to launching their own brand (via Cosmopolitan). 
Established in 2013, every lipstick made by Melt Cosmetics sold out on the first day, and since then, its ultra-matte liquid lipsticks have gained a cult following (via Referral Candy). "Honestly, we were hustlers," Arellano told Allure. She added they were planning on selling their makeup door-to-door if it didn't work out as planned. With the brand's staggering 2.7 million followers on Instagram, it doesn't look like they will be selling makeup out of their cars anytime soon.
Known for its ultra-matte and bold lipsticks, Melt Cosmetics Liquid Lipstick has established a name for itself in the world of makeup. If you like liquid lipsticks, you probably have one on your vanity.
Melt Cosmetics liquid lipstick is long-lasting and super pigmented
It seems Melt Cosmetics gained a cult-following overnight — it went from an idea between 2 girlfriends into a must-have liquid lipstick in our makeup bags. They have created more makeup over the years, but the brand is most known for its matte liquid lipsticks. Byrdie recommends that you discover it for yourself by trying its Liquid Lipstick Set. This liquid lipstick feels lightweight but provides full coverage, lasts all day, and is available for $19 at Sephora. This lipstick is vegan, cruelty-free, and free of parabens. The colors range from bright reds to seductive nudes and unexpected blues and greens.
Temptalia likes this liquid lipstick, which scores pretty high in its rating for longevity and pigmentation. It delivers bold colors without looking or feeling cheap, and it's smudge-proof and transfer-resistant. Honest Brand Reviews is a fan of its lipsticks because their saturated color lasts all day, and there are many colors to choose from. This brand has an A+ rating on the Better Business Bureau, and based on its diverse range of colors, long-lasting ability, and highly-pigmented products, it is a liquid lipstick worth the price. According to Entertainment Tonight, Arellano has done Rihanna's makeup, which is proof that Melt lipstick is worth a shot. And, we like supporting women-owned and women-operated businesses. Don't wait too long to get in on this Latina-owned beauty brand's liquid lipstick — it is really that good.