This Real Housewives Of Miami Star Opens Up About Altering Her Face
Frazer Harrison/Getty Images
As the wife of a plastic surgeon, it shouldn't be surprising that "Real Housewives of Miami" star Lisa Hochstein has taken advantage of some of his services. In fact, she had her husband, Dr. Leonard Hochstein, fix the breast augmentation she initially had done when she was 19. "Afterward, my breasts were very close together, like a uniboob, and a little lopsided," she explained in a blog. "Lenny admitted it wasn't the best [boob job], but he was hesitant because he doesn't believe in [surgery] unless it's like absolutely necessary."
Lisa, who also admitted to getting rhinoplasty to fix a "little tiny hump" on her nose (per SheKnows) and fillers through the years, even started working with her husband at the Hochstein Medspa. "I love that [Lenny and I] work together, but we don't have to see each other every day. I think if we had to see each other for 24 hours a day, it would be horrible for our relationship," she told Page Six. "He's on the first floor, I'm on the fourth floor. So, that really helps things!"
And now that she is working in the industry, Lisa has realized that fillers aren't necessarily the answer to looking young. In fact, she admits that she went "overboard" with them when she and Lenny opened their business in 2017.
Lisa Hochstein is removing the fillers from her face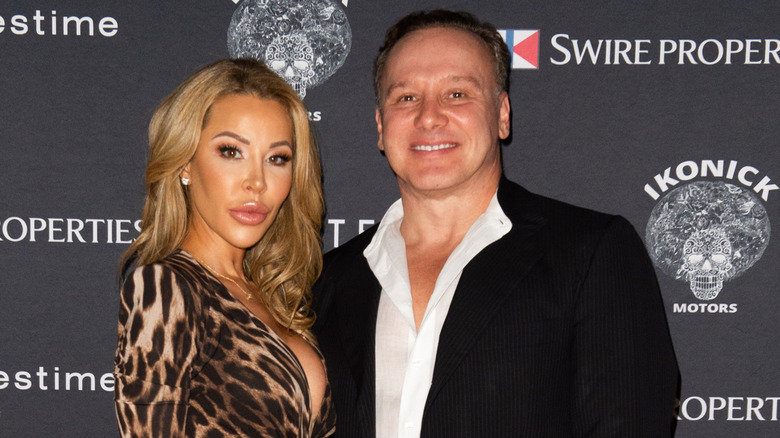 Romain Maurice/Getty Images
After opening up the Hochstein Medspa in Miami in 2017, Lisa Hochstein decided to partake in some free services–and admits that she went too far. "I did go overboard when we first opened our Medspa because everything was so accessible to me," she told Page Six. "I probably put too much of everything in my face and I probably stopped doing all of that in the past two years. I've actually removed a lot of filler."
Lisa, who says removing the fillers is "a work in progress," is now convinced that lasers and facial peels are the better route when it comes to looking younger. "A little bit goes a long way," she said. In the meantime, Lisa is enjoying her time back on "Real Housewives of Miami," although she's grateful for the years she had not filming for the show. "I'm almost a little relieved that I had that hiatus to kind of do all of it, because — it would've been great TV — but really hard on my soul and my emotional everything," she told Entertainment Tonight. "I'm happy that I got all of it done and get to show it to you and it's all complete. The kids, the house, the job, the medspa, all of it."