Here's How To Do A Silk Press At Home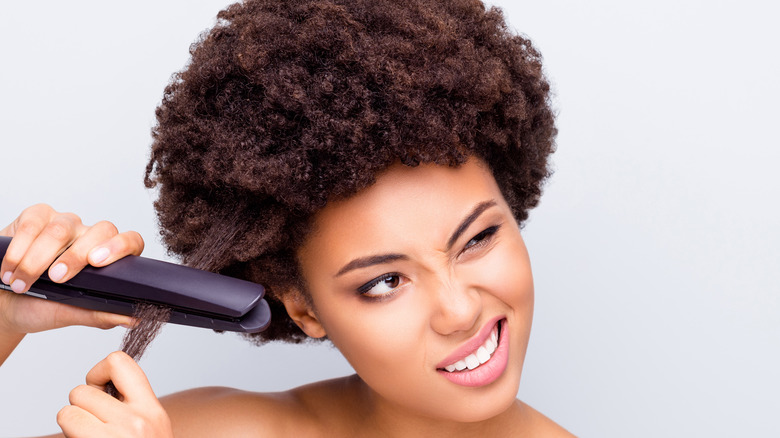 Roman Samborskyi/Shutterstock
In 2022, we're looking to save our coins, okay? And that means those frequent trips to the hair and nail salon may need to be dialed back a little. That doesn't mean you shouldn't keep up your hair and nail maintenance; it just means there will be more DIY projects this new year. A YouTube video and some items from the local beauty supply store can go a long way.
The first step, according to The Strategist, is to start the process with clean hair. So, get ready to spend quite some time shampooing, conditioning, deep conditioning, and detangling your hair. Without any oils or dirt in clean hair, you have a higher chance of avoiding heat damage.
Once wash day is completed, get ready for prepping. Heat will damage your hair, but you can lessen the damage by applying various voluminous sprays and leave-in conditioners to your wet hair, per Well + Good. Now, get your blow dryer — it's drying time.
Wait! Don't towel dry your hair. "This is a step that people skip that doesn't give them the best silk press, especially at home," New York City hairstylist Karen Miller said to the outlet. "You want to blow-dry your hair and smooth it out when it's wet." 
How to prevent hair damage from flat ironing your hair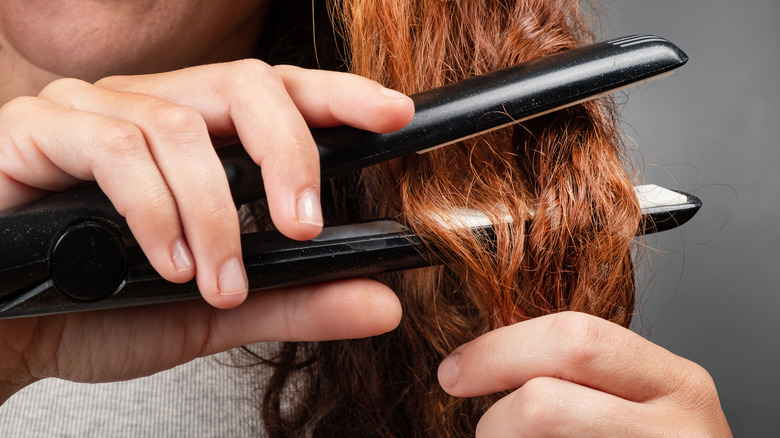 fukume/Shutterstock
Your hair is blow-dried. Now, we're straightening. This is where you'll need to invest in a good flat iron. A good flat iron, which will cost you quite a penny, will need to be titanium, especially if you have really kinky hair, The Strategist said. Hairstylist Mika English recommended the BaBylissPro to the outlet, saying how "the heat settings might be the same as the titanium, 450, and 450, but the finish is a silkier finish with the titanium. It's a more slippery material, and the hair is going to glide faster than it will glide on ceramic plates." The titanium plates will also guarantee less heat damage because you'll only have to do one pass of the straightener instead of multiple.
Once you have your preferred flat iron, apply the heat protectant and section your hair. Straightening your hair in small sections — less than a half-inch — will get you those really straight locks, says Well + Good.
Don't forget to apply the chase method, where you straighten each half-inch of hair by running a comb underneath. It ensures a non-frizzy finished look, but may take a couple of tries because it takes eye coordination. The trick is to take it slow, The Strategist said.
Finally, finish your hair with a light shine spray. Don't forget to wrap your hair and wear a silk bonnet at night to make your hairstyle last.