Here's Why You Need Crocs Before Hiking This Winter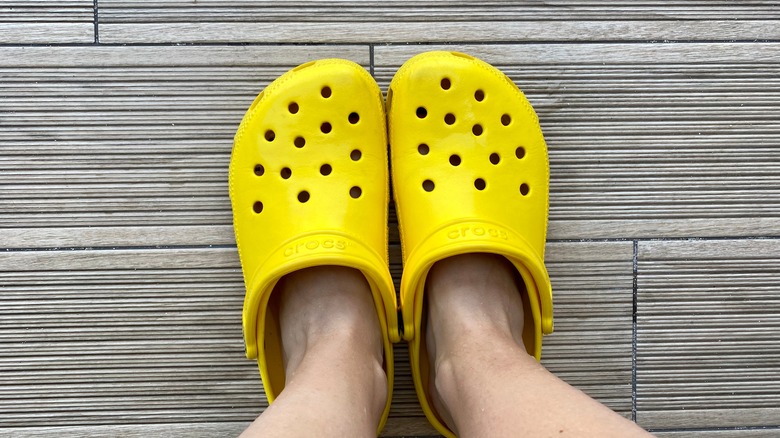 Nice_she/Shutterstock
Love 'em or hate 'em, Crocs are here to stay. Whether you've welcomed them with open arms as going-out shoes, or only permit them to be worn in the garden, Crocs can be a shoe for nearly any occasion. And recently, Crocs have found their place in the world of outdoor wear. That's right: A new design of Crocs might be the perfect shoe for hiking during this intense winter weather.
When they were first invented back in 2002, their creators — Scott Seamans, Lyndon Hanson, and George Boedbecker Jr. — likely had no idea just how ubiquitous their strange little shoe would become. The idea struck the trio while sailing in the Caribbean, per Master Shoe, when they saw a new type of boating clog made by Canadian shoe company Foam Creations. The clogs were made of an innovative material called Croslight, and the three sailors couldn't get over them. Once they made it home, the team acquired the rights to the manufacturing process and eventually secured the rights to Croslite as well.
While the Crocs' design does make them desirable for use in water sports, those breathable holes and waterproof material alone speak for themselves. The shoes have found a place off the boat as well.
New outdoor hiking Crocs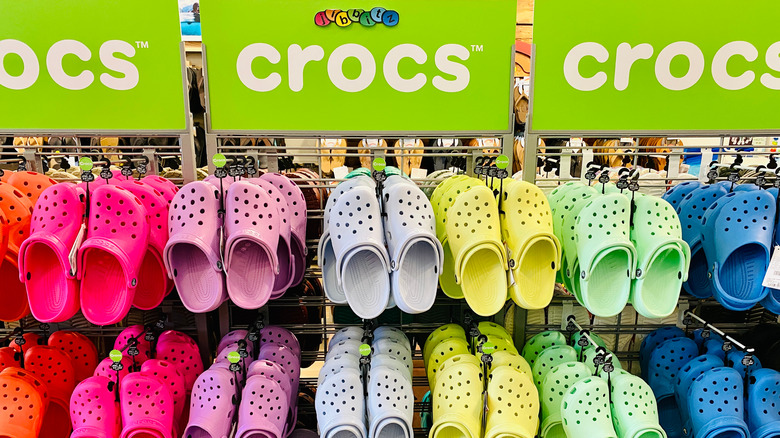 ZikG/Shutterstock
Crocs have become a popular around-the-house shoe, and even recently found runway success. With the list of Croc-wearing celebs donning pairs of these arguably silly-looking shoes — Nicki Minaj, Ariana Grande, Bad Bunny, Pharrell Williams, and Questlove among them (per Pop Sugar) — the phrase "if you ain't Crocin', you ain't rockin'" seems truer than ever. Through numerous collaborations, Crocs have become a go-to shoe for a variety of contexts.
Most recently, Crocs teamed up with Japanese apparel company Beams to create a new kind of Crocs that is suitable for all terrains. With buckles, pockets, and a hefty outsole, these new Crocs are perfect for winter hikes, per Hype Beast. Beams and Crocs first collaborated back in 2019 to create fashionable clogs with translucent visors, fringe, and fanny packs. Beams' forth creation with Crocs also balances form and function to make for an all-new kind of Crocs that will have you hitting the trails in no time.
There are two models of the new shoe. The first, the All-Terrain Military Clog, features multiple pockets, molle webbing, and comes in olive green and black, per Input Magazine. The second, the All-Terrain Outdoor Clog, comes in a tonal black, as well tan and grey, and offers more of a street style look. Check out the collection on the Crocs website.