Why Phil Mickelson's Nickname Doesn't Make Sense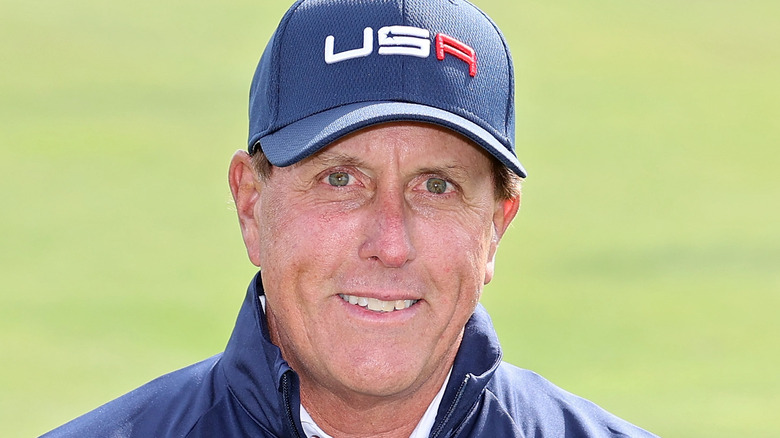 Warren Little/Getty Images
In the golfing world, Phil Mickelson is better known by his nickname Lefty. He does have a slew of other names, including "Phil the Thrill" and "FIGJAM," with the latter standing for "(Expletive), I'm good. Just ask me," according to the Bleacher Report. Golf Digest expands on how this strange moniker came to be, writing that it came from the early days of his career when he was a little too "spirited" which in turn "rubbed [his] peers the wrong way."
It was, in fact, the PGA Tour pros that gave Mickelson this nickname, according to LiveAbout, due to his arrogance as a young pro golfer. Those days are certainly far behind the professional golfer now, who has since gone on to become a five time major champion in the game and has 44 PGA Tour career wins under his belt (via Phil Mickelson).
With all that success –- and gratitude on Mickelson's part -– his "FIGJAM" nickname is pretty much history. However, "Lefty" continues to stick with the professional golfer, even if it doesn't make that much sense.
Phil 'Lefty' Mickelson is actually right-handed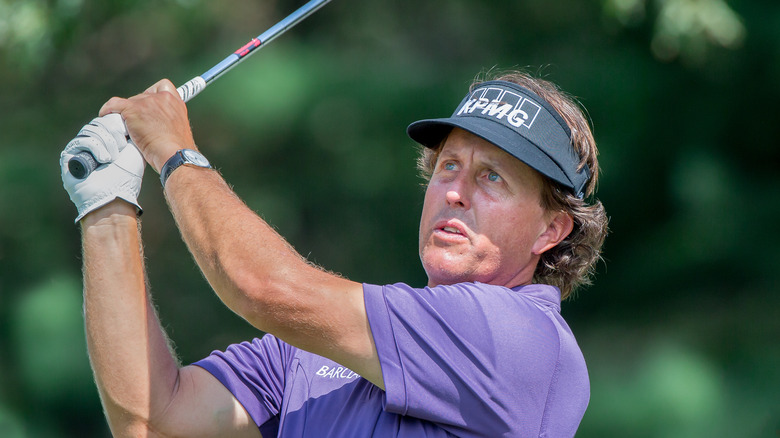 David W. Leindecker/Shutterstock
With a nickname like "Lefty," you'd expect it to have something to do with whether Phil Mickelson is right or left handed. Well, on the course Mickelson swings with his left hand (hence the name), but when he's not got a club in hand he's actually right-handed. This comes down to how Mickelson learned to golf in the first place. According to Britannica, Mickelson adopted his left-hand stroke from mirroring what his father did on the course.
So whenever Mickelson meets a fellow "Lefty" at tournaments, he's understandably excited. Case in point, during the 2021 PGA Tour season a young fan had been trying to get Mickelson's attention all day at the Detroit Golf Club (via Golf Magic). When they finally did cross paths, the pro was more than happy to talk to a fellow left-handed golfer. He even promised that if they were there later in the week, he'd save a glove for them (via Instagram). "Want to know how to get Phil Mickelson's attention? Tell him you're a lefty," PGA Tour captioned the post.