How Phil Mickelson Just Made History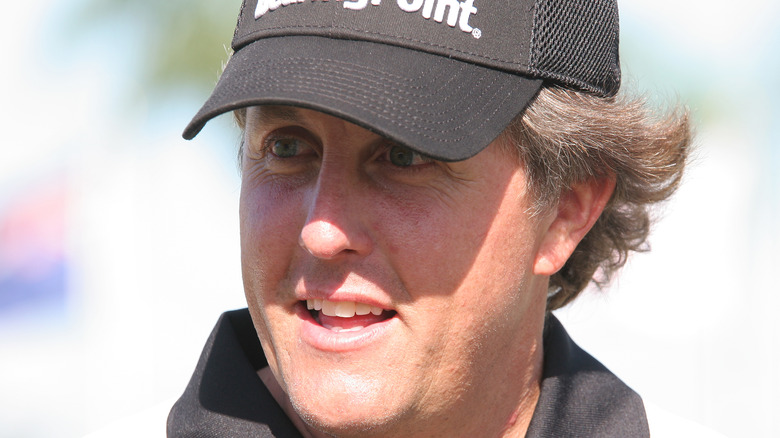 Shutterstock
When Phil Mickelson won the Wanamaker Trophy at Kiawah Island Golf Resort's Ocean Course over the weekend, he officially did something no other golfer has ever done (via People). At almost 51 years of age, the San Diego, California native just became the oldest player to win a major golf tournament, as well as the PGA Championship (via Biography).
According to USA Today, before yesterday, Julius Boros held this record, having won the 1968 PGA Championship at age 48. Meanwhile, Mickelson's closest rival for the win in Kiawah was Brooks Koepka, who, get this, is just 31 years old according to Golf Digest.
Mickelson, who now has six major victories under his belt, shared his thoughts about the win, saying, "This is just an incredible feeling because I just believed that it was possible but yet everything was saying it wasn't" (via USA Today). Mickelson also said about his historic victory, "I hope that others find that inspiration. It might take a little extra work, a little bit harder effort to maintain physically or maintain the skills, but gosh, is it worth it in the end."
Twitter reacts to Phil Mickelson's historic win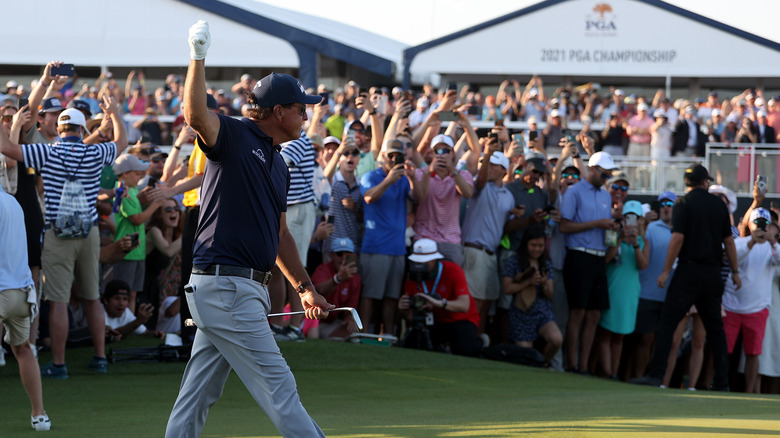 Patrick Smith/Getty Images
Meanwhile, social media lit up with congratulations for the golfer from fans and celebrities alike. Notably, even a sidelined Tiger Woods reached out to his former rival Mickelson, tweeting, "Truly inspirational to see @PhilMickelson do it again at 50 years of age. Congrats!!!!!!!"
Good sport Koepka also tweeted his congratulations for his rival, with many commenters praising him for the classy move, and fellow pro golfer Bubba Watson tweeted, "Yep, you're still the best lefty in the game!!! @PhilMickelson Congrats #PGAChamp."
Cryptically, Mickelson shared this message on Twitter about a week before his win: "I've failed many times in my life and career and because of this I've learned a lot. Instead of feeling defeated countless times, I've used it as fuel to drive me to work harder. So today, join me in accepting our failures. Let's use them to motivate us to work even harder."