The Law & Order: SVU Episode You Forgot Hayden Panettiere Starred In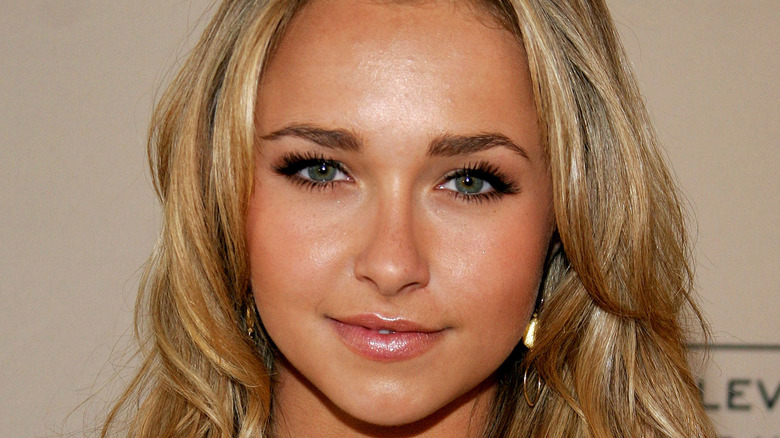 Tinseltown/Shutterstock
Perhaps best known for her roles in "Nashville" and "Heroes," actor Hayden Panettiere has been making more headlines lately in regard to her personal life and professional endeavors. The 32-year-old recently admitted to being in an abusive relationship for years with an ex-boyfriend. Her admission came as she underwent treatment for alcohol abuse, and she hopes that her story will encourage others suffering from abuse to seek help (via Good Morning America).
A few years before receiving help for her struggles with alcohol, the "Bring it On: All or Nothing" also shared with Cosmopolitan that she entered a facility to treat her postpartum depression shortly after giving birth to her daughter. "It takes you a while and you feel off, you don't feel like yourself," said Panettiere. "Women are so resilient, and that's the incredible thing about them. I think I'm all the stronger for it. I think I'm a better mom because of it because you never take that connection for granted," she said.
Panettiere is taking the steps she needs to regain control of her life. While she appears to have had a turbulent past few years, on the small screen, she's never shied away from the more dramatic roles either.
Panettiere appeared twice on Law & Order SVU
Many of us are so wowed by Panettiere's more recent roles that we forget she is a child actor. In fact, her first gig was at the tender age of 11 months for a Playskool commercial (via Start TV). Before grabbing the main roles, Panettiere made a guest star appearance on "Law & Order: Special Victims Unit" — not once, but twice. According to Insider, the actor's memorable smile was first shown in Season 2 when she played a young victim, Ashley Austin Black in the episode "Abuse." Her second appearance on the show's Season 6 made more of a lasting impression when she played Angela Angelli in the episode "Hooked." Angela was a school girl who, at the start of the episode, appeared innocent but was later connected to the murder of a doctor.
The famous star and the long-running show crossed paths long ago. And while not all of the dramatic episodes on "Law & Order: SVU" have a happy ending, we certainly hope Panettiere's dramatic past few years will fade into happier times in the future.