Surprising Rules You Didn't Know The Bold And The Beautiful Cast Has To Follow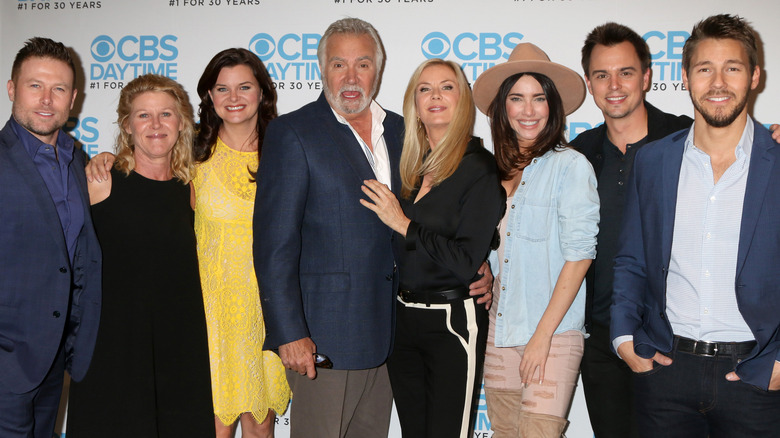 Kathy Hutchins/Shutterstock
"The Bold and the Beautiful" made history in 2020 when it became the first Hollywood television show to resume production following the initial wave of the coronavirus pandemic. 
When the cast and crew returned, they were subject to a whole new slate of California rules for film and TV sets that would help ensure everyone was healthy and safe. 
Rapid testing was put in place for anyone working, different zones were created to ensure there were never more than a few people at a time in any given area, and masks had to be used until the camera started rolling (via Variety).
"B&B" even took things a step further when it announced that it would be using blow-up dolls as stand-ins for some love scenes while using the backs of actors' real-life spouses for other love scenes, according to Forbes. After all, what's a soap without love scenes?
The Bold and the Beautiful love scenes came with a new set of rules
"The Bold and the Beautiful" Executive Producer Bill Bell explained to Forbes that, when the writers were trying to pen scripts without love scenes during the COVID hiatus, it just wasn't working out, so they chose to get creative so that this pivotal daytime drama element could still thrive.
"We were cutting all of the kisses, and the shows weren't the same," Bell said (via Forbes), which is why he opted for the stand-ins. "We have some life-like blow up dolls that have been sitting around here for the past 15 years, that we've used for various other stories — [like] when people were presumed dead. We're dusting off the dolls and putting new wigs and make-up on them and they'll be featured in love scenes."
In fact, one of the first stories told after production resumed gave a nod to actors kissing dolls with an actor kissing a mannequin instead, as Thomas Forrester (Matthew Atkinson) became delusional and thought a mannequin who looked like his obsession, Hope Logan (Annika Noelle), was the real deal (via Soaps.com).
However, even before COVID-19 turned the whole world upside down, cast and crew members on the CBS soap still had to adhere to some strict rules to make sure production ran smoothly.
The show airs 52 weeks a year, with long work days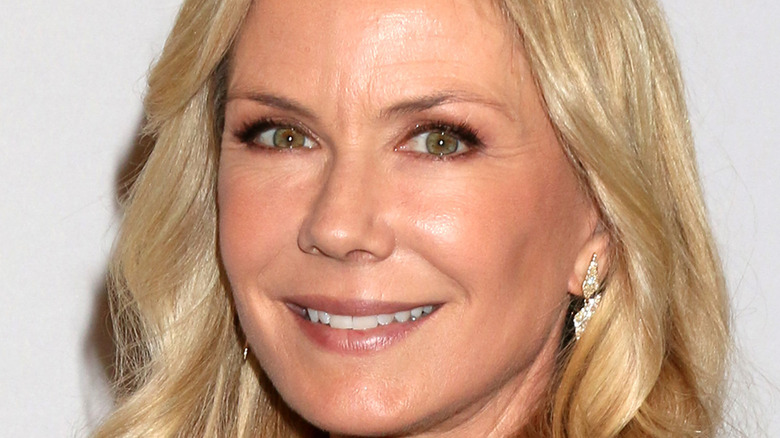 Kathy Hutchins/Shutterstock
Unlike primetime programming, daytime soaps have only once had a rerun season, and that's when production of "The Bold and the Beautiful" shut down in March 2020 due to the start of the pandemic. During those months, fans saw encore episodes and theme weeks while actors stayed safely at home. 
But, before COVID disrupted the normal flow of things, soap opera sets only typically went dark for holiday breaks. Otherwise, the actors work all year long, sometimes taping up to two episodes a day, working from 8:30 a.m. to 6 p.m., according to News.com.au.
With that much work, performers are required to memorize about 63 pages each day, something they do after-hours. "You work all day, but you still have to do your homework at night," Katherine Kelly Lang, who plays Brooke Logan, told the outlet.
Cast members also need to do frequent wardrobe fittings, as this is a soap based on the fashion industry, after all. According to Fame 10, the "B&B" wardrobe room instead looks like a wardrobe warehouse, with sections of clothing specific for each character. 
Life on a soap may look polished and glam, but, for the creative people behind the scenes and in front of the camera, it's all in a hard day's work.