Our Favorite Eyeliner: The 2022 List Beauty Awards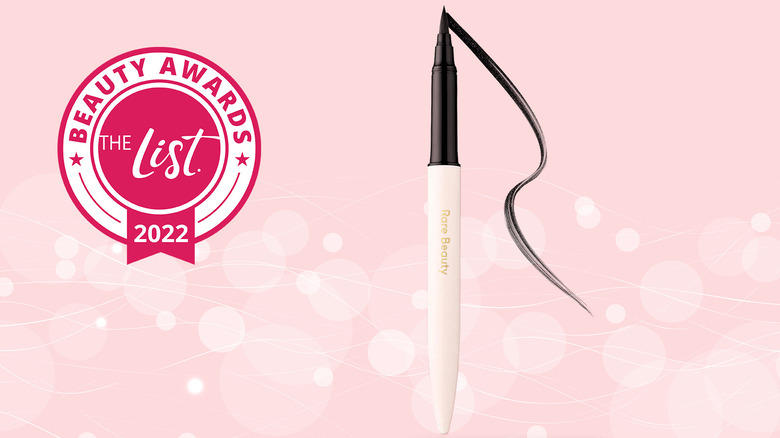 Rare Beauty / The List
We may receive a commission on purchases made from links.
We at The List are dedicated to uncovering the best lifestyle products that can enhance your daily life, and this mission includes beauty products. Enter the 2022 List Beauty Awards, where we're testing multiple products from a handful of beauty categories, including blushes, shampoos, tweezers, foundations, and more. Naturally, eyeliners fit the bill, too.
Eyeliners are complicated because they're all so different, and the application can require some skill. Some even get eyeliner tattooed onto their eyes so that they don't have to apply it every day. Other (less extreme) options include pen eyeliners, gel eyeliners, liquid liners, and more — but one fact remains: You need to know the best products in order to create the best looks. That's where we come in. 
We tested five different eyeliners from various price points and brands, and we found a clear winner among them that rose to the top for its color, formula, and applicator. We're pretty sure you'll want to pop it into your cart ASAP.
Rare Beauty Perfect Strokes Matte Liquid Liner: Winner
After testing five different eyeliners, one ultimately came out on top, and we can't lie: It's rare to find a product this good. That's right: Rare Beauty's Perfect Strokes Matte Liquid Liner reigned supreme as the best eyeliner option. (If we're being honest, Selena Gomez was always going to come out on top, right?)
This eyeliner retails for $19 at Sephora, making it a perfect medium between drugstore and high-end liner options in price. However, its quality is unmatched. Its black color is deep and rich, not a dark grey that's passing itself off as black. 
Its applicator, though, is really what sold us on the product. While its color is very dark and the formula is slick and smooth, its applicator is incredibly precise. Liquid liner can be hard to apply correctly and quickly, but this liner's applicator comes with such a fine tip that it can be applied precisely with little effort or experience. It also doesn't need to be pressed too roughly to let out the liquid liner; rather, it brushes on at the faintest touch, making it perfect for an area as sensitive as the eyes. Plus, the packaging is so cute!
Ultimately, this product stood above the rest due to its perfect balance between affordability and quality.
NYX Professional Makeup's Epic Ink Liner: Runner-up
While it didn't come out on top, another great liner is NYX Professional Makeup's Epic Ink Liner, a vegan eyeliner that's readily available at any drugstore. This eyeliner retails for just $9 at Ulta, so it's accessible in both price and physical acquisition, but its black color doesn't appear as dark and rich as Rare Beauty's. It's worth noting that Rare Beauty's is less accessible in its acquisition since it's not available at every drugstore, but it's still available at Sephora and other professional makeup stores. Plus, the internet greatly helps with accessibility.
NYX's Epic Ink Liner has a smaller applicator, meaning you have to get the pen closer to your eye to apply it. While this isn't a deal-breaker, Rare Beauty's applicator is the perfect length to have more control and more precision when applying it, a luxury that this liner doesn't afford its users. But if you ask us, this eyeliner is certainly worth the price.
Haus Laboratories Liquid Eyeliner: Runner-up
And then there were three! Another eyeliner we had the pleasure of testing was Haus Laboratories' Liquid Eyeliner, which retails for $20 on Amazon. This eyeliner, which hails from superstar Lady Gaga, has the same amount of accessibility as Rare Beauty's as it's stocked in both specialty makeup stores and online, though Haus' eyeliner is a tad more expensive.
The main difference between this eyeliner and Rare Beauty's is the applicator and the liner's tube. This tube isn't as matte as Rare Beauty's; rather, it's a more slippery surface that can make applying eyeliner more difficult. Conversely, Rare Beauty's tube grips more easily. Similar to NYX's liner, we wish this applicator tip would have been a little more precise, too. This eyeliner typically creates a thicker line of eyeliner, though it's possible to create a sleeker look with some skill. We think this liner would work super well for wings!
Overall Haus Laboratories' eyeliner is really beautiful — its black color is deep and full — so we had to get into the nitty-gritty details when ranking this one.
Tarte Tarteist Double Take Eyeliner: Runner-up
Next up, we tried Tarte's Tarteist Double Take eyeliner in black. Tarte has become the industry standard to some — including drag queens, as explained on Reddit – because of its quality, especially when it comes to the Shape Tape Foundation. Because of this, we wanted to include the brand's eyeliner in this test to see if it too stood up to the standards set forth by other eyeliners. Ultimately, it did.
Tarte's Tarteist Double Take Eyeliner retails for $25 at Sephora and includes applicators on both ends of its stick — one being a liquid liner and the other a pencil. This gives you versatility in your eyeliner options as well as the need to only carry around one product for both purposes.
The Double Take eyeliner ultimately didn't take first place in our testing because both sides of the stick just barely missed the mark. The applicator on the liquid side could've been more precise — its tip is similar to Haus Laboratories' in that it's not as long and doesn't come to as precise a point — and the pencil side is a little difficult when wanting a smooth, clean line with no fallout. Still, this product is a knockout and a great combined value for its price point. This is a product that everyone should keep around — especially when they travel!
UD x Marvel Studios ETERNALS 24/7 Glide-On Eye Pencil: Runner-up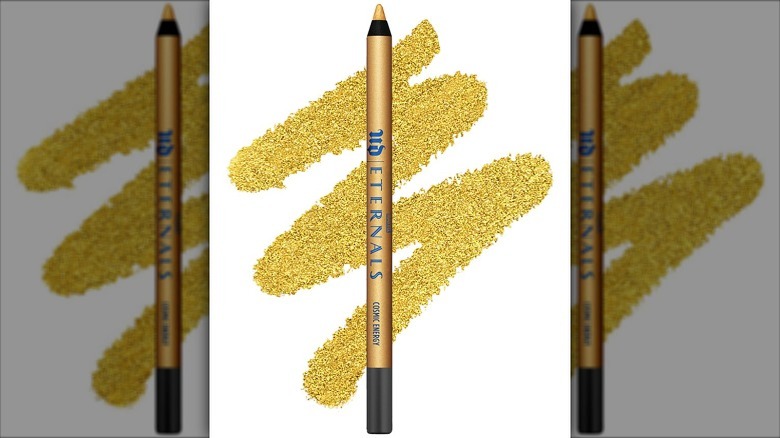 Urban Decay
Lastly, we wanted to add a little bit of color into our lives so we grabbed the UD x Marvel Studios' ETERNALS 24/7 Glide-On Eye Pencil in the shade Cosmic Energy, which is a gorgeous shimmery gold. This special collaboration eyeliner retails for $22 when bought from Urban Decay, though sales on this product have increased as we get further away from the film's November 3, 2021 release date. While this product has a lot of pros, its main con is that its availability is inherently limited because it's a film collaboration.
The best part about this gold eyeliner is how pigmented it is. It also glides on incredibly easily, so it's true to its name. Like Rare Beauty's eyeliner, this pencil barely needs to touch your skin for color to appear, which means you can gently swipe on product without pulling up other makeup or hurting your eye. However, this eyeliner can clump if used too hard or if layering too much on the skin, so try to be alert about how much you're using. 
This product, while not perfect, is fun, colorful, and worth the purchase — especially if you're a Marvel Cinematic Universe fan. But if you ask us, nothing can beat our favorite!