This Blender Is An Affordable Alternative To The Vitamix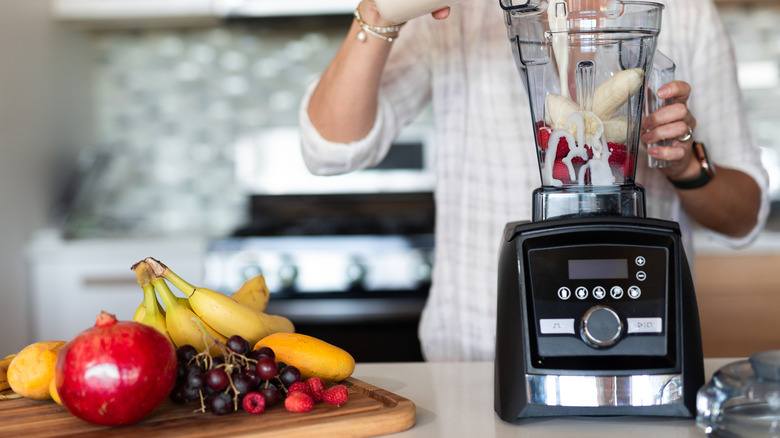 Karen Culp/Shutterstock
We may receive a commission on purchases made from links.
Electronics are perhaps too expensive, especially given how much cheaper they typically are to produce when compared to how much they're sold for. A direct consequence of this is the influx of alternative options to items from popular brands, particularly over the last decade. Apple, for example, is known for its high prices, but it's also known for its quality. Still, that hasn't stopped companies from developing cheaper alternatives to Apple's AirPods. Likewise, others have made more affordable alternatives to Apple's iPad.
This same logic applies to the kitchen. Nowadays, there are countless kitchen appliances that are deemed "essential" even outside of your commonplace ones, such as your refrigerators, microwaves, and stoves/ovens. There are food processors, both hand and stand mixers, toasters, niche gadgets, and, of course, blenders.
Blenders have gotten so fancy in recent years that high-end models, especially from brands like Vitamix and Ninja, can cost hundreds of dollars. While this isn't practical or reasonable for everyone, blenders in your house can do more than just make smoothies (via Pinch of Yum), so they're a good investment to make. You simply need to choose one of the best affordable alternatives to the Vitamix to get the best bang for your buck.
This blender uses dual-direction blades for precision and ease
The worst part about alternative kitchen gadgets is that they're not as commonly known as they're more expensive counterparts. Because of this, many continue to struggle in the kitchen when they could actually obtain something more affordable and diversify their food experiences. Such is the case for the Oster brand's blender, as noted by Food Network in their list of best blenders under $150.
This blender retails for around $70 on Amazon, and while its promotional photos show it making a green smoothie, this blender can do much more. This machine has seven speeds, three of which are at set speeds for common uses (milkshakes, chopping/salsa, and frozen/green smoothies), meaning there are still four different speed settings to be used outside of these. This opens any number of possibilities.
Oster's blender also has a large blender jar in addition to its many sharp blades, so a lot can be blended at any time. Moreover, its blades move in opposite directions, so everything gets chopped or blended precisely and quickly. No chunks will remain (unless, of course, you're doing the chopping/salsa option.) Its blades could potentially wear down faster than a Ninja or Vitamix's blades, but blades can be sharpened. Oster also offers long warranties.
This blender can handle virtually any task you'd normally assign a Vitamix, so if you're in the market for an affordable alternative to one, why not give Oster's a try? It even comes with a reusable 24-oz blender cup!