William And Kate Use This Trick To Keep Tourists From Spying On Them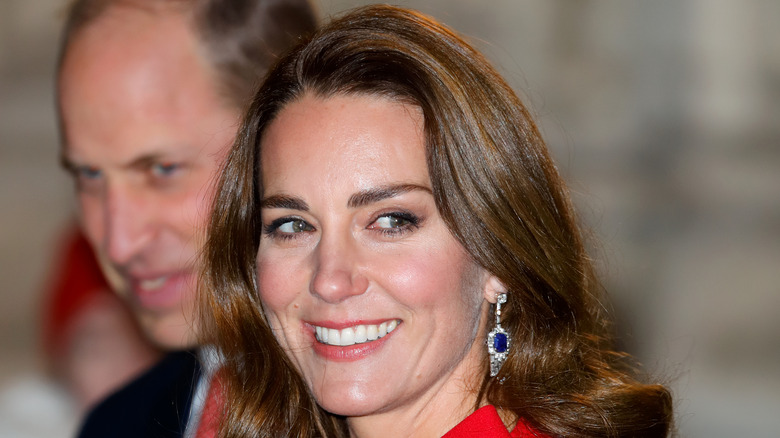 Max Mumby/indigo/Getty Images
The members of the royal family are used to having their lives play out in the spotlight. Sadly, this sometimes means that fans and photographers capture pictures of them when they're trying to have private, everyday moments. Although many of the royals have become accustomed to being photographed, others have fought back against the invasion of privacy. Prince Harry and his wife Meghan Markle are prime examples of this (via The Daily Beast). The Duke and Duchess of Sussex have gone to great lengths to protect their privacy, and the privacy of their two children, Archie and Lilibet.
Harry and Markle have taken legal action to ensure that unauthorized photos of them and their children are not published. Previously, when an unauthored image of little Archie was taken with a drone, the Sussexes sued the X17 agency. They also reportedly forced another agency, Splash, to file for bankruptcy due to costly legal issues. Veteran photographer Giles Harrison told the outlet that many members of the paparazzi now shy away from snapping pics of the royals. "They can afford to sue you a lot more than you can afford to defend yourself," he said.
Meanwhile, Prince William and Kate Middleton are also reportedly proactive about protecting their privacy, and have come up with an interesting method to keep tourists from peering into their windows at Kensington Palace.
Here's how William and Kate keep fans from peeping in their windows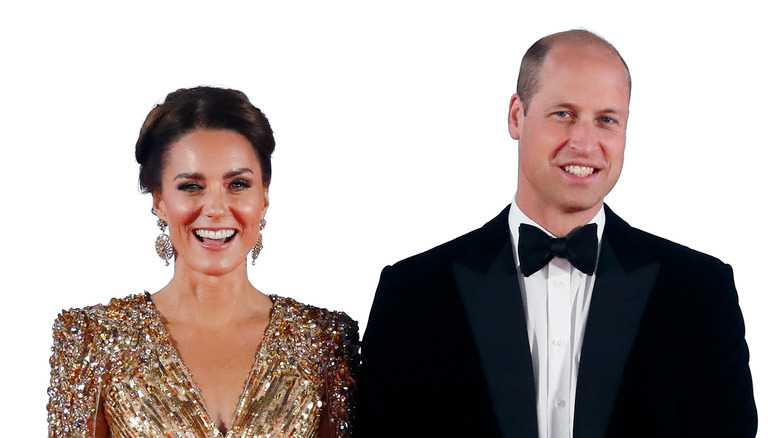 Max Mumby/indigo/Getty Images
Prince William and Kate Middleton have fans across the globe, and their admirers love to know any details about the couple's lives. However, when they're at home at Kensington Palace, the Duke and Duchess of Cambridge like to protect their privacy, and the privacy of their three adorable children, Prince George, Princess Charlotte, and Prince Louis. The Cambridges have reportedly come up with a smart idea to keep tourists from peeping into their windows during tours of Kensington, per Marie Claire.
While Kensington Palace has become a very popular tourist attraction, it's important that the royals keep their home as safe and private as possible, especially during tours of the grounds. One tourist who took the tour recently noticed a very interesting way that William and Kate keep fans from peering into their home.
"I'm at the Kensington Palace tour!," a person named Laura-Ann Barr posted to TikTok with a video showing some windows at Kensington. "Look at the secret windows they have that make sure you can't see into Kate & Will's private garden to the right. They have it on all the windows in this room," she said, pointing out the white fog that resembled frosted glass covering the view to William and Kate's private property.
So, it seems that William and Kate are doing all they can to keep their privacy intact, while also allowing fans to tour the grounds of their iconic home.