The Lengths Meghan And Harry Are Going To Guard Their Children's Privacy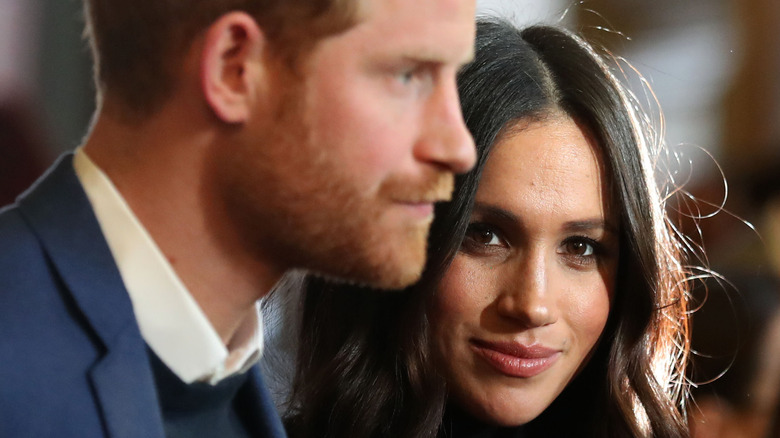 Wpa Pool/Getty Images
Prince Harry and Meghan Markle may be royals and activists, but they are parents first. The couple shares two children together, son Archie Harrison Mountbatten-Windsor and Lilibet Diana Mountbatten-Windsor. Upon exiting their duties as senior members of the royal family in early 2020, the Duke and Duchess of Sussex set out for America and eventually settled in Montecito, California (via Harper's Bazaar), an the upper-class community where they have neighbors such as Oprah Winfrey, Rob Lowe, Adam Levine, and Ellen DeGeneres, per Architectural Digest. "Harry loves California, but they were both drawn to the smaller town of Santa Barbara, where they can integrate into the community while having some distance and privacy," a source previously told Vogue.
Last year, a source told People Magazine that Meghan and Harry had fallen in love with their new home. "They both love California, and Santa Barbara has a magic to it — the mountains, oceans, vineyards, flowers, gardens. It's so beautiful." Another insider also admitted that they liked raising their family in the area, and considered the locale to be their "permanent home."
Perhaps one of the things the Sussexes like most about the area is the privacy that it offers them. The pair have been vigilant and go to great lengths to protect their children's privacy since leaving the royal lifestyle.
Meghan and Harry work to keep Archie and Lilibet out of the media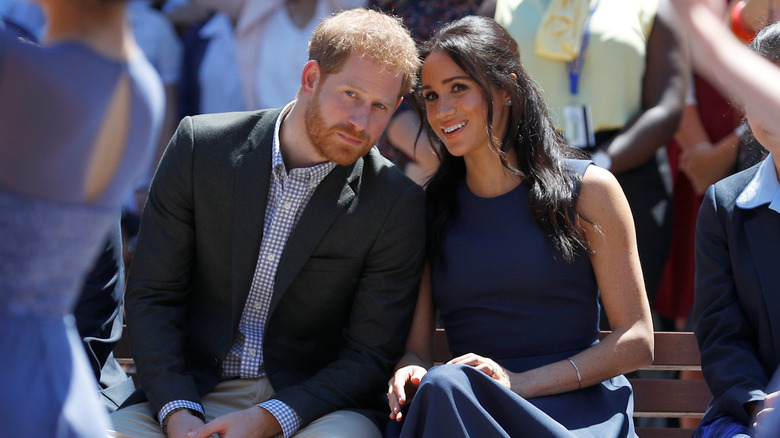 Pool/Getty Images
The Daily Beast reports that Prince Harry and Meghan Markle opted to exit the royal lifestyle in order to gain more privacy for their family. Since that time, some have criticized the Duke and Duchess of Sussex for doing tell-all interviews while asking for privacy. However, the royals have done a good job of controlling what information they put out into the world, which has become especially clear when it comes to their children, Archie and Lilibet.
The website notes that although little Archie was photographed with his parents when he was a baby, the Sussexes have protected his privacy by not sharing photos of the toddler since their royal exit. The pair did post one photo of their son in honor of his second birthday. However, his back was facing the camera and his face couldn't be seen. Meanwhile, there have been absolutely no photos of the couple's infant daughter, Lilibet. Meghan and Harry announced the birth of the baby girl back in June, but have yet to share her face with the world.
In addition, there have been unauthorized images of Archie that were snapped, but the Sussexes have taken extreme measures against those who photographed their children without permission. They previously sued the X17 agency for photos they took of Archie with a drone. They've also reportedly taken legal action against another agency, Splash, which claims that it was forced to file bankruptcy over the costly legal issue.
Legal action has been taken over unauthorized photos of the children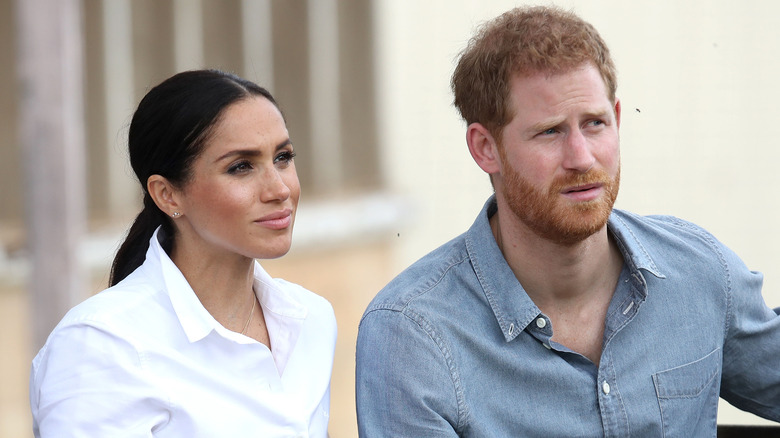 Chris Jackson/Getty Images
The Daily Beast reports that due to Prince Harry and Meghan Markle's firm stance on unauthorized photos of their children, many members of the paparazzi have backed off. Veteran paparazzi member Giles Harrison admitted to the website that most photographers and agencies have decided that the risk outweighs the benefits when it comes to snapping photos of the Sussex children.
"A lot of people have decided that it is kind of not worth the hassle. It is not worth the fall-out that comes from it. If you get the pictures of them, they are gonna try and sue you no matter what happens, no matter where you were, no matter if you were in the most legal, public place on the planet. And they can afford to sue you a lot more than you can afford to defend yourself," Harrison admitted.
It seems that Meghan and Harry are sparing no expense when it comes to protecting little Archie and Lilibet, and since exiting the royal family they are free to keep the children from the public as they see fit.