What You Didn't Know About Sidney Poitier's Ex-Wife, Juanita Hardy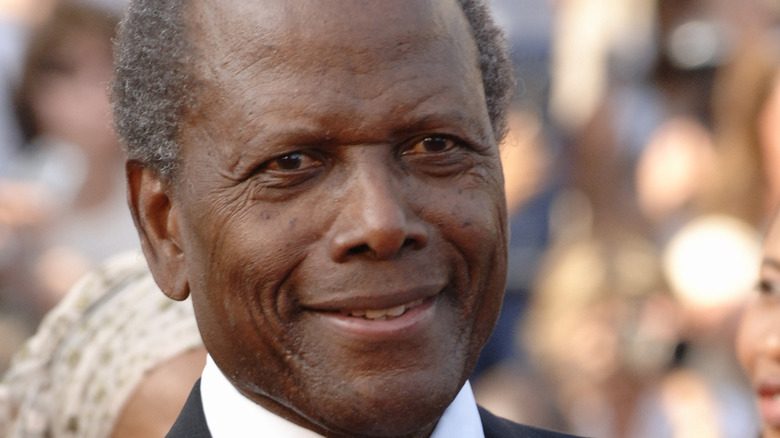 Featureflash Photo Agency/Shutterstock
It was a sad day in Hollywood with the news of legendary actor Sidney Poitier's death. He was 94, according to CNN. The prominent actor, director, and activist paved the path for many actors of color in the country by being the first Black actor to win an Oscar for 1963's "Lilies of the Field." In the film, Poitier plays a migrant laborer who helps a group of white nuns build a chapel. 
He was Hollywood's first Black movie star. As a groundbreaking star of his time, he rejected many roles with racial stereotypes and cemented the path to represent the Black community by only accepting respectable roles that were a significant box-office draw (via NBC News). Poitier will be greatly missed, and his contributions to Hollywood will not be forgotten.
The Screen Actor Guild Award-winning actor was married to his second wife, Juanita Hardy, a former model and dancer, for 15 years. Poitier married Hardy in 1950 and lived in New York with their four children. However, the marriage came to a bitter end in 1965 due to his nine-year affair with actress Diahann Carroll (via People). In his memoir, "The Measure of a Man: A Spiritual Autobiography," he said, "The guilt of that was something that 11 years of psychotherapy couldn't 'cure.'"
Sidney Poitier's ex-wife, Juanita Hardy, is a businesswoman
Sidney Poitier's ex-wife, Juanita Hardy, is more than a former model and dancer. According to LinkedIn, Hardy has a Bachelor of Science Degree in Mathematics from Livingston College and is a founding member and consultant on creative placemaking for the real estate industry as well as an executive coach for senior business professionals at Tiger Management Consulting Group. She also authored an article titled "Five Reasons to Target the China Market for Your Business," published in Enterprising Woman magazine (via RMR). 
Tiger Management is a minority and certified woman-owned business by WBENC. The Silver Spring, Maryland company is committed to forging cross-cultural connections and was founded in 2006 with only two employees (via Dun & Bradstreet). There is no information available on whether Hardy remarried after Poitier, and it seems since the divorce, she has preferred to keep her personal life private with the focus on her professional career. Per her LinkedIn, before the consulting group, Hardy also worked for IBM for 31 years till she retired in 2005.
Poitier was considered one of the finest performers in America and shared in his memoir that he represented 15 to 18 million people in every movie because he was often the only Black person on a film set (via People). We have come a long way since, regarding representation and inclusivity in Hollywood, with more to go.