The Surprising Reason The Osmond Siblings Can All Communicate In ASL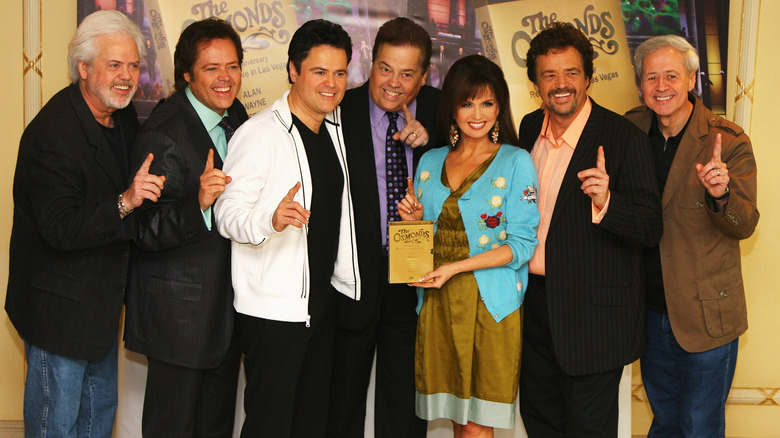 Chris Jackson/Getty Images
In the late 1960s, The Osmond Brothers were a television hit. Alan, Wayne, Merrill, and Jay Osmond were just small boys when their parents, George and Olive, realized they had incredible musical talent and traveled with their sons to country fairs and other local Utah venues to sing barbershop-quartet-like music. 
When they traveled to California to audition for "The Lawrence Welk Show," the famed TV entertainer refused to see them, so George took his sons to Disneyland, where they gave impromptu performances and got hired. 
That Disney job led them to TV when the father of entertainer Andy Williams heard them and helped them land a regular gig on "The Andy Williams Show." When the youngest brother, Donny, joined the group, they took on a pop sound and eventually moved to "The Jerry Lewis Show" when Williams' program was canceled (via All Music).
By the 1970s, the Osmonds were off TV for a bit and signed to a record label to produce wholesome pop songs. They did that for a few years before Donny and younger sister Marie formed their own careers, recording solos, duets, and starring in their own variety show while their brothers' popularity waned, according to All Music. 
But one thing many fans did not know about the Osmonds is that they all know American Sign Language (ASL) — for a very good reason.
Two of the Osmond brothers have hearing impairments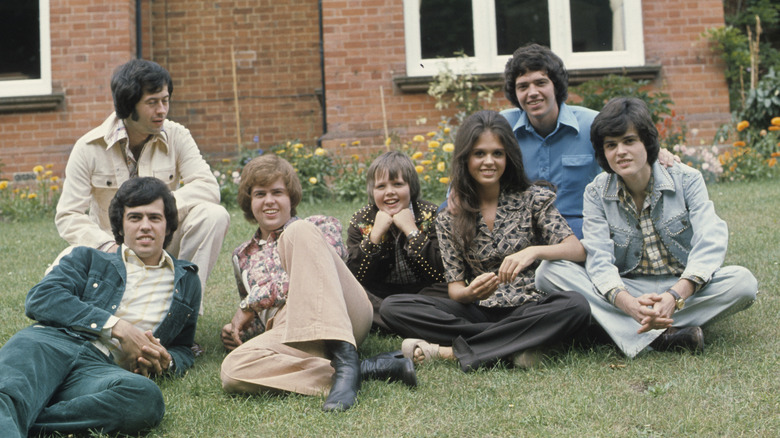 Anwar Hussein/Getty Images
George and Olive Osmond didn't want anything to hold back their children, especially when they discovered their musical talents and love for singing, and refused to let the fact that Alan and Wayne had both been born with severe hearing loss deter them. 
As Donny Osmond, who went on to have his own solo and Broadway career, explained to Ability Magazine, his parents did not listen to doctors when their oldest two sons were born — and he couldn't be happier about that.
"My oldest brother was born 85 percent deaf and the next was born worse with almost total deafness," Donny said. "My parents were told by everyone, doctors included, to stop having kids. Thank God, they at least went as far as seven!"
Despite the severe hearing loss in both of their oldest children, George and Olive chose to treat their boys as any children would be treated, with a little bit of showbiz mixed in.
"They decided they were not going to treat my brothers differently [or lower their expectations]. My brothers talk and communicate verbally," Donny continued. "They also sign and do have that down quite well. As a matter of fact, we used sign language when we were performing together as a group. Obviously they couldn't really hear the music, but they could feel the beat and they'd watch us out of the corner of their eyes to make sure they were still in tempo."
The Osmonds continued their music into the 21st century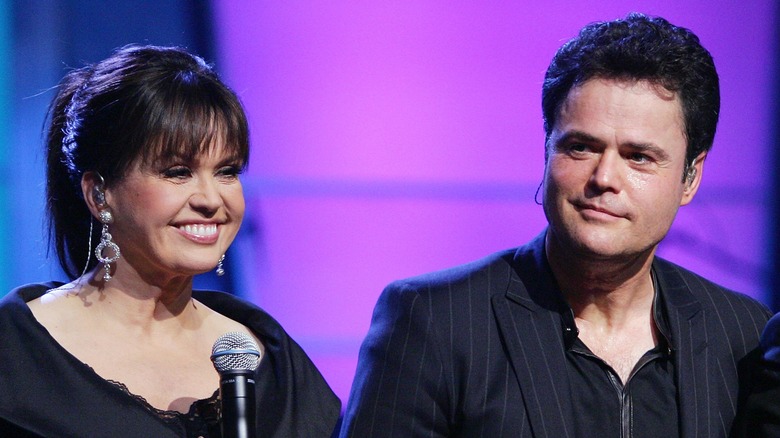 Ethan Miller/Getty Images
While the older Osmonds performed together off and on for years as The Osmond Brothers, the breakout stars of the family are still doing their thing. 
Donny and Marie Osmond performed together at a Las Vegas residency for years, and Donny returned to Vegas for his own solo performances in 2021, appearing at Harrah's from August through November. Talking to the Las Vegas Review-Journal, he reflected on his life in the spotlight.
"Both [Marie] and I have had our individual solo careers, even from the beginning, when I was 12 years old and started recording on my own and Marie had her solo career, with 'Paper Roses,' until 1976, when we came together and formed the duo 'Donny & Marie,'" Donny said. "We did that for four seasons, then had our individual careers. We came together in 2000 for the talk show, then we split. Then we came back together in 2008 and did Vegas."
Although he was working on a new album toward the end of 2021, Donny understands that a lot of fans want to hear the old classics. 
"If you look at who will come to my shows, it's really across the board," Donny explained. "When people come to a concert, they say, 'I want to hear the hits,' so they will. Yes, there is a new album, and a lot of new music in the show. But people will hear what they came to hear, too."