Inside Denzel Washington's Relationship With Sidney Poitier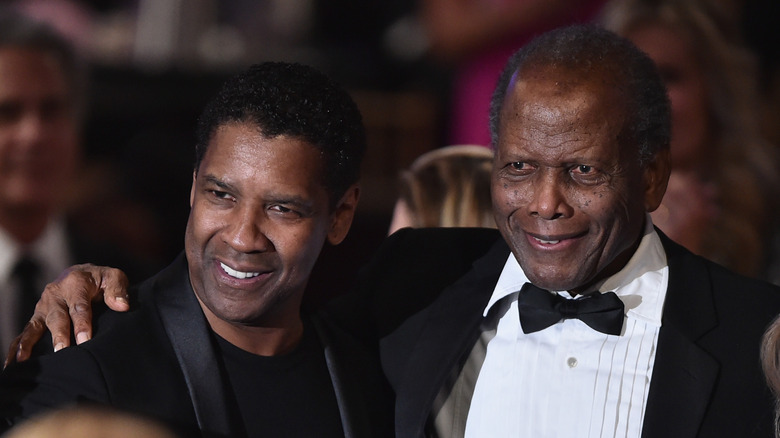 Alberto E. Rodriguez/Getty Images
Fans and Hollywood friends alike were saddened to learn that iconic actor Sidney Poitier died Thursday, January 6, 2022 at the age of 94 (via CNN). One person whose life was deeply touched by the Bahamian-American star was fellow actor Denzel Washington. First, it's important to note that Poitier was the first Black actor to win an Oscar for a leading role for his performance in the 1963 film, "Lilies of the Field" (via IMDb). In 2002, Washington would take home the same trophy for his turn in "Training Day" (via YouTube).
Poitier had just won an Honorary Award at the ceremony, per People. Ironically, it was Washington who presented the statue to his mentor, calling out Poitier's "remarkable accomplishments as an artist and as a human being."
Washington went on to say about Poitier, "Before Sidney, African American actors had to take supporting roles in major studio films that were easy to cut out in certain parts of the country. But you couldn't cut Sidney Poitier out of a Sidney Poitier picture" (via USA Today). "He was the reason a movie got made: the first solo, above-the-title African American movie star," he added.
Denzel Washington considered Sidney Poitier to be a mentor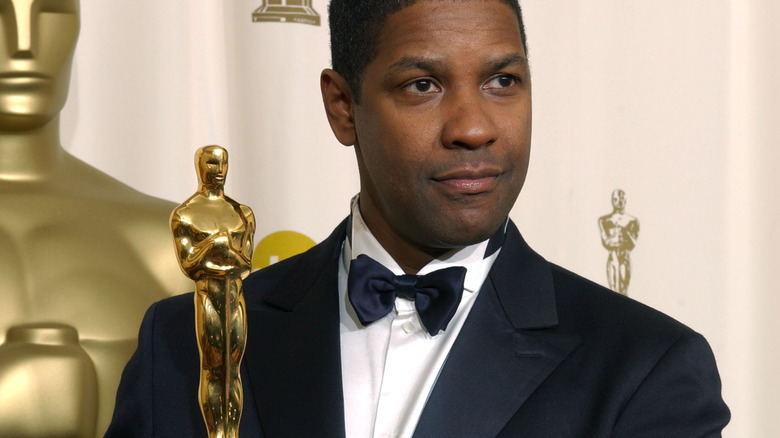 Frank Micelotta Archive/Getty Images
Later, when Washington won his Best Actor Oscar at the 2002 Academy Awards, Poitier was visibly excited. "Forty years I've been chasing Sidney," the star said during his acceptance speech, wryly adding he'd won the Academy Award the same night his idol happened to get one too. At that time, fans were delighted to see Poitier belly laughing from his seat.
"I'll always be chasing you Sidney," Washington continued as Poitier stood to honor him. "I'll always be following in your footsteps. There is nothing I would rather do, sir," the actor concluded.
This night would be talked about for many years, but it turns out the "John Q" star has long considered Poitier a friend and advisor (via IMDb).
Sidney Poitier admired Denzel Washington's work in Hollywood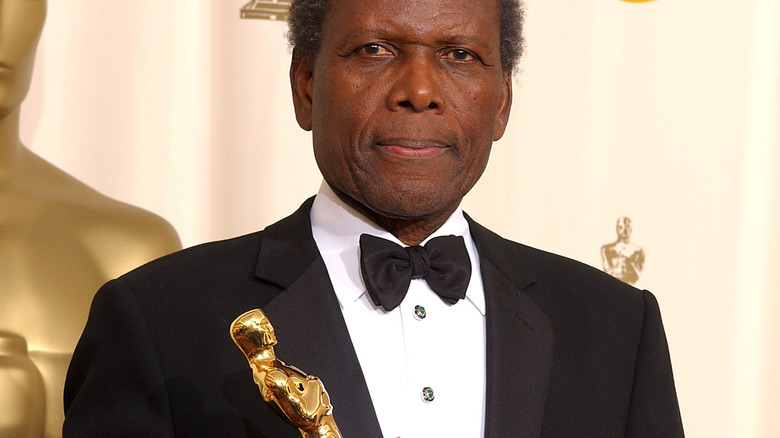 Frank Micelotta Archive/Getty Images
As HuffPost reports, Poitier advised Washington on how to approach his career early on. In 1986, the up-and-coming star turned to the established actor to seek counsel on a role he'd been offered. "And he told me, 'I'm not going to tell you what to do. But I will tell you this, the first, two, three or four films you do in this business will dictate how you are perceived.' He didn't tell me what to do, I give him credit for that," Washington shared during a 2010 TimesTalks interview.
But the relationship between Poitier and Washington — who met at a play in 1982 — went both ways, with the elder star having a great amount of respect for the "Flight" star. In 2008, he said about the 2002 Oscar awarded to his friend, "It represented progress. It represented dimensionalizing of the film industry. It meant the embracing of a kind of democracy that had been very long in maturing" (via Oscars.org).
Poitier went on to say, "It was an example of the persistence and the effort, and determination of young people of color...It was a spectacle evening. I paid then, and I pay now a great respect to Denzel Washington. He has been a quintessential element in the finest of all American actors."