What Masters Of Flip Stars David & Kortney Wilson Did Before Flipping Homes
Fans of the hit HGTV show "Masters of Flip" will remember its anchors, David and Kortney Wilson, the upbeat and creative couple who sought out rundown homes to give them a new lease of life. Per House Beautiful, David and Kortney would eventually move on from the Canadian TV series after four seasons to co-present another real estate show, titled "Making it Home with Kortney and Dave." 
Sadly, in 2019, Kortney announced on Instagram that she and David had decided to divorce. "It is with a very heavy heart that we share with all of you that after nearly 18 years of marriage, we have decided to separate," she wrote. 
The couple's popularity, particularly in Canada, is largely a result of the real estate shows they've co-created. However, there is a lot more to David and Kortney than many would realize. But, what did the pair get up to before flipping houses?
David and Kortney Wilson had a life before Masters of Flip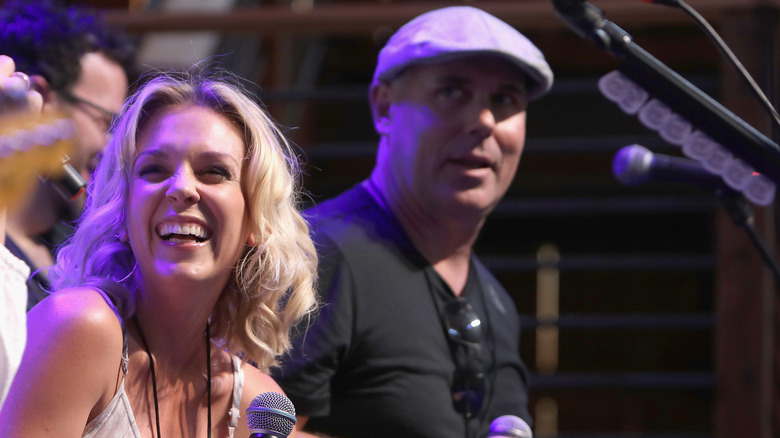 Anna Webber/Getty Images
According to The Netline, David and Kortney Wilson first met through a mutual friend in Nashville and were both aspiring musicians. David was visiting from London at the time and only planned to stay for two weeks. However, after meeting Kortney, he ended up staying for good. "I called my band and I said I'm not coming back to London," he told National Post in a 2015 interview.
David eventually went on to create new music, and so did Kortney. She released two songs under her maiden name, Kortney Kale (via Married Biography). She and her then-husband later combined forces and became a duo, releasing a song in 2001 titled "Stick Together." Per HGTV, their foray into real estate happened when they chose to remodel their place on their own. The result of the project was absolutely worth it so they decided to make it a thing to look for houses that needed work and flip them for profit.
"It was a great experience flipping our first place together," Kortney told HGTV. "We really didn't know what we were doing, but by some stretch of luck, we completed it and made some money along the way."
Following their divorce, David moved on from the show and is yet to create another (via Styles Rant), but Kortney chose to stay on for another season of "Making it Home." This time around, starring alongside Kenny Brain.