The Heartbreaking Death Of Sinéad O'Connor's Son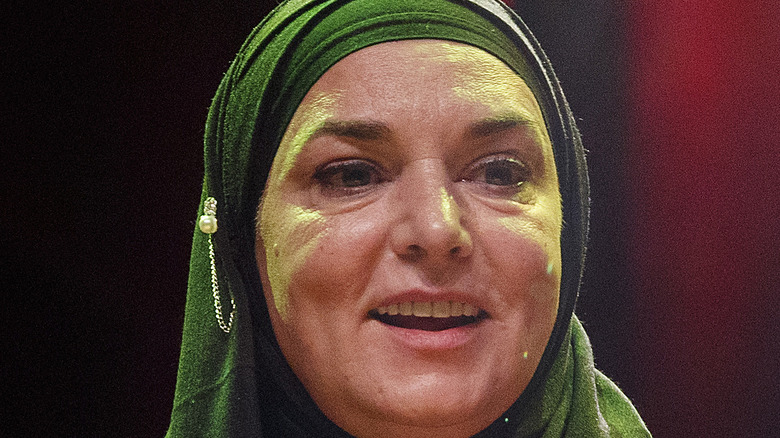 Andrew Chin/Getty Images
Trigger warning: The following article contains descriptions of suicide and mental health struggles. 
A distraught Sinéad O'Connor has announced the death of her son by suicide. Her son, 17-year old Shane O'Connor, had been under suicide watch at Dublin's Tallaght Hospital in Ireland when he went missing. The singer said her son had tried to commit suicide at least twice the week before he was found dead (via Irish Central). 
The singer confirmed her son's death in a heartbreaking social media post which went out early Saturday, January 8, 2022. She said, "My beautiful son, Nevi'im Nesta Ali Shane O'Connor, the very light of my life, decided to end his earthly struggle today and is now with God. May he rest in peace and may no one follow his example. My baby. I love you so much. Please be at peace" (via Twitter). 
Sinéad's heartbreak played out on social media, where she went first from desperation when she found out he had left the hospital, to the time she confirmed his passing. She first went public with his disappearance on January 6, saying, "This is a message for my son, Shane. Shane, it's not funny any more all this going missing. You are scaring the crap out of me. Could you please do the right thing and present yourself at a Gardai station. If you are with Shane please call the Gardai for his safety."
If you or anyone you know is having suicidal thoughts, please call the National Suicide Prevention Lifeline​ at​ 1-800-273-TALK (8255)​.
Shane was the singer's 'lamp' of her life
Sinéad O'Connor herself has struggled with mental health-related illnesses, and in the past, she had made it a point to go public with her struggles to open up the conversation. She once told "Dr Phil" McGraw, "I am fed up of being defined as the crazy person, the child abuse survivor." McGraw himself shared that Sinéad wanted to "de-stigmatize mental illness." "She said, 'I clearly have a problem, too many musicians are dying. I want to use my life, be a teaching tool. I'm willing to sit down and talk,'" McGraw said (via CNN).
Fans sent their love and support to the grief-stricken singer via social media, after Sinéad shared a link to Bob Marley's "Ride Natty Ride" in a tribute to her 17 year old and an agonized caption which read, "This is for my Shaney. The light of my life. The lamp of my soul. My blue-eye baby. You will always be my light. We will always be together. No boundary can separate us" (via Twitter). Irish Senator Erin McGreehan tweeted back, "I am so so sorry for your loss. A beautiful boy- I'm sending my thoughts and prayers that you all find the strength to come through this" with the hashtag #RIPSHANE.
In a tweet that is sure to resonate, another fan said, "Sinéad all the mothers in Ireland hearts are breaking for you."