Here's What Marcia Cross's Relationship With The Desperate Housewives Cast Is Like Today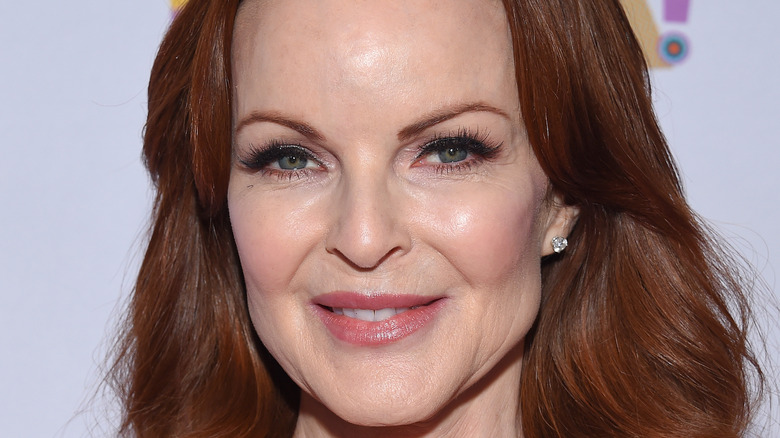 DFree/Shutterstock
For eight seasons, "Desperate Housewives" was must-see viewing for millions. The ABC drama followed the lives, loves, and secrets of a group of friends in a quiet upscale suburb, all narrated by a neighbor who mysteriously committed suicide in the first episode. Among the talented cast was Marcia Cross, who played Bree Van de Kamp. Bree was the Martha Stewart of the group, always impeccably dressed and ready with a basket of homemade muffins for any emergency — but she, too, masked a secret life behind her polished exterior. Bree's husband left her, their teen son got into a drunk-driving accident that she tried to cover up, and she fell for the local pharmacist — and that was just in the first season (via IMDb).
Cross was a mainstay of the show even during Season 3, when she was pregnant. After she was put on bedrest by her doctor, she filmed two episodes from her own home; her home was re-furnished and painted to duplicate Bree's stage-set home (via Reuters). She went on to give birth to twin daughters, and juggled motherhood and stardom for the rest of the "Desperate Housewives" run.
A reboot of the series has been rumored for quite some time, most recently on New Year's Eve of 2021 when ABC tweeted a cast photo with the caption, "Desperately waiting for 2022." But Cross responded to a similar rumor in January 2021 by saying simply, "News to me!" Still, even if the housewives never reunite on-screen, Cross still stays close with certain residents of Wisteria Lane.
The stars of the drama didn't all get along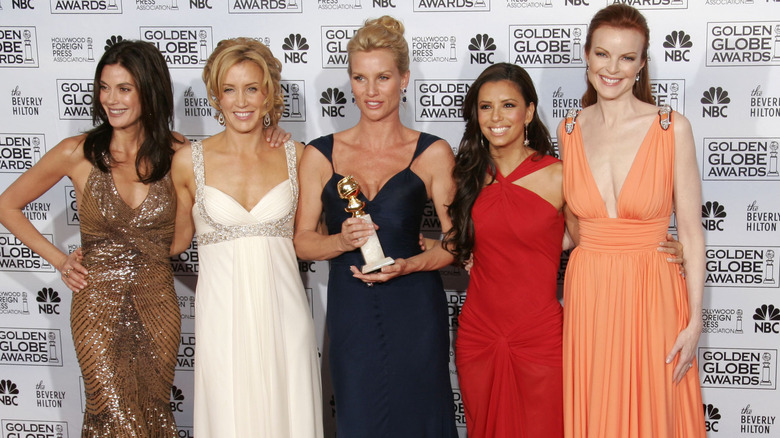 Bloomberg/Getty Images
Following her star turn in "Desperate Housewives," Marcia Cross went on to appear in various television series, including "The Edge of Sleep," "You," and "Youth & Consequences," (via IMDb). Off-camera, Cross faced her own shock when she was diagnosed with anal cancer in 2017. Now in remission, she told Coping, "[I]t does wake you up to how precious every day is. I take nothing for granted, nothing."
One of the things the actor doesn't take for granted is her relationship with some of her former costars. In a 2018 interview with Jimmy Kimmel, Eva Longoria said that she remains close with both Cross and Felicity Huffman, who both attended Longoria's Hollywood Walk of Fame star ceremony (via Page Six). In 2020, Cross reunited (virtually) with Longoria, Brenda Strong, Vanessa Williams, and Dana Delany for a "Stars in the House" fundraiser (per E! News). Huffman, who had just finished her stint in prison for her role in the infamous college admissions scandal, wasn't there, but Cross honored her, calling her "a flipping genius" and "an unbelievable actress."
Unfortunately, Cross isn't exactly besties with one of her fellow housewives. Teri Hatcher reportedly feuded with her cast mates (just one of several tragic things about Teri Hatcher's life), resulting in a disastrous photoshoot session for Vanity Fair. When the show wrapped, Longoria, Cross, Huffman, and Williams presented each member of the crew with high-end luggage — and left Hatcher's name off the gift card (via the Daily Mail). It seems the drama off-screen was just as juicy as it was on the show.