Here's Why You're Seeing Shrug Sweaters This Year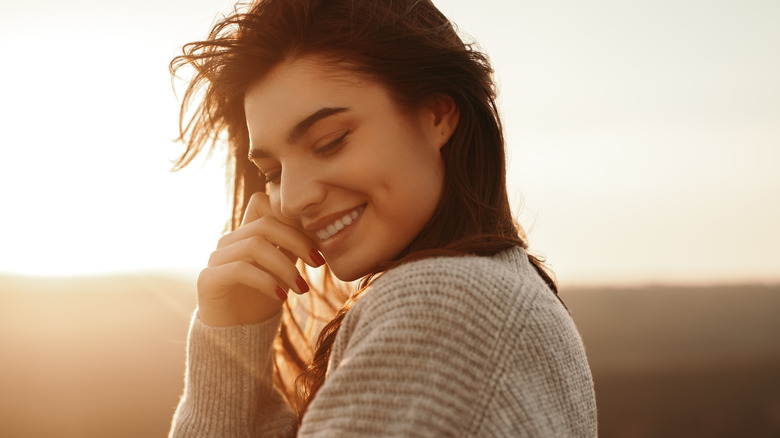 Mark Nazh/Shutterstock
Fashion trends are determined by a variety of factors. Perhaps a popular influencer is photographed wearing a specific type of skirt, or a fashion designer uses a bold print on each piece in their latest collection. These fashion trends often change with the seasons — or sometimes even sooner than that, depending on whether the tide of popularity shifts out of their favor. One craze currently gaining traction in the fashion world is the shrug sweater.
Shrug sweaters, which are currently being called several different names including cropped sweaters, bolero sweaters, and cropped bolero sweaters, are all the rage right now (via Cosmopolitan). You've likely seen some version of this trend on your favorite celebrity or TikTok creator. It's essentially a sweater that has been cropped down to just the neckline and sleeves. Sometimes the shrug sweaters feature a turtleneck, sometimes they're collared or have cute little buttons on the front. And sometimes they're basically a glorified set of sleeves that you throw on over a fitted tank top before you head to the gym.
There's a reason why you're seeing shrug sweaters this year more than ever, and it's because the trend works well for nearly every occasion.
Shrug sweaters can be styled several different ways
Shrug sweaters are everywhere this year because they can be dressed up or dressed down depending on the occasion. The shrugged/cropped/bolero sweater became trendy on Instagram after several influencers modeled the look (via Who What Wear). Want to show off your gorgeous new bustier without freezing? Throw on a cropped shrug sweater in a complimentary color and you'll look effortlessly chic. If you want to add some texture and flare to your office wardrobe, wear a knit shrug sweater over your button down blouse and pair it with some tapered trousers (via Nylon).
To keep it casual, pick up a cropped long sleeve turtleneck shrug and wear it over your favorite athleisure top and pair it with your most comfortable leggings (via Glamour). You'll stay warm on your way to and from the gym or your Pilates class, and it makes you look super fashionable. Fashion brands like Alexander McQueen are pairing the shrug sweater with high-end looks, like beautiful billowing evening gowns and combat boots, which is something to consider if you have a fancy event to attend (via Coveteur).
Regardless of how you choose to style your shrug sweater, it looks like the trend is here to stay for now, so get ahead of the crowd and pick up a few different options to style on your own.