How To Style A Baggy Sweater To Still Look Chic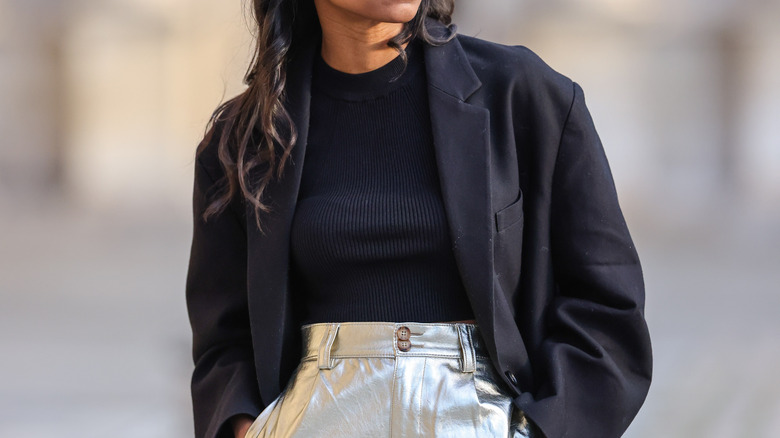 Edward Berthelot/Getty Images
When it's cold outside, there's nothing better than piling on the cozy layers. According to the New York Times, the first designer sweater debuted in 1926, and ever since, this fashion staple has kept us warm and stylish. Throughout the ensuing decades and recycling of fashion trends, sweaters have alternately been worn fitted or oversized, as the outlet details. As of this writing, Who What Wear reports that the trend has swung towards baggier sweaters, for a laid-back, relaxed look. But what classifies a sweater as "baggy"?
According to Stitch Fix, baggy or oversized sweaters are intended to have a looser fit and may be longer than other styles. Because the oversized fit is intentional, the outlet suggests buying a baggy sweater in your regular size. Additionally, opting for skinny jeans or fitted bottoms helps pull the overall look together. To maximize sophistication, baggy sweaters "need to be styled to reach their full potential," according to stylist and personal shopper Aloïs Guinut, via Dress Like A Parisian. With the right styling, baggy sweaters can look work-ready and provide you with all the comfort of your favorite loungewear.
Proportions help optimize sweater style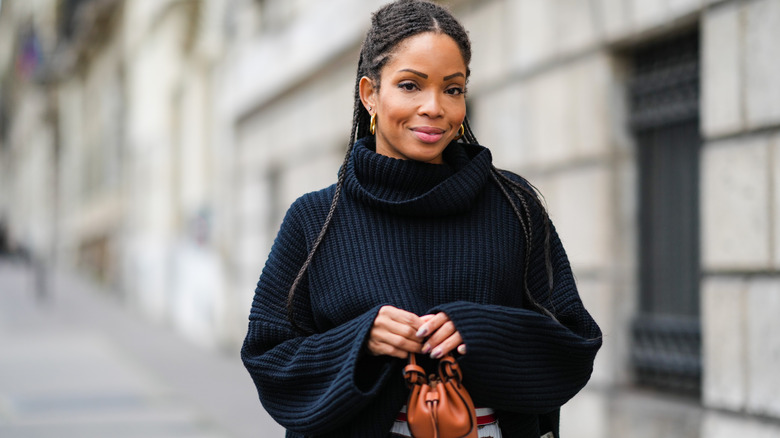 Edward Berthelot/Getty Images
When styling an oversized sweater, it's all about balance. The blogger at RD's Obsessions, Rach DiMare, highlights the importance of proportions when reaching for your favorite baggy sweater. Pairing the top with fitted bottoms and elegant accessories — such as pointed-toe shoes — will help make the outfit shine. But fitted bottoms aren't limited to pants! Blogger Natalie Yerger recommends a pencil skirt worn with knee-high boots. If shorter lengths are more your style, try Yerger's combo of baggy sweater, mini skirt, and over-the-knee boots.
Along with proportions, fit is equally important. Style blog The Fox & She tells its readers to select a sweater that works with their height — so this means shorter sweaters for shorter people, because a sweater that's too long can make your legs appear short. DiMare agrees, telling her readers that the best sweater lengths reach just below the hip. For shorter people, tucking in a baggy sweater is another way to achieve balance and an elongated silhouette, per Fit Mommy in Heels. There are tons of tricks for achieving the perfect tuck! The site also suggests using a belt to give an oversized sweater added shape and definition. And because baggy sweaters are made for layering, DiMare likes to add warmth with a shirt underneath, such as a classic turtleneck. Lastly, don't forget to make your baggy sweater shine with some statement jewelry! Aloïs Guinut (of Dress Like A Parisian) suggests rolling sleeves to highlight bracelets, as well as adding a statement necklace or earrings for added glamour.