The Surprising Luke Bryan Hit His Wife Isn't A Fan Of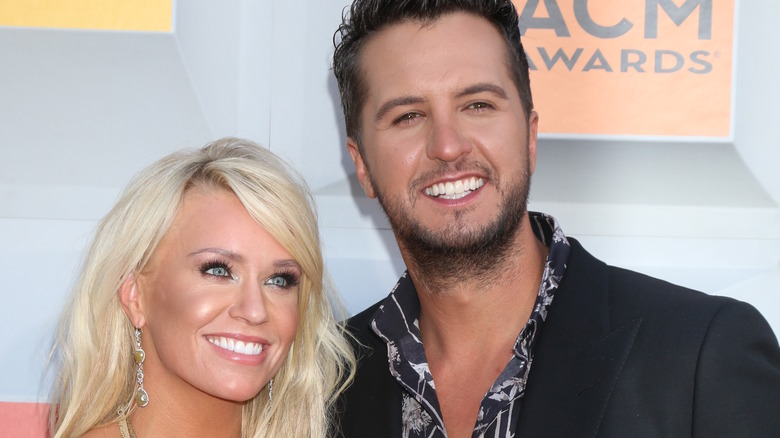 Kathy Hutchins/Shutterstock
As one of country's most successful -– and busiest –- stars, Luke Bryan often has a lot on his plate. Thankfully, he's got one hell of a strong support system at home thanks to his wife Caroline "Lina" Boyer Bryan (via Parade), who the singer met in a college bar in Statesboro, Georgia in 1998 (via Country Fancast). It was love at first sight for Bryan, but not so for Caroline. "It took me eight seconds to figure it out –- and it took her about eight years to figure it out," he told The Boot.
Obviously, the two reciprocated each other's feelings eventually, and they tied the knot in December 2006 (via Country Fancast). They went on to have two boys together, and became the ultimate family unit. So much so that Bryan's family have become an instrumental part in reviewing his music before it comes it, with Caroline often giving her honest opinions about the lyrics in the country star's songs. "She doesn't like me singing a lyric that's not authentic to me," he explained on "The Bobby Bones Show" in April 2020 (via YouTube).
Caroline isn't only honest and vocal about the lyrics, but the songs she loves and doesn't love as well.
Luke Bryan wife isn't a fan of the country star's hit Rain Is A Good Thing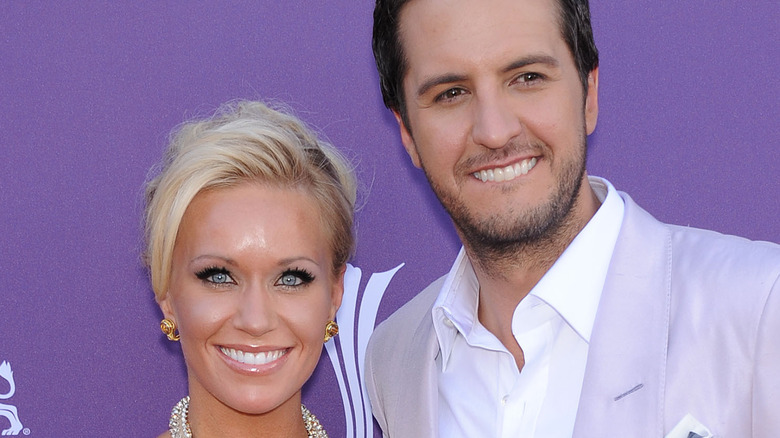 DFree/Shutterstock
In March 2020, Caroline Bryan co-hosted an episode of "The Bobby Bones Show" (via YouTube). Inevitably, she was asked what her favorite song was by her husband. After struggling for a moment, she came to the conclusion that "Beer in the Headlights" and "Way Way Back" were two of her favorites, which she was surprised were never made into singles. However, there's one song that she's not a fan of whatsoever. After contemplating for a moment, Bryan revealed that Luke Bryan's "Rain Is A Good Thing" is her least favorite track.
"He's gonna kill me for saying that," she added. "I love you, I'm sorry!" Bryan didn't delve into why she wasn't a fan of the song anymore than that, but Luke would go on to defend the song on another episode of "The Bobby Bones Show" in April 2021 (via YouTube). He joked that he found it a "little interesting" how they were able to move out of their smaller home into a bigger one after the single became a hit. But in all seriousness, Luke explained that whenever he brings a song home, he gets "pretty honest reactions" from Caroline and their kids. "She doesn't hold back on her thoughts of a song," he said, adding that their boys will "inadvertently degrade me from the back seat of the truck" like kids often do.