Is Ouai Detox Shampoo Worth The Pricetag?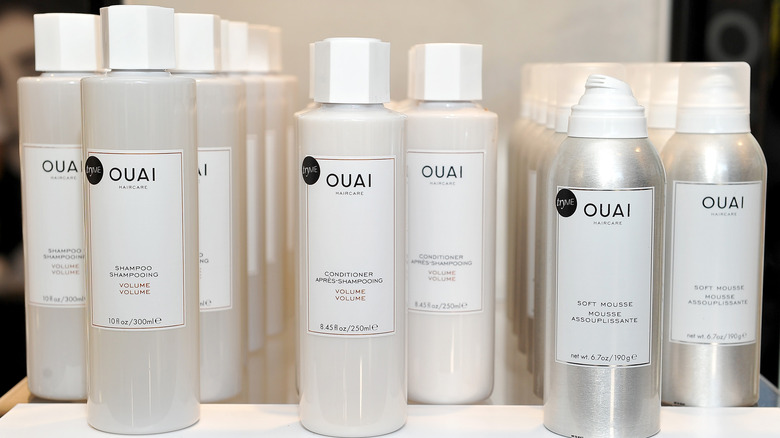 Donato Sardella/Getty Images
We may receive a commission on purchases made from links.
At times, the world of haircare world can seem never-ending. New products and brands launch on what feels like a daily basis. But despite how densely populated the market is, there are still a few bottles that stand out among the rest. For example, Ouai is one brand that's gained a huge celebrity following ever since it launched in 2016, per WWD. The aesthetically pleasing tubes and bottles (with the simple, clean font) are the work of celebrity hairstylist Jen Atkin, who services a star-studded roster of clients including Chrissy Teigen, Jenna Dewan, and just about every member of the Kardashian-Jenner clan. 
Per Popsugar, Atkin has enjoyed meteoric success as a stylist, and the launch of her haircare brand Ouai further cemented her as one of the key players in the industry. In addition to the line's incredibly chic packaging, Ouai features just about every type of haircare product you could possibly imagine. There are the basics — shampoos, hairspray, finishing crème — but also items that you might not think you need, such as dry shampoo foam and oily scalp supplements. But speaking of the basics, we're taking a look at the line's Detox Shampoo to determine if it's really worth that hefty price tag.
What makes Ouai Detox Shampoo unique?
As Stylecaster noted in 2020, Ouai has revolutionized the shampoo and conditioner game by releasing shampoos that are perfectly tailored to your specific hair type, whether that's fine, medium, or thick. After fans raved about the collection, founder Jen Atkin took things a step further with the release of another game-changing product: the Ouai Detox Shampoo ($30). Per In The Know, the clarifying shampoo contains the scalp detoxing powerhouse ingredient apple cider vinegar, and promises to remove product buildup and leave your roots feeling fresher than ever.
InStyle further touted the Detox Shampoo as an overnight sensation and called it "the best clarifying shampoo," due to its ability to buy greasy hair types an extra few days, without completely drying out your scalp. According to a separate Stylecaster article, one user claimed that the results were noticeable after a single wash. Ouai Detox Shampoo left her hair feeling clean and less greasy, without feeling stripped or dry. Judging by the likes of this, this product seems to be worth your while and then some.