Chris Brown's Tattoos: A Complete Guide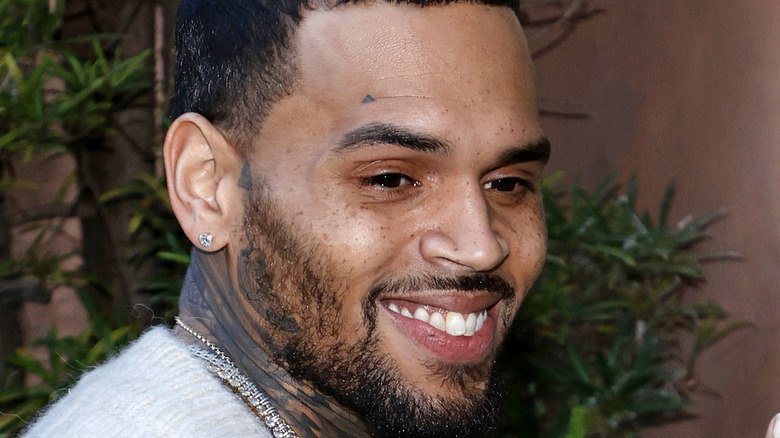 Frazer Harrison/Getty Images
Rapper Chris Brown is one of the most famous musicians in the world and has the net worth to prove it. Per The Guardian, the renowned music star has churned out hit after hit ever since his debut album dropped in 2005. Over the years, however, controversy has tarnished his career almost to the point that his name is just as synonymous with drama as it is with R&B tunes and big dance moves. Apart from these things, fans have come to recognize Brown for his impressive tattoo collection, which as of this writing accommodates over 30 inkings, per Bounce Mojo.
From his very first tattoo — an image of Jesus with musical notes that the singer got when he was just 13 years old, via Hip Hop Dx — to his most recent body art — an Astro Boy tattoo done in 2021, according to Hot New Hip Hop — Brown just can't seem to stop getting inked. Clearly, he isn't shy to show off his eclectic array of body art, some of which are about his family or other things he seems to enjoy. But if you've ever wondered what they all mean, we're here with a rundown of the artist's catalog of body graffiti.
Chris Brown is tattooed up to his face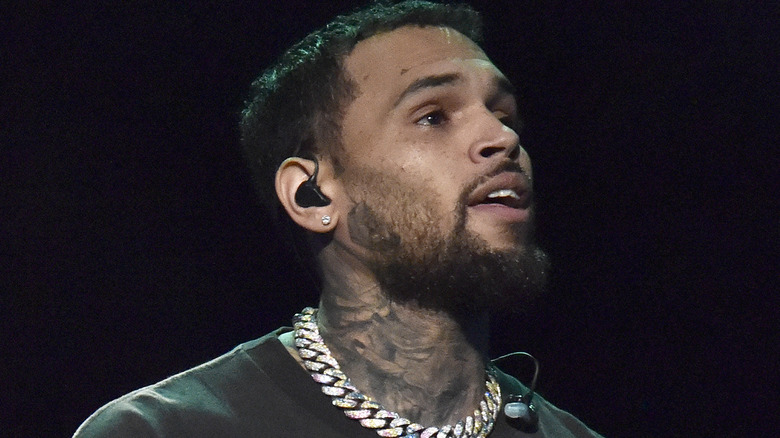 Tim Mosenfelder/Getty Images
Chris Brown's body is covered in tattoos — and that includes his face, which features an Air Jordan sneaker, according to Page Six. On his neck, Brown has an image of a fierce lion which he got in 2012, per Pop Star Tats. As the outlet noted, Brown later covered it up with a devil face in 2014. Alongside these two tats, the "Look At Me Now" singer also has a Mexican Day of the Dead tattoo, an Indian Chief tattoo, and a stars tattoo, the latter of which he got with ex-girlfriend Rihanna to symbolize their love. 
That already sounds like a ton of tattoos, but it barely scratches the surface. Per Bounce Mojo, Brown has an angel wings tattoo emblazoned across his chest, a fighter jet tattoo, a bandit tattoo, and a symphonic love tattoo. There is a T-Rex tattooed just below his ribcage. A large snake with an all-seeing eye is painted on his back, as is a smiley face and two feathers that extend up to his neck. Per Bounce Mojo, Brown has the word "FAME" written on his bicep — an acronym for "Forgive All My Enemies" — as well as the name of his fourth album. On his arm, Brown has a tattoo of ex-girlfriend Karreuche Tran, which he allegedly tried to remove back in 2013, per HollywoodLife. Tran's face accompanies images of ninjas, Jesus with musical notes, a hand holding the letter C, and a tattoo done in tribute to Brown's birthplace of Virginia, via Bounce Mojo.
Chris Brown has a host of sentimental tattoos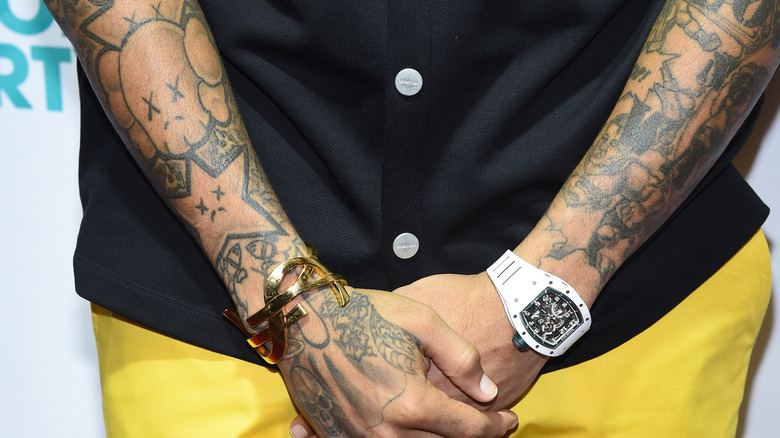 Ethan Miller/Getty Images
Despite his more intimidating tattoos, such as the devil face, Chris Brown also has tattoos with deep emotional meaning etched into them. For instance, the tattoo of the word "Joyce" on his inner wrist honors his mother, according to Bounce Mojo. The artist paid tribute to his daughter Royalty Brown with a tattoo of her on his back in 2016, according to HollywoodLife. "Not finished but we workin' #RORO," he captioned a social media post that showed off the ink, via HollywoodLife. Royalty also features symbolically in a separate tattoo on the back of Brown's head. This ink shows a bull and Aphrodite, chosen for Brown's zodiac (Taurus). The placement on the left side of his head aligns with his heart and represents his love for his daughter, via Bounce Mojo.
In 2021, Complex reported that Brown had revealed a new set of leg tattoos that commemorated his children's names, Royalty and Aeko Brown. "MY WORLD ON MY LEGS," the singer wrote in a since-deleted Instagram post, via Complex. Judging by his ink, Brown's family holds a special place in his heart.