Inside Bob Saget's Relationship With Jodie Sweetin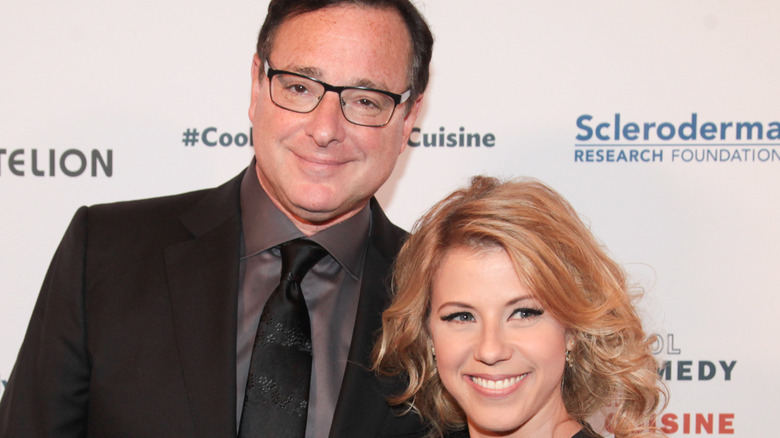 Kathryn Page/Getty Images
Since the 1980s, Bob Saget had been known as one of America's favorite TV dads. As Danny Tanner, the widowed father of three on the ABC sitcom "Full House," he was the loving single dad of little girls, played by Candace Cameron Bure, Jodi Sweetin, and Mary Kate and Ashley Olsen, who enlisted the help of his two best friends, Joey and Uncle Jesse, played by Dave Coulier and John Stamos. The sitcom ran between 1987 and 1995 (via IMDB), with a Netflix spin-off called "Fuller House" that ran for another four years between 2016 and 2020 exploring the girls' grown-up lives, and with Saget visiting his girls for 16 episodes during its four-year run (via IMDB).
When Saget passed away suddenly on January 9th, 2022 in Orlando, Florida, where he was performing a comedy show, per CNN, his fans began mourning and remembering the funny man they always remember as a dad on-screen who had a father-daughter relationship with his TV daughters off-screen, too — including with Jodie Sweetin who played the middle Tanner girl, Stephanie.
Bob Saget felt paternal towards Jodie Sweetin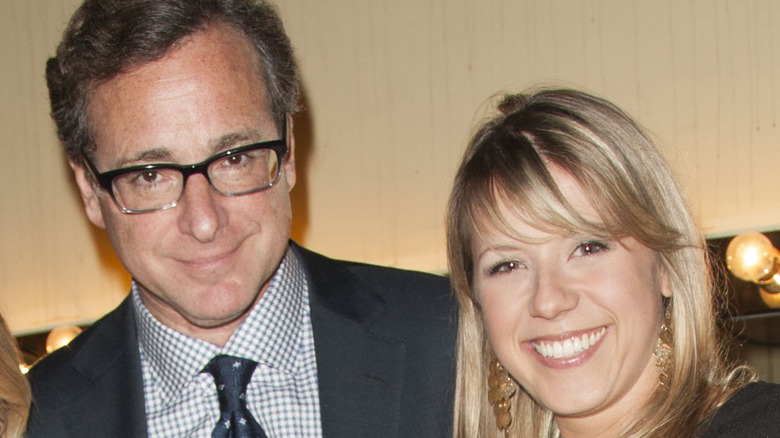 Michael Bezjian/Getty Images
When Bob Saget brought Danny Tanner to life on "Full House" throughout the 1980s and 1990s, it was sometimes a case of art imitating life as he had three girls at home. In fact, Jodie Sweetin and his oldest daughter were even friends. When Closer Weekly asked him if he felt paternal with his on-screen daughters, he admitted that with Sweetin, he did.
"I do a little bit with Jodi," Saget said in December 2021. "When Jodi Sweetin was 9 years old, my daughter Aubrey was 7, and so they would play together, and Jodi slept over at the house. I felt like friends to everyone."
Sweetin also appeared on Saget's podcast "Here for You" not long before his passing, on which the pair discussed their time on "Full House" and "Fuller House" — and Sweetin surprised her on-screen dad with the news that she took something meaningful from the show's kitchen set, a needlepoint that spells out "Love is all we need."
Sweetin revealed that she noticed it when they filmed the first "Fuller House" episode and knew she had to have it. "This was hanging in the kitchen and the first episode back I noticed this and I said I want that when it's done," Sweetin told an emotional-looking Saget. "It's just a needlepoint thing and it just reminded me of everyone. Love is all we need."