This Facial Cleanser Brush Is An Affordable Alternative To The Clarisonic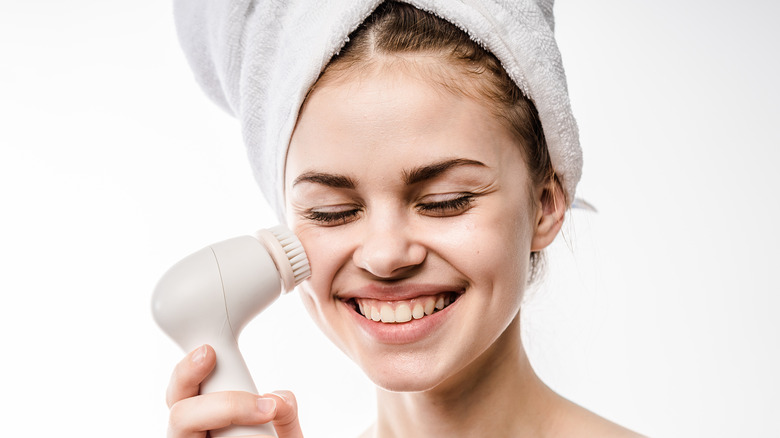 nelen/Shutterstock
You know you've got it made when your brand is synonymous with a product — and that's precisely what the Clarisonic brushes are. Shortly after the facial cleansing brush broke onto the market in 2004, the New York Times reported that it was named one of Oprah Winfrey's favorite things. Thereafter, every person in America seemed to want one. As a beauty writer at Glamour wrote in 2009, she was a huge Clarisonic fan because of the way the oscillating brush visibly removed dirt and makeup from her face. She added that the sonic vibrations also helped to stimulate new collagen production.
Unfortunately, Clarisonic went out of business in September 2020, per Popsugar. "This difficult decision was made so that L'Oréal can focus its attention on its other core business offerings," the brand wrote on its now-defunct website. Although they had a massive closing sale, it doesn't seem possible to get replacement heads for the brush if it's no longer in production. But before you get too worried, we have the perfect Clarisonic alternative in the form of the Olay Regenerist Facial Cleansing Brush. As board-certified dermatologist Dr. Debra Jaliman told InStyle in March 2021, there are plenty of benefits to cleaning your face with a facial cleansing brush. "They help decongest the skin by getting rid of dead skin [and] they get your skin cleaner than if you just use your hands," Jaliman shared.
Olay Regenerist Facial Cleansing Brush is an affordable, luxury device
Olay's Regenerist Facial Cleansing Brush is dermatologist-designed and can provide users with a deep cleaning experience while exfoliating skin and getting rid of dead cells, per Ulta. According to the site, the product is meant to reveal brighter and softer skin that's better able to absorb serums and moisturizers. But the best part might be that it retails for just $29.99.
Beauty site Byrdie loves the budget-friendly find because it is light and portable, and purifies skin pores. "My skin was baby soft and had a much brighter appearance that lasted throughout the day," one product tester wrote. Additionally, Women's Wear Daily chose the Regenerist Facial Cleansing Brush as one of the best picks for radiant skin. Not only do its ultra-soft brushes clean pores deeply, but it comes with two replacement heads, so users don't have to throw down more cash up front. The product gets a final vote of approval from NBC News, which touts it for giving users noticeably softer and smoother skin after using it for just 60 seconds. Who needs a filter when you have such smooth and clear skin?