Jimmy Kimmel Gets Choked Up During His Emotional Tribute To Bob Saget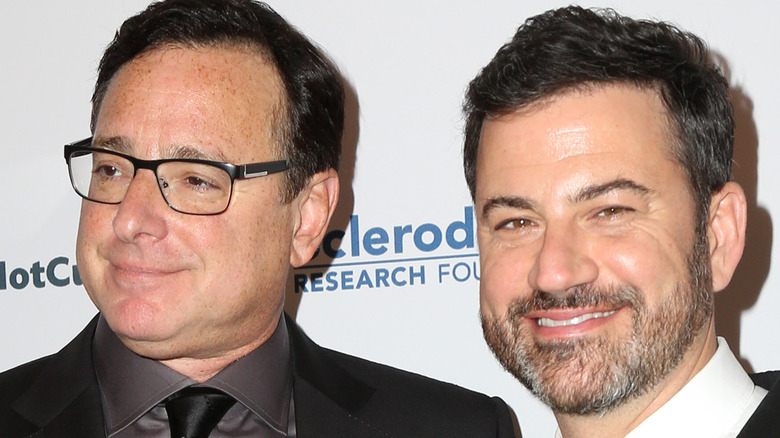 Kathy Hutchins/Shutterstock
Bob Saget's shocking death at the age of 65 on January 9, 2022 (via CNN), left his fans devastated, along with his Hollywood peers who have known and worked with him for decades. The tributes on social media came pouring out as news of his passing rippled through social media on Sunday night.
Former "Full House" co-star Jodie Sweetin offered a tear-jerking farewell to the man who played her dad for so many years in Instagram, saying, "Bob was a wonderful human being. A human being that could drive you nuts at times, and he knew it, but who was so genuine that you couldn't even get that frustrated. Someone who would also call and profusely apologize for at LEAST 15 minutes if he thought he MAY have perhaps said something he shouldn't have or thought maybe he took a joke too far. He was a genuinely kind spirit who made it through so much in his life, and was most happy when he was helping others."
When Jimmy Kimmel opened his January 10 show, Saget's kindness and "sweetness" is what he remembered the most in a heartfelt tribute that left the host in tears.
Jimmy Kimmel is shocked and devastated by the loss of his friend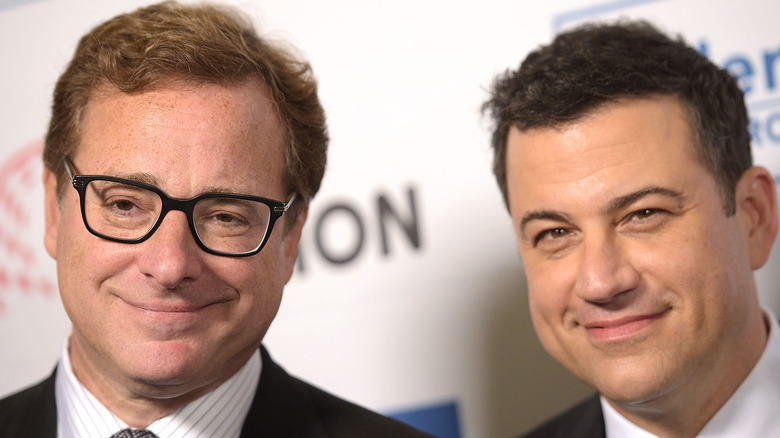 Jason Kempin/Getty Images
In a pre-taped monologue with no studio audience present, Jimmy Kimmel got choked up and struggled to hold back the tears as he gave what could be considered a beautiful and heartfelt eulogy for Bob Saget.
As Kimmel began, the emotion could be heard in his quivering voice and seen on his face almost immediately. "If you've read anything about Bob online last night, if you saw any of the many thoughts from people who knew him personally, a word that came up a lot was 'the sweetest'," Kimmel said (via YouTube). "And Bob was ... he was the sweetest man ... and the reason people wrote that was because it's true. It's the best word — if you had to pick one word to describe him, that was it: the sweetest."
Kimmel went on to talk about his own relationship with Saget and their many exchanges through the years that showed what a caring man the late performer was. "I have so many wonderfully kind and supportive texts and emails, calls from Bob," Kimmel said. "He always had a compliment. He would write sometimes just to tell me he loved me, and I know he did that for many people."
Bob Saget was a funny man and a family man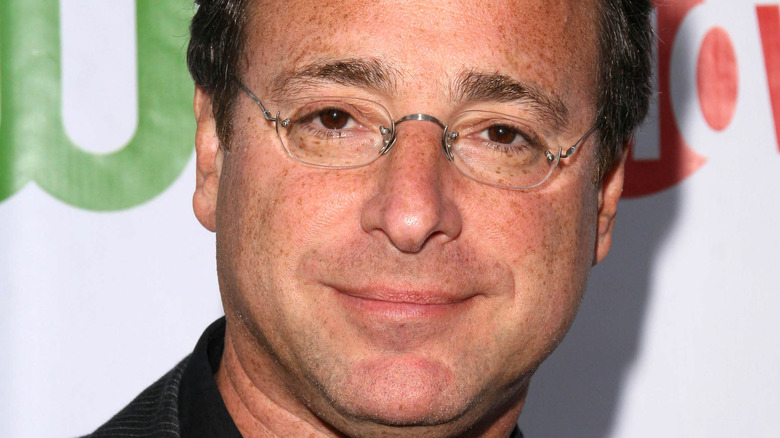 s_bukley/Shutterstock
As Jimmy Kimmel's heart wrenching opening monologue went on, the host admitted they had already tried taping his tribute several times as his eyes welled up with tears. In the version Kimmel went with, he didn't hold back his emotions as he talked about how funny Bob Saget was, always wanting to make those around him laugh.
"He was so funny and I'm not talking about 'Full House' or 'America's Funniest Home Videos' or standup comedy or movies," Kimmel said. "I mean funny for real, like when you walked into a party and you saw Bob and his wife Kelly in the corner, you go straight to them and stay for as long as you could because he had something funny to say about everything and nothing bad to say about anyone."
Kimel went on to explain how the news of Saget's death made him look through some of their email and text exchanges, where the late comedian made it clear that he put family and his children above all else. "Some of them were very funny," Kimmel said. "But some of them were very serious emails about life and the well-being of our children and how hard it is to appreciate those without the other being just right."
Kimmel then pulled out a paper copy of one email and read it through tears. "He wrote, 'One night soon let's go out and have some meat and some good damn drinks and talk about how lucky we are that we have them.'"