The Truth About Using Sea Salt In Your Hair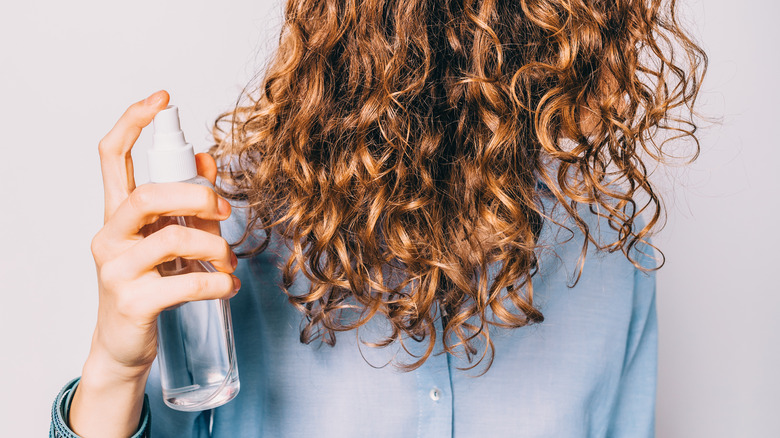 progressman/Shutterstock
We may receive a commission on purchases made from links.
Have you ever noticed how your hair looks and feels different after swimming in the ocean? There's a bit more volume and an effortless wave that is difficult to replicate at home. Or at least this was the case, until the beauty industry created sea salt spray, which allows you to achieve that same vacation hair even when landlocked. Generally, these fairly simple products contain just sea salt and water, possibly with small additions of aloe and oils, leaving you with an effective and natural hair styling product.
But does natural always mean that it's good for you and your hair? Sea salt products may give you the sought-after waves you desire, but the seemingly harmless ingredient has also been a point of contention in the beauty industry. Per Stylecraze, experts claim that when used on the daily, it can actually dehydrate hair strands. So, is sea salt nature's wonder ingredient for your locks, or is it slowly harming your hair with every use? We investigate this complicated question below.
Here's how sea salt can benefit your hair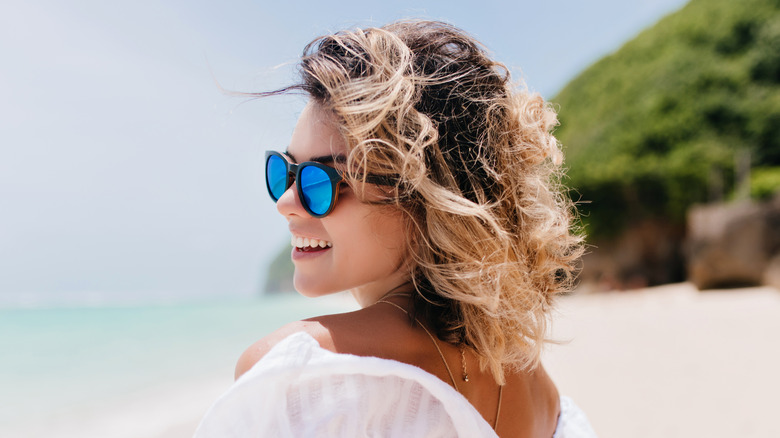 Look Studio/Shutterstock
If stick-straight hair isn't your thing, sea salt may be the natural hair ingredient for you. In good news for beauty lovers, you can achieve enviable tousled locks with easy-to-use sea salt sprays — all without going anywhere near the ocean! According to Softer Hair, salt opens up the hair cuticle, which helps to texturize and volumize your strands. Your hair will also avoid the damaging effects of curling irons, which use high heat to get similar results. Additionally, sea salt absorbs excess oil, meaning you can go longer between washes.
Per Well + Good, sea salt is featured in a variety of new shampoos that exfoliate the scalp and help reduce flakiness. As celebrity hairstylist Trey Gillen told the wellness website, "Using sea salt shampoo can allow fewer washes as the salt acts as a dry shampoo, absorbing oils off the scalp." However since it naturally absorbs moisture, it may not be the best ingredient for those with dry hair or sensitive scalps. Clean beauty brand Herbivore attempted to remedy this problem by adding aloe vera and coconut to their list of ingredients, per SpaceNK. As a result, Herbivore's sea salt spray might be a good option for those who style their hair with product multiple times a week.
Does sea salt negatively affect your hair?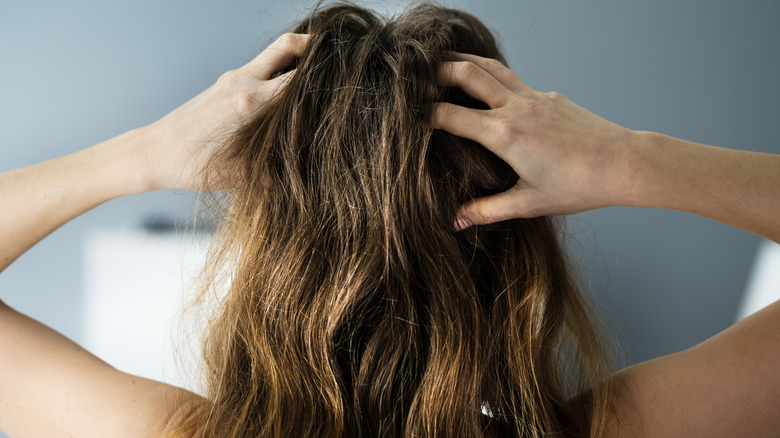 Andrey_Popov/Shutterstock
It's clear that sea salt is an effective ingredient for styling hair and achieving sought-after beachy waves. However, just because something looks good, does that mean it's good for you? As health website Jan de Vries notes, too much of anything may not be a good thing. According to the outlet, salt is inherently drying. Therefore, using it every day or too often may cause hair to become dry and brittle. There's no harm in using sea salt products or swimming in the ocean once in a while, but if your haircare is a priority, it may be best to avoid overusing the salty ingredient.
Per the experts at Function of Beauty, salt water strips hair both of its natural moisture and color. In order to make color-treated hair last longer, it's best to avoid sea salt products altogether. That's not to say you can't still live your best life in the ocean, though! Just ensure you protect your strands with a rich oil, like argan or coconut, before hitting the water.