The Kendall Jenner Wedding Dress Controversy Explained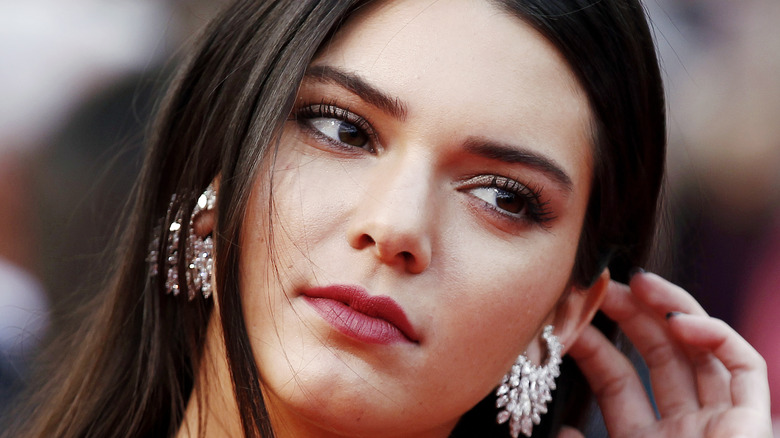 Andrea Raffin/Shutterstock
If there's one topic that always lands a member of the Kardashian/Jenner clan a story — it's their fashion. Whether it's the matriarch Kris Jenner's power suits or Kylie Jenner's latest Instagram outfit post that's guaranteed to spark a viral trend, the family's style choices are always a hot topic (via Insider). Whether you love them or hate them, they are undeniably fashion icons in this day and age. Over the years Kim Kardashian has especially transitioned from basic to iconic when it comes to fashion, as per Vogue. 
While often their fashion relevancy is due to just how stylish and trendsetting they can be, it can just as often be as a result of them making bold fashion faux pas. How could anyone forget Kim's countless eccentric MET Gala looks — especially her most recent faceless all black moment that sparked a thousand memes (via Buzzfeed News). Kim isn't the only sister whose polarizing fashion choices can go viral, and Kendall Jenner experienced her very own moment when she chose this bold dress as a wedding guest.
Fans called out Kendall Jenner's revealing dress for being 'in bad taste'
In November, 2021 Instagram influencer Lauren Perez had a star-studded beach wedding with A-list celebrities attending from Hailey Bieber to Bella Hadid (via Elle). Perez's close friend Kendall Jenner also attended, and her dress essentially stole the thunder of the entire event. Countless snaps were shared from the celebration, many of which featured Jenner in a Mônot SS22 sleek black dress with slits all along its torso creating an essentially entirely bare midriff, as per Elle. Twitter instantly went into a frenzy, with people accusing Jenner of being inappropriate by wearing such an excessively revealing dress and claiming that it was "in bad taste," while others were quick to defend Jenner and simply noting how stunning she looked in it (via USA Today).
While most people weren't impressed by her choice of dress as a wedding guest, the bride herself was quick to come to Jenner's defense. Perez clapped back at a hater calling Jenner out by saying, "SHE LOOKED STUNNING AND I LOVED IT." To which Jenner finally commented on the whole saga by replying to Perez with, "Obvi asked for your approval in advance too, we love a beach wedding" (via People). Clearly the besties aren't as phased as the internet seems to be over the outfit choice.