Here's What Kris Jenner Looks Like In Real Life Vs. Instagram
Kris Jenner is the momager extraordinaire who ambitiously launched the careers of the entire, extended Kardashian clan — or should that be klan? Although Jenner typically cedes the spotlight to her bevy of stunning daughters, she gets positive notices herself for always looking chic, businesslike, and nowhere close to her actual age. In fact, Jenner's skincare secrets are in such high demand that she's had her own brand in the works for years, revealing to WSJ Magazine in early 2021, "I had some samples done up. So I do have a skincare line that I love that's ready to go." 
Jenner was biding her time before unleashing her products upon the world, but in the meantime, we can pore over her beauty routine accordingly. As the busy mogul explained, "I'm obsessed with my skin and have always taken really good care of it. I had my first facial when I was a very young girl and just never stopped, really. It was always a priority." However, rather than reaching for crazy, expensive treatments as her daughters are known to do, Jenner keeps it simple, sharing that she favors "a massage, a great facial, a manicure and a little Botox and I'm good to go."
Unsurprisingly, then, despite putting her most glamorous face forward on Instagram, when the reality star is captured out and about sans makeup, she still looks flawless. 
Kris Jenner's lifetime of good skincare has paid off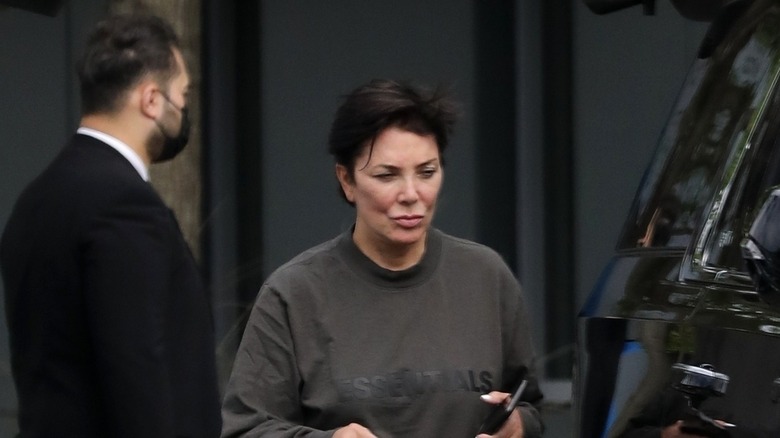 BACKGRID
Although Kris Jenner looks, understandably, slightly peeved to be snapped without her full glam on, she really has no reason to be concerned. The "Keeping Up With the Kardashians" star posts plenty of swoon-worthy content to Instagram but, in her defense, Jenner rarely claims to be "keeping it real," even when she's joking around. The Kardashian lifestyle is aspirational as a rule, but the famous family is at least open about everything it takes to keep them looking so fabulous. Jenner is open about her love of Botox, for instance, telling People, "For me, it's been really great. If you're responsible, and you talk to your doctor, I think it works. It's something that I've been using for a long time."
The momager also acknowledges where she went wrong in the past, admitting to Refinery29 that, back in the day, "We just put baby oil and iodine all over and sat there with a reflector on the beach and it was as much sun as we could get. We didn't know any better." Thankfully, Jenner has learned her lesson, particularly from watching her kids and grandchildren covering themselves in sunscreen. Naturally, the savvy businesswoman has also learned plenty from her girls about skincare in general, noting, "Like, you rub everything upward and across the face and the neck. The application of giving yourself your own mini face massage is amazing." Judging by this makeup-free shot, it's all paying off.