Why TikTok Is Obsessed With This Encanto Song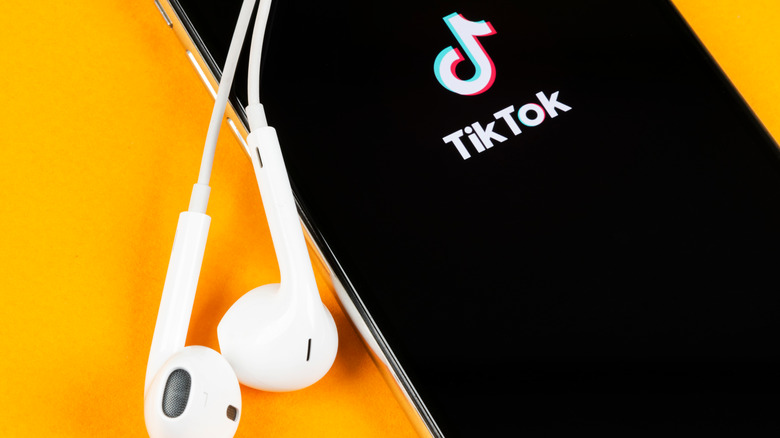 BigTunaOnline/Shutterstock
True to its name, Disney's "Encanto" has enchanted audiences since it hit theaters and Disney+ in late 2021. It has already racked up a number of nominations and wins at some of Hollywood's most prestigious award shows, including the 2022 Golden Globe Awards where it picked up the gong for Best Animated Feature (per IMDb). 
So, it seems inevitable that TikTok would embrace the movie and its Lin-Manuel Miranda-produced soundtrack. However, the song "Surface Pressure" in particular has captured the hearts and imaginations of many users. The number is performed by the film's character of Luisa, played by Jessica Darrow, and a quick search under the "Surface Pressure" hashtag on TikTok reveals why the "Encanto" song resonates with so many users. 
TikTok users appear to be having fun trying the choreography, which involves twirls, hip bumps and mimicking weightlifting. The song also lends itself to some interesting covers, such as the jazz version by Darrow, who plays Luisa in the movie. It can be used in videos involving other feats of strength, like opening a jar of pickles. There are also countless karaoke videos of the song, while some folks are even have fun playing it while acting out scenes from "Encanto," using toys or doing cosplay. Although, what really has made the song a sensation is its message.
The song Surface Pressure resonates with many TikTok users
The catchy melody and awesome animation aside, the real appeal of "Surface Pressure" is its message. The song conveys how being the strong one in the family can be tough. 
"Under the surface, I'm pretty sure I'm worthless/If I can't be of service," the character of Luisa sings (via Genius), worried that the "drip, drip, drip" of constant pressure will cause her to snap. In a poignant bridge, she also fantasizes about "shak[ing] the crushing weight of expectations" and just being able to relax and enjoy life. These lyrics might resonate with those who have experienced the stress of being the designated problem-solver, or the stoic one who remains calm in challenging situations. 
Referencing "Surface Pressure" and "Encanto," one TikTok user explained how the song and movie are conveying the "generational trauma" experienced within some immigrant families. "[T]his whole movie is about the generational trauma being passed down through immigrant families. Specifically passed down in Latinx communities. And not knowing the weight EVERY sibling carried until you were finally old enough to talk about it with them," she explains.