What Happened To Skinny Shirt After Shark Tank?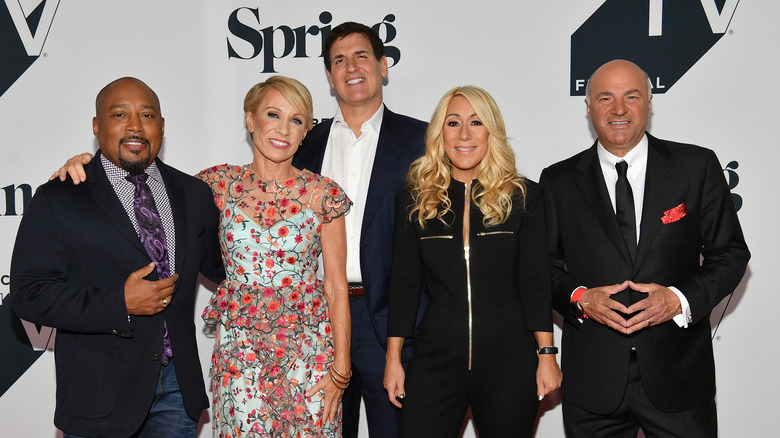 Dia Dipasupil/Getty Images
The Skinny Shirt is a dream article of clothing to own for those who love a layered look, and the whole concept of the undershirt design was to make layered clothes appear less bulky and ill-fitting. According to  Shark Tank Success, the founder of Skinny Shirt, Julie Kalimian, wanted a more professional looking shirt that was still comfortable to wear under a blazer, sweater, or jacket. Soon after the successful design and launch of the Skinny Shirt in 2011, it was picked up and promoted by popular TV shows including "The View," "The Today Show," "Good Day" and "Good Morning America."
Fast forward to 2015, Kalimian did what most other business owners dream of doing and appeared before the sharks on "Shark Tank." During her appearance on the show, she asked for $100,000 and 20% equity in the business (via SEOAvis). Unfortunately, none of the sharks were in the market to add a slimming article of clothing into their portfolio. So, what happened to Skinny Shirt after "Shark Tank"?
Julie Kalimian had a difficult time in the Shark Tank
Kalimian's bumpy pitch to the sharks was almost too uncomfortable to watch. According to Gazette Review, viewers covered their eyes as the former Vice-President of marketing for the publishing giant Newsweek quickly lost her confidence when quizzed about Skinny Shirt's cash flow and the company's manufacturing problems. 
The show's most famously rough shark, Kevin O'Leary, even called her a "cockroach," and Kalimian definitely suffered a shark bite while in the tank. However, her business didn't appear to bleed out in the aftermath. In 2016, Skinny Shirt's were distributed to over 300 stores and QVC. Kalimian sold 50% of her product directly through the company's website, and even introduced new designs and children's wear. 
Unfortunately, the growth of the company and popularity of the product didn't last. The website no longer exists andnd the last Facebook post on the company's official page was made in June of 2018 (via Facebook). So, it appears that this "Shark Tank" pitch was left to float in the water.