Royal Fans Are Seriously Curious About The Queen's Bedtime Routine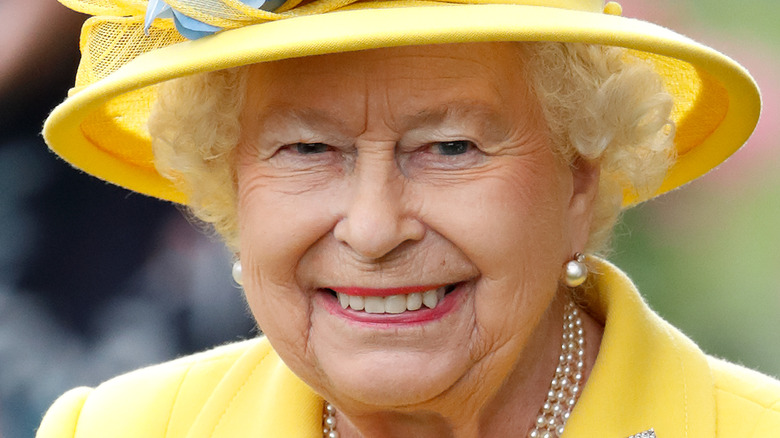 Max Mumby/indigo/Getty Images
Queen Elizabeth II has been sitting on the throne for 70 years. The 95-year-old monarch is the picture of a hard-working and independent woman. Of course, she didn't get to where she is now without focusing on her health. In the book "Long Live the Queen" by British culturalist Bryan Kozlowski, the author examines how the queen has worked to keep her body and mind sharp well into her 90s. One of the tricks that Elizabeth practices is to keep her brain active by continuing to learn new things (via Good Housekeeping).
Elizabeth also has a strong work ethic and a sense of purpose. However, she makes sure to have some fun as well. She enjoys spending time with her horses and her beloved Corgis. Of course, she also sticks to a routine that has kept her productive and active for several decades. The queen also reportedly likes to indulge in her favorite treats but is sure to eat them in moderation. She also makes sure to get exercise, and does so by doing activities that she enjoys such as horseback riding.
Elizabeth's mental health is also impacted by her ability to embrace her age, and understand that not everyone will approve of everything she does. However, she doesn't sweat the small stuff, and in turn tries to be kind. Of course, her sleeping habits are also a big factor.
The queen turns in at 11 p.m. every night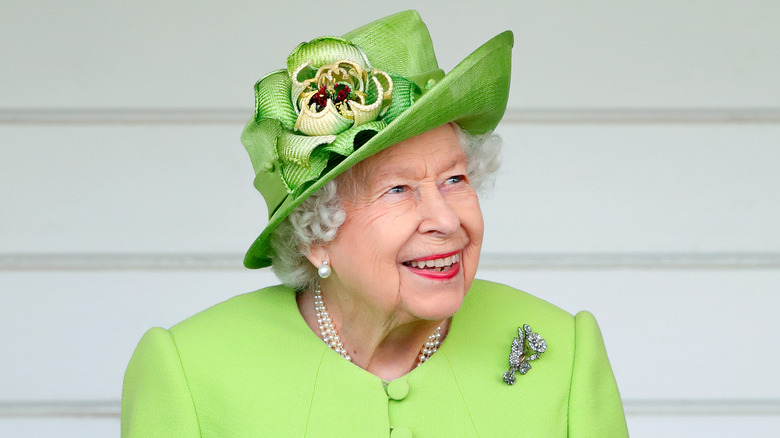 Max Mumby/indigo/Getty Images
According to Glamour, royal family fans have taken a huge interest in Queen Elizabeth's nighttime routine. In fact, the queen's sleep and exercise routine is searched for more than the routines of all the other royals (via Each Night). While the queen is a very busy woman, there seems to be one constant in her day, and that's her bedtime ritual. Elizabeth reportedly goes to bed each night around 11 p.m. and makes sure to get eight hours of sleep, meaning she likely wakes up around 7:30 a.m. every day. It's said that Elizabeth also walks each day to help her get better sleep at night.
Elizabeth is also said to read to help her relax before drifting off to sleep. While this sounds like a very simple routine, it has worked for the monarch for decades and has caught the attention of royal fans across the globe. Meanwhile, Kate Middleton's routine has also been highly searched, as she gets regular exercise and outdoor time daily to help with her sleep before she turns in at 10:30 p.m. Meghan Markle's routine has also piqued the interest of fans, as she lays off the caffeine in the afternoon and opts for a smoothie instead. She also does yoga to help her sleep better at night.
It appears that the royals keep their bedtime rituals fairly simple and stick to a routine that works. Their routines are also easy for fans to replicate if they're looking for better sleep.