The Real Difference Between Sweaters And Cardigans
As most of us realize by the icy-cold breeze that hits our faces every time we open the front door, the winter season is in full swing. Don't get us wrong, we actually love the chilliest season: it's all about warm fireplaces and cozy blankets, hot chocolate filled to the brim with marshmallows or whipped cream, the holidays with family and friends, and the coziest soups and stews. Another thing synonymous with winter? Adorable clothing. Sure, you can be a fan of summer fashion and we totally get it — bikinis, sarongs, tropical prints, neon colors, crochet everything, and all the mini-skirts imaginable complemented by lace-up Greek-style sandals. But for us, winter style just has unparalleled panache, what with all the fantastic knit scarves, oversized camel coats, faux fur-trimmed boots, cute mittens, hats, and of course, all the sweaters in rainbow hues.
If you're on the hunt for sweaters this season, you might be just a little confused about one of the age-old questions on all our lists: what in the world is the difference between a sweater and a cardigan? We all heard Taylor Swift wax poetic about the latter in her pandemic-era 2020 song "Cardigan," singing, "And when I felt like I was an old cardigan under someone's bed, you put me on and said I was your favorite" — and yeah, we sang along at the top of our lungs. But how does a cardigan differ from just a regular sweater? Here's everything you need to know!
Sweaters and cardigans are more different than you may think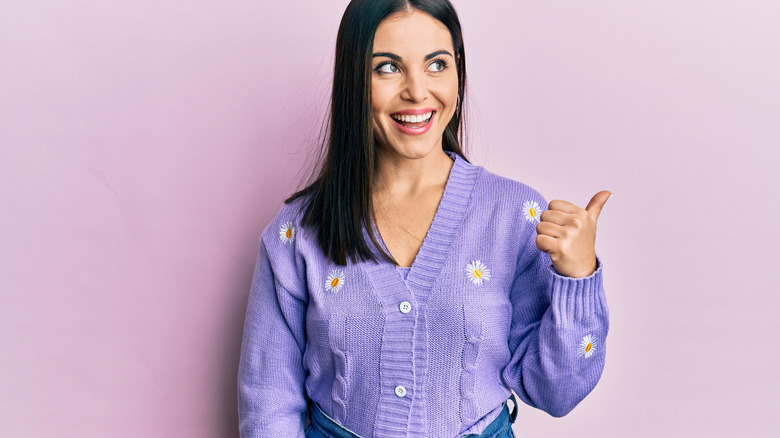 Krakenimages.com/Shutterstock
Cardigans are popping up everywhere this season, and you might ask yourself how they contrast from sweaters — they're both just knit clothing pieces, right? That is true, as both styles are made out of knit materials such as wool to keep you warm. As explained by The Fashionisto, cardigans are actually a type of sweater, but the two vastly differ.
A basic sweater consists of a knit fabric, and has no buttons or fastenings. It is usually a standard pull-on style, such as the way a t-shirt is, and typically features long sleeves and hits below the waist (via Aklanda). That being said, modern sweaters can also be cropped or feature short sleeves. When it comes to the neckline, you can find sweaters with a v-neck, crewneck, or a gorgeous boatneck — any cut as long as it has no buttons. One exception? Half-zip sweaters or buttoned henleys, which only include a small zipper or line of buttons right at the neckline.
Meanwhile, cardigans are sweaters that completely open at the front by way of a row of buttons or a full zipper. As explained by Aklanda, some cardigans don't feature fastenings at all, and are designed to stay open. In this way, cardigans function as knit jackets and are usually designed as top layer pieces. While sweaters can be layered on top of each other, cardigans usually go on top of shirts as a warm-to-cold weather staple.